Translucent Halo 4 Limited Edition Xbox 360 costs £269.99
MS reveals new standalone Halo 4 pad, too. Pictures within.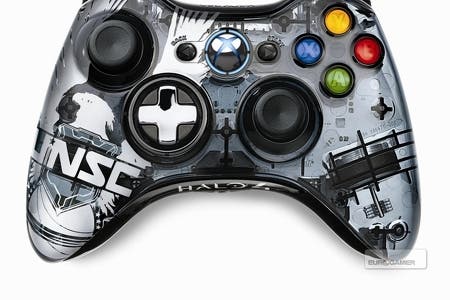 The Limited Edition Halo 4 Xbox 360 has now been officially unveiled, and isn't as ugly as Shane Macgowan.
The shells of both the console and controller are translucent, which actually looks rather snazzy.
What's more, the console power button and the controller Xbox Guide button glow blue, not green, and match the overall blue/grey colour scheme.
But there's no mention of the custom noises that the disc tray and power button make.
For this console, you'll pay £269.99.
Included are a copy of the Halo 4 game (standard edition!), two Halo 4 controllers, a wired headset, a 320GB hard drive and some redeemable tokens for Halo 4 game and avatar content.
In addition to the console, Microsoft's marking the arrival of Halo 4 with a standalone Xbox 360 Halo 4 Limited Edition Wireless Controller. This is far nicer than the console-bundled controller.
In the US, this controller will cost $59.99 - we can't find a local price, yet. The controller will launch ahead of Halo 4, on 21st October.