Halo Xbox 360 games go dark Dec 2021
Salute.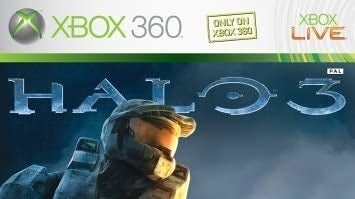 Halo Xbox 360 games go dark December 2021, 343 Industries has announced.
Online services for Halo: Reach, Halo 4, Halo 3, Halo 3: ODST, Halo: Combat Evolved Anniversary, Spartan Assault and Halo Wars will all end by December 2021.
You'll be able to continue to play these games after this date, of course, but certain online features, such as online matchmaking, will go offline.
It means Halo 3 online multiplayer will end 14 years after Bungie's wonderful shooter came out, in September 2007.
This also applies to these games running on newer consoles via back-compat, as the underlying software is still the original Xbox 360 content and thus relies on legacy online services.
Explaining the decision, 343 said the time, resources and energy it takes to keep these games online now doesn't justify the number of people playing.
"To date, we've juggled future-facing work and priorities with continued upkeep of Halo's Xbox 360 legacy services," 343 said in a post on Halo Waypoint.
"Maintaining these legacy services today requires significant time and resources which directly impacts the studio's ability to support current and future projects like Halo: The Master Chief Collection and Halo Infinite.
"Meanwhile, the month over month usage of these legacy Xbox 360 game services continues to dwindle, creating an even greater imbalance between the time and work required to maintain vs. the net impact to the overall Halo community. That's not to say we don't value and care about everyone who plays Halo - we absolutely do. But, as with any business, our teams must continually weigh needs against available resources (time, people, expertise, etc.) and prioritise on areas and opportunities that yield the greatest impact.
"As these games continue to age, and as improved modern replacements for many of these experiences have moved to the forefront, less and less people are investing time in the original legacy titles. Digital sales have greatly slowed and physical sales of these legacy Xbox 360 titles were halted back in 2018. 
"Every cycle spent maintaining and supporting Xbox 360 legacy services is time and energy not spent on the future of Halo."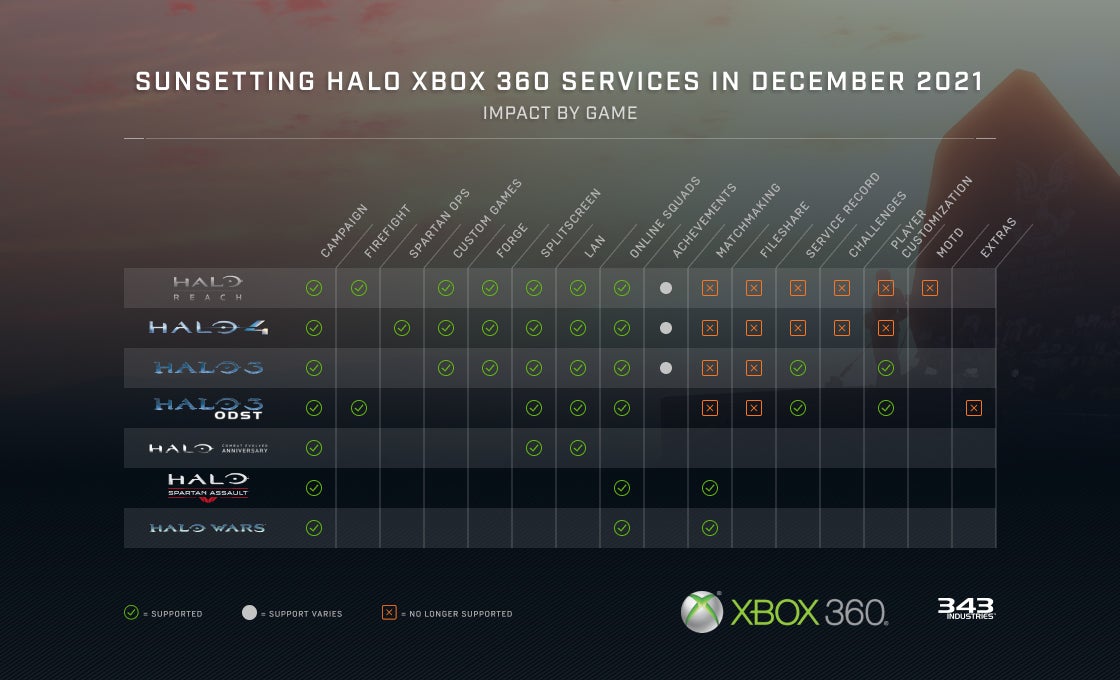 As of now, digital sales of Halo Xbox 360 games are halted, 343 confirmed. 343 pointed to Halo: The Master Chief Collection, which includes Halo: Combat Evolved Anniversary, Halo 2: Anniversary, Halo 3, Halo 3: ODST, Halo: Reach, and Halo 4, as the future of online play for these games.
"Continuing to evolve and expand MCC while bringing our ambitious vision for Halo Infinite to life is our top priority and stepping away from the day to day upkeep and hurdles of these aging services will empower the team to stay laser focused on our most critical future-facing endeavors," 343 said.
So, if you're still chasing any outstanding achievements that require online services, for example matchmaking or challenge-based, you should plan to wrap that up before December 2021. It's also worth noting legacy file share content will also no longer be accessible from December 2021.