Toy Story coming to Kingdom Hearts 3
To infinity and beyond.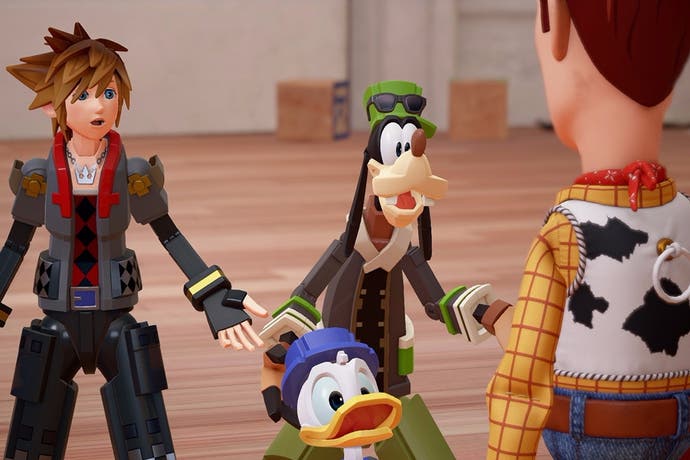 Kingdom Hearts fans rejoice! Finally, we are getting a Toy Story world.
At Disney's D23 expo on Saturday, we got to see a bit more of Kingdom Hearts 3 and found out the game will release sometime in 2018.
The new trailer follows Sora, Donald and Goofy on an adventure with Woody, Buzz and all your favourite Toy Story characters as they investigate the disappearance of Andy and other toys, while fighting Heartless enemies which have popped up in their world.
"At long last, we are excited to open up the Kingdom Hearts universe to include the world of Disney Pixar's Toy Story," said Tetsuya Nomura, director of the Kingdom Hearts series. "The narrative will be an original story exclusive to Kingdom Hearts 3, and the gameplay will feel characteristic of the Toy Story style and aesthetic."
From the trailer, we can see you are not confined to Andy's room. Gameplay shows the gang fighting their way through Heartless in Andy's garden to get to Galaxy Toys.
The new Toy Story world also sees Sora, Goofy and Donald getting a whole new Pixar-esque look, an original storyline, brand new toys such as Gigas and special keyblades that allow Sora to unleash special abilities which devastate the Heartless.
Last month, during Square Enix's Kingdom Hearts Orchestra World Tour in Los Angeles, the developer revealed another trailer for the latest game in the series, showing Sora battling Heartless alongside Hercules on Mount Olympus.
Kingdom Hearts 3 will be available for Xbox One and PlayStation.