The latest Animal Crossing: New Horizons sales are just astonishing
As Nintendo Switch soars past 60m sold.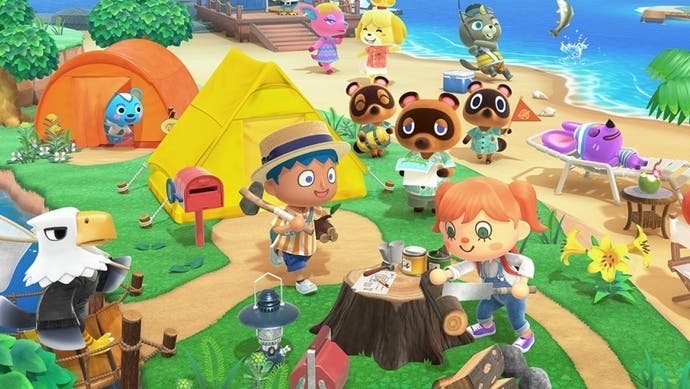 Animal Crossing has now sold a staggering 22.4m units in less than four months. It's an eye-opening number - nearly double the lifetime sales of the last game in the series - in a stunning set of financial results for Nintendo.
61.4m Nintendo Switch consoles have now been sold, with a further 5.68m shifted during this financial year's first quarter (April until June) - a 166 per cent increase year-on-year.
More than 50m Switch games were sold over the same period, a 123 per cent incease on last year. Revenue from digital software and Nintendo Switch Online soared - up 230 per cent year-on-year.
Animal Crossing: New Horizon added 10m copies during the quarter. Its sales total of 22.4m means more than a third of all Switch owners now have a copy.
Despite only launching this year, Animal Crossing has now eclipsed lifetime sales of other evergreen Switch games like Smash Bros. Ultimate, Mario Odyssey and Zelda: Breath of the Wild. Only Mario Kart 8 Deluxe (at 26.7m) has sold more.
Pokémon Sword and Shield's cumulative total now stands at 18.2m copies - making them the third-most successful Pokémon release ever.
New releases Xenoblade Chronicles Definitive Edition, Clubhouse Games: 51 Worldwide Classics both sold 1m copies each.
Ring Fit Adventure, meanwhile, has now sold 4m copies since its launch last year - a resurgance which shows no signs of slowing despite the product being in short supply.
Nintendo Switch production has now "almost recovered" after the effects of coronavirus, Nintendo cautioned, but stock is still low in some regions as it filters back into the supply chain.
The rest of 2020 will see Nintendo launch Pikmin 3 Deluxe in October as well as other, unannounced games.