Surprise Metal Gear Solid 5 update lets you play as Quiet
Keep it on the down-load.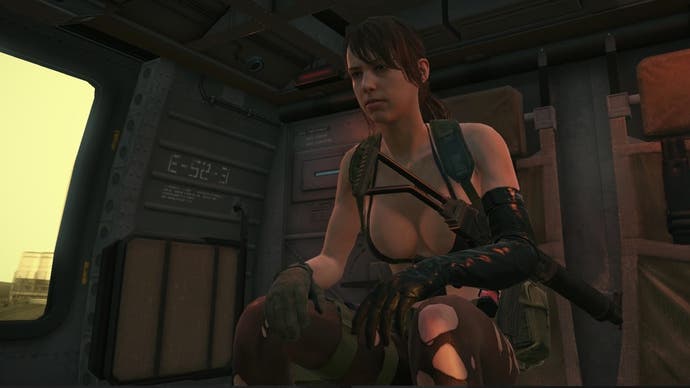 Metal Gear Solid 5 has a new update - its first in nearly a year - that lets you play as Quiet.
Quiet is the scantily-clad assassin from the main Phantom Pain game. She's scantily-clad because she breathes through her skin. Yes, really.
Now, you can play as Quiet to infiltrate FOBs. You can't change her uniform or head options (because she'd suffocate, right?), but she is great with a sniper rifle. She's proper fast and can jump over high steps you'd normally need a ladder for. She also has a special dash, and staying still for a bit makes her stealthy.
Here's how she looks in playable form: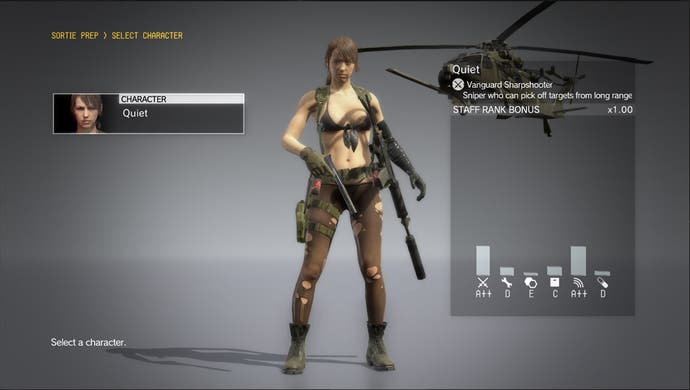 Meanwhile, the 1.17 update, which is out now for PC, PlayStation 4 and Xbox One, adds new difficulty levels to event FOBs (hard and easy) and a raft of new weapons. The patch notes are over at the Konami website.
It's a surprise to see an update for Metal Gear Solid 5 nearly a year after the last one. Perhaps Konami's planning something special for the game or, dare we say it, the franchise, to coincide with Gamescom next month?