Super Mario Odyssey Souvenirs list - souvenir prices and how to unlock every Mario souvenir in Super Mario Odyssey
Every knick knack and piece of cheap tat, where to buy them and how much they'll cost.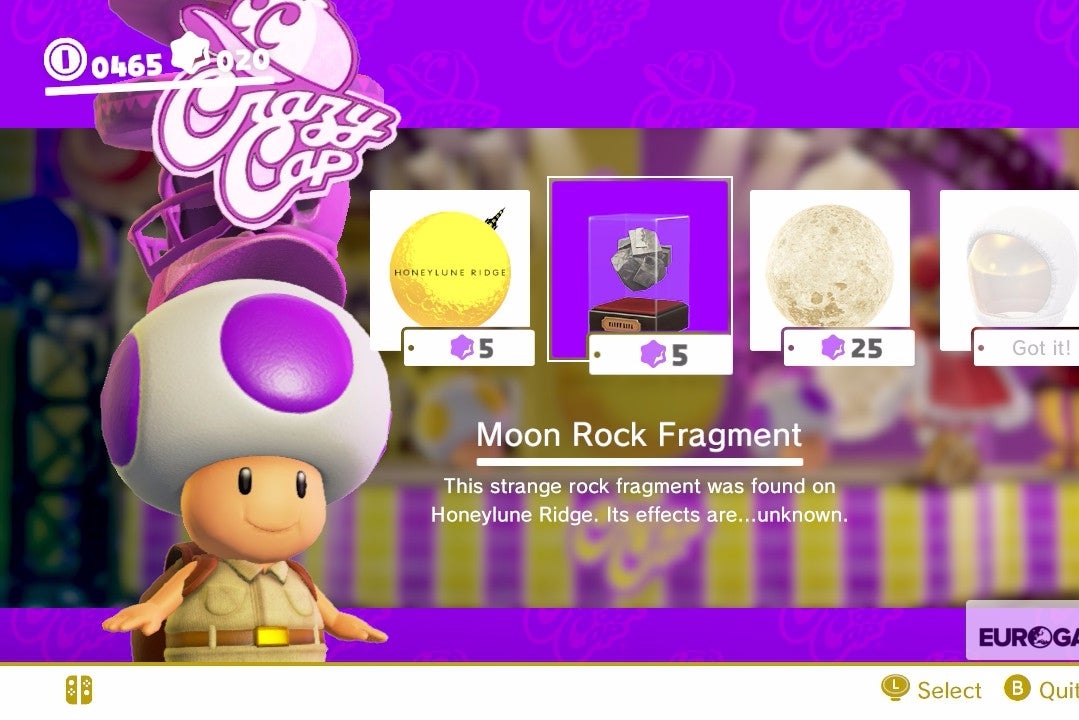 Super Mario Odyssey Souvenirs are a type of cosmetic collectible in the game, which are acquired from a specific shop for varying prices.
Here on this page, we'll lay out everyting you need to know about them, including a Super Mario Odyssey souvenirs list, the souvenir prices, and how to unlock souvenir Super Mario Odyssey.
For more guides to the game though, be sure to circle back to our main Super Mario Odyssey guide, walkthrough and tips hub, with dozens and dozens of guides, tips and tricks for every stage of your adventure.
Super Mario Odyssey Souvenirs list - souvenir prices and how to unlock every Mario souvenir
When it comes to collectibles, we've got hats and outfits for Mario himself, and plenty of stickers to adorn the outer hull of the Odyssey. But what about the inside of your plucky little ship? Even the decor needs some love, and Super Mario Odyssey has you covered there as well. These are souvenirs - special items that are unique to each kingdom you visit.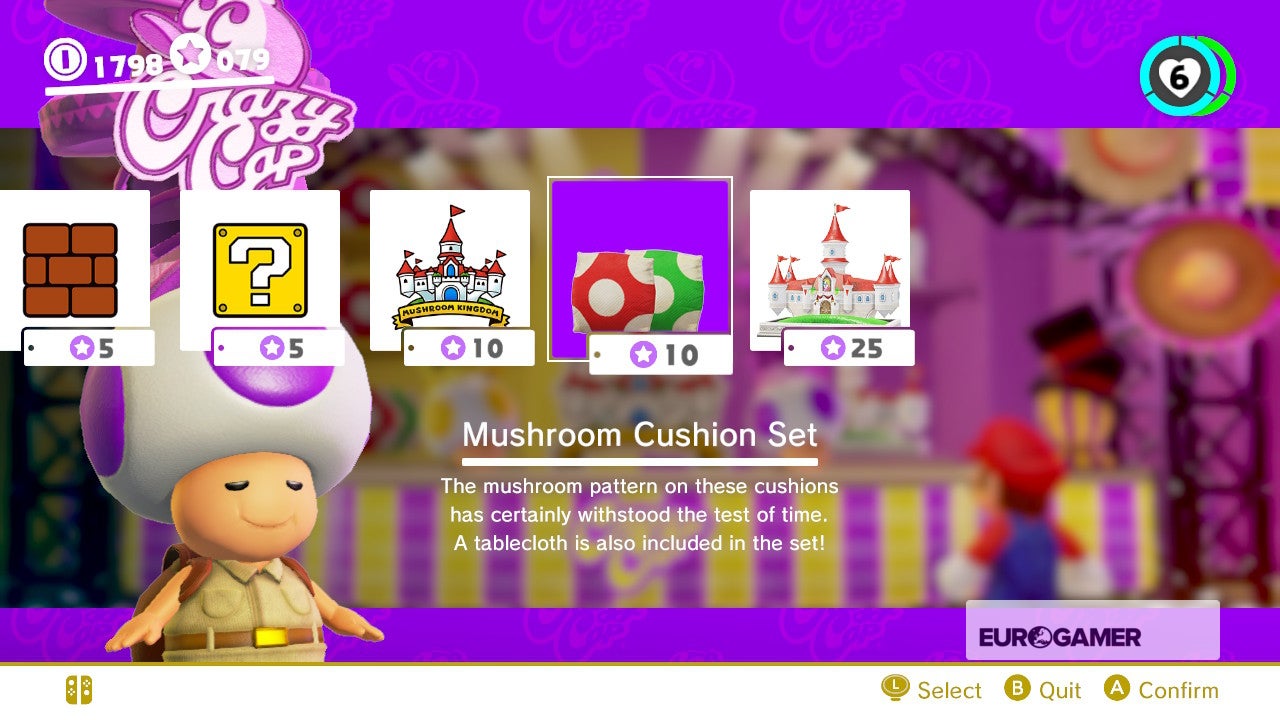 Most kingdoms have two or more of these each - and each one is based on a particular landmark, NPC or moment in the game. These can't be purchased with gold coins either. Since these items are so special, you'll need to collect purple-coloured regional coins. These are unique to each kingdom and can't be carried over to other realms. So if there's a souvenir you really like, you're going to have search high and low to afford each one.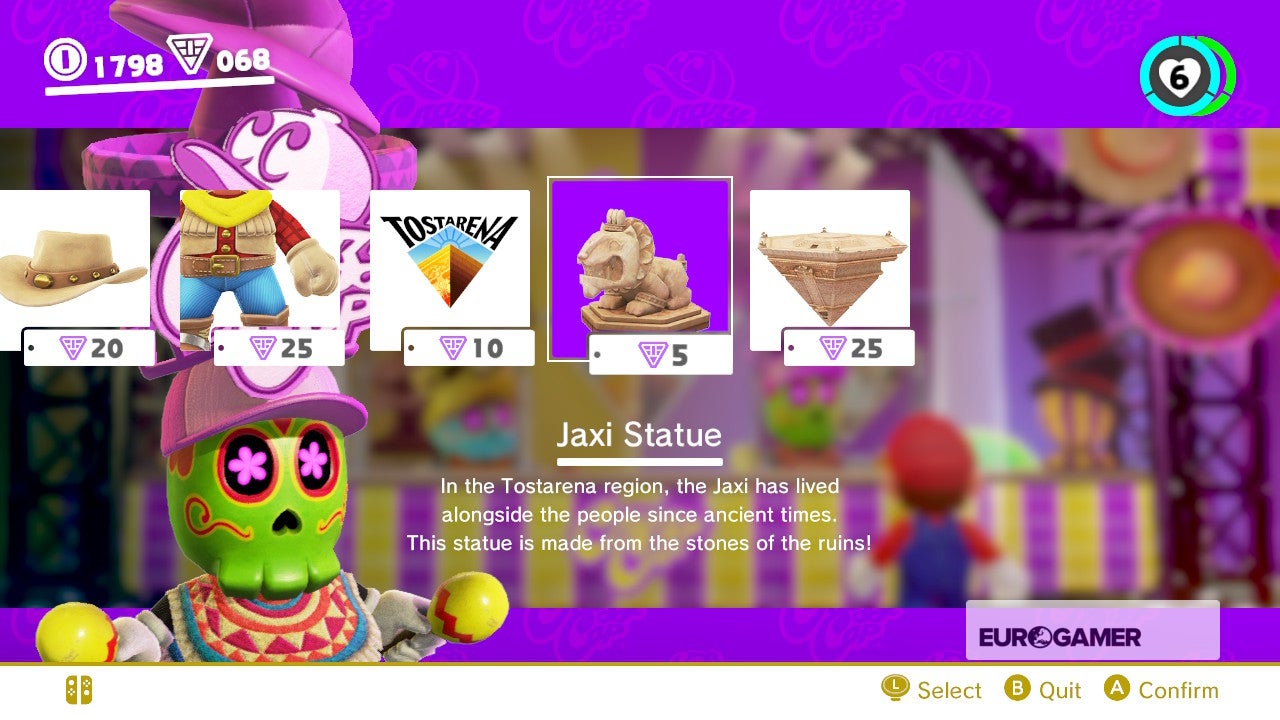 These items range in price from 5 regional coins to 25 regional coins (and considering there are between 50 and 100 coins per world, that's a lot of coins on one little knick knack) so best start searching for these coins on your travels. Once they've been purchased, these mementos will be proudly displayed in the interior of your ship, and will appear during cutscenes between realms during story objectives.
---
Need more help? Our Super Mario Odyssey guide and walkthrough goes through every objective in each Kingdom, while our Power Moon locations can help you track down the likes of Cascade Kingdom Power Moons, Sand Kingdom Power Moons, Metro Kingdom and New Donk City Power Moons and more collectables. We also have Purple Coin locations for each Kingdom, and if you want to know what to spend it on, we have a hats list, outfits list, stickers list, a souvenirs list as well as a music list to kit out the appearance of both Mario and the Odyssey. Once you've finished the game, check out the free Balloon World update, too.
---
| Souvenir name | Cost | Kingdom | Souvenir description |
| --- | --- | --- | --- |
| Mushroom Cushion Set | 10 regional coins | Mushroom | The mushroom pattern on these cushions has certainly withstood the test of time. A tablecloth is also included in the set. |
| Peach's Castle Model | 25 regional coins | Mushroom | Who wouldn't want a scale model of this famous castle! Even the beautiful stained glass window in the center has been faithfully re-created. |
| Plush Frog | 5 regional coins | Cap | These little froggies wear tiny top hats for self-defense, which looks so darn cute, they made a toy version! |
| Bonneton Tower Model | 25 regional coins | Cap | This model of a tower in the Cap Kingdom is popular with tourists thanks to its faithful re-creation and detailed craftsmanship. |
| T-Rex Model | 5 regional coins | Cascade | This dino's pose is so impressively lifelike, you can almost hear it roar! |
| Triceratops Trophy | 25 regional coins | Cascade | A replica of a real dinosaur fossil from the Cascade Kingdom. Hang this on a wall, and it'll completely transform a room! |
| Jaxi Statue | 5 regional coins | Sand | In the Tostarena region, the Jaxi has lived alongside the people since ancient times. This statue is made from the stones of the ruins! |
| Inverted Pyramid Model | 25 regional coins | Sand | A famous location in the Tostarena ruins. Even the tiniest details are faithfully re-created, like the reliefs etched onto the walls. |
| Rubber Dorrie | 5 regional coins | Lake | Fans of the universally loved Dorrie have been clamoring for a quality reproduction like this. It's designed to feel just like the real thing. |
| Underwater Dome | 25 regional coins | Lake | This snow globe featuring the Water Plaza in Lake Lamode uses water from the Lake Kingdom. |
| Flowers from Steam Gardens | 5 regional coins | Wooded | This popular arrangement of flowers from Steam Gardens is often given as a gift. |
| Steam Gardner Watering Can | 25 regional coins | Wooded | This robot-shaped watering can is designed to look like the people of the Wooded Kingdom. A nice souvenir, it's also great for gardening! |
| Potted Palm Tree | 5 regional coins | Lost | This plant grows all over Forgotten Isle. Hardy enough to thrive even in a poisonous swamp, it has become quite popular with gardeners. |
| Butterfly Mobile | 25 regional coins | Lost | Inspired by the butterflies that live on Forgotten Isle, don't be surprised if you find yourself mysteriously losing track of time as you gaze at this beauty. |
| New Donk City Hall Model | 5 regional coins | Metro | This miniature model of New Donk City Hall (with working lights!) has been a big hit with fans of the Metro Kingdom. |
| Pauline Statue | 25 regional coins | Metro | This statue of New Donk City's mayor, Pauline, was made as a testament to her enduring popularity. |
| Shiverian Rug | 5 regional coins | Snow | Featuring the same patterns as those found on Shiverian clothing, this rug is great for keeping warm from the toes on up! |
| Shiverian Nesting Dolls | 25 regional coins | Snow | Open one of these folk-art dolls and another Shiverian pops out! It's hard to tell them apart, but they're based on winners of past races. |
| Glass Tower Model | 5 regional coins | Seaside | A replica of the Glass Tower that towers in the center of Bubblaine! |
| Sand Jar | 25 regional coins | Seaside | Each glance at this har filled with sand from the Bubblaine coast evokes sunny scenes of carefree days at the beach. |
| Souvenir Forks | 5 regional coins | Luncheon | Inspired by the people of Mount Volbono, this cute pair of tall and short forks looks a bit like a parent and child. |
| Vegetable Plate | 25 regional coins | Luncheon | This toy food lets you pretend you're cooking with real ingredients from Mount Volbono. They can also be stacked up like blocks! |
| Paper Lantern | 5 regional coins | Bowser | These lantersn are found in Bowser's Castle. In the old days, people used to walk around with them like flashlights! |
| Jizo Statue | 25 regional coins | Bowser | Found placed all over, these guardian deities watch over travelers in silent protection. |
| Moon Rock Fragment | 5 regional coins | Moon | This strange rock fragment was found on Honeylune Ridge. Its effects are... unknown. |
| Moon Lamp | 25 regional coins | Moon | This spinning moon is a fashionable way to brighten up any room. It's also quite well made and studier than it looks! |