Sony offers hope on PS4 console cross-play
"We're looking at a lot of the possibilities."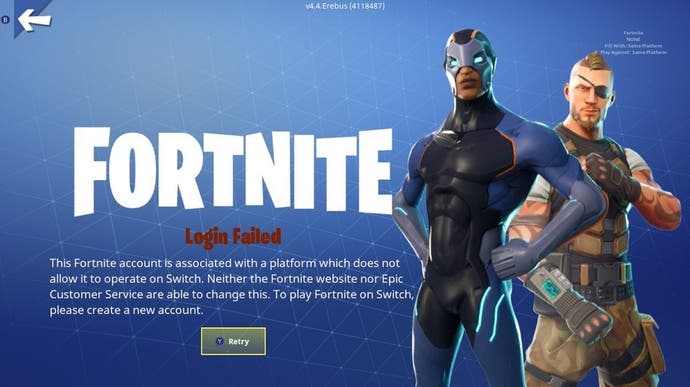 Sony has commented on the thorny issue of PlayStation cross-play, suggesting it's working on a solution.
At the Gamelab conference in Spain today, Shawn Layden, president and CEO of Sony Interactive Entertainment America and chairman of SIE Worldwide Studios, and PS4 system architect Mark Cerny delivered a presentation about the legacy of PlayStation. At the end of the talk, Eurogamer reporter Robert Purchese put the cross-play issue to Layden. Here's what he said: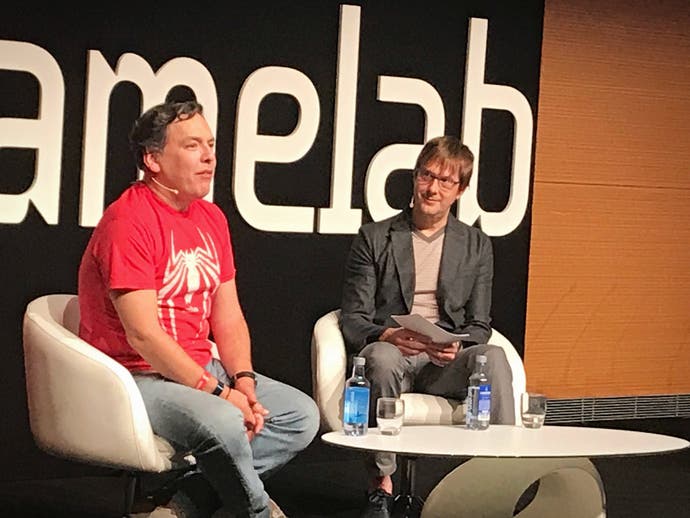 "I thought it was fascinating you talking about PlayStation 3 flying too close to the sun - your Icarus moment you called it, and then PlayStation 4 coming back to be more back to basics, to be more about the players. But there seems to be an issue at the moment, that Sony isn't listening to its players - or doesn't seem to be - and that's cross-play, Fortnite particularly. And I wondered if there were any plans to open it up? It seems to be Sony's not listening."
Layden replied by saying he could offer "one short statement". Here it is:
"We're hearing it. We're looking at a lot of the possibilities. You can imagine that the circumstances around that affect a lot more than just one game. I'm confident we'll get to a solution which will be understood and accepted by our gaming community, while at the same time supporting our business."
Layden's response is the first official comment from Sony on the cross-play issue since it issued a statement to press following the release of Fortnite on Nintendo Switch, and the revelation that Nintendo Switch users are blocked from playing Fortnite if trying to log in using an account which has ever played Fortnite on PS4.
It means that even if you've only played Fortnite once on PS4, and play the majority of your Fortnite on PC or mobile (these platforms are compatible), you will still be blocked from using your account on Switch. Your only option is to create a new account to play.
At the time, Sony issued a statement that failed to calm increasing anger over the situation.
"We're always open to hearing what the PlayStation community is interested in to enhance their gaming experience. Fortnite is already a huge hit with PS4 fans, offering a true free-to-play experience so gamers can jump in and play online," Sony said. "With 79 million PS4s sold around the world and more than 80 million monthly active users on PlayStation Network, we've built a huge community of gamers who can play together on Fortnite and all online titles. We also offer Fortnite cross-play support with PC, Mac, iOS, and Android devices, expanding the opportunity for Fortnite fans on PS4 to play with even more gamers on other platforms."
Later in June, John Smedley, ex-boss of Planetside 2 and H1Z1 developer Daybreak Game Company, which changed its name from Sony Online Entertainment in 2015, tweeted to say Sony's controversial policy comes down to money.
"... when I was at Sony, the stated reason internally for this was money. They didn't like someone buying something on an Xbox and it being used on a Playstation. Simple as that. Dumb reason, but there it is."
In the context of Fortnite, this would mean Sony doesn't like the idea of a player on Xbox buying a character skin via Xbox Live (and in the process handing Microsoft a 30 per cent cut of the revenue), then logging in to the PS4 version and being able to use that same skin on their persistent, cross-platform character when playing the game on Sony's console.
Sony has come under fire for its cross-platform console policy ever since - so this glimmer of hope from Layden offers some hope things may change in the future. It certainly sounds like Sony has been thinking about how to make console cross-play work. Perhaps an olive branch has been offered behind the scenes?