Sea of Thieves overhauling Trading Companies with new competitive Emissary system
Plus new PvP faction, cats, and more this month.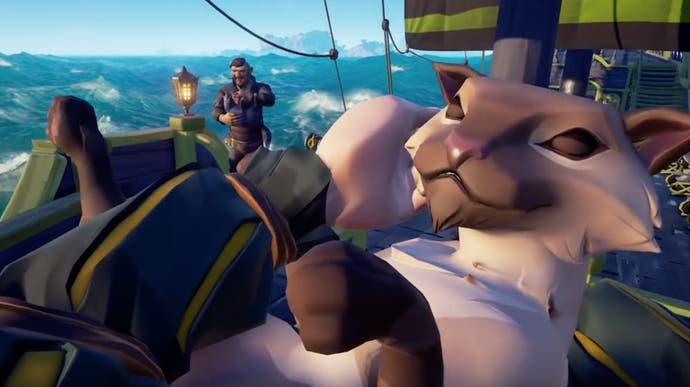 Following a month of fiery betrayal and legendary hijinks in Sea of Thieves' Heart of Fire update, Rare's piratical multiplayer adventure is returning to its roots on 22nd April with a new content drop focussed on bringing a competitive streak to original triumvirate of Trading Companies.
When this month's Ships of Fortune update arrives, crews will have the opportunity to "make a significant donation" and become Emissaries for either the Gold Hoarders, Merchants Alliance, Order of Souls, or, in the case of Pirate Legends, Athena's Fortune Trading Companies.
Once in their newly adopted roll as ambassadors, players can hoist their Emissary flag and set out for adventure. By completing their company's usual Voyages, Emissaries can advance through five grades, with higher grades increasing the size of the reward multiplier applied when turning in loot at the end of the Voyage.
There's new Trading-Company-specific attire and ship cosmetics, the chance to earn titles as standing within a company increases, plus the chance to compare progress with friends and prove your skills against other players via something called the competitive Emissary Ledger.
Those taking advantage of boosted Emissary rewards will, however, need to watch their backs; Ships of Fortune also introduces the new Reaper's Bones Trading Company, located on the mysterious Reaper's Hideout that's been slowly assembling near the centre of the map.
This new faction is all about "battle and bloodshed" according to Rare, and their focus is exclusively on bringing down Emissaries and stealing their flags. It's not entirely clear if grades and reward multipliers reset when a crew is sunk, but, either way, all this sounds like a smart means of encouraging a more consensual opt-in style of PvP by substantially boosting rewards for Emissary players - which might take the heat off those just looking for a relaxed session.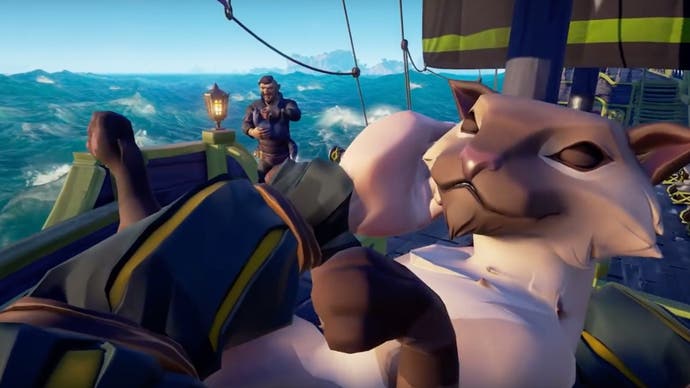 Also arriving as part of Sea of Thieves' Ships of Fortune update is a dramatic overhaul for the PvP-focussed Arena mode - as outlined last month - a new revival system giving pirates a few moments to resurrect their fallen crew mates before they're whisked away to the Ferry of the Damned, and a range of premium cosmetics.
On the latter front, there are new emotes and a striking new Sabre Wulf ship cosmetic set, but, best of all, fans of mangy mogs can finally rejoice as cats - specifically the scruffy Wildcat, fluffy Ragamuffin, and slinky Mau - arrive as a new variety of premium pet.
All in all then, it sounds like a seriously substantial update - something of a surprise coming so close to last month's ambitiously cinematic Heart of Fire offering. There's no hint yet if Rare will time Ships of Fortune's 22nd April release with Sea of Thieves' recently announced Steam launch, but hopefully there'll be more on that front soon.