Sea of Thieves' PvP-focussed Arena mode getting major overhaul next month
Plus this weekend's birthday celebrations detailed.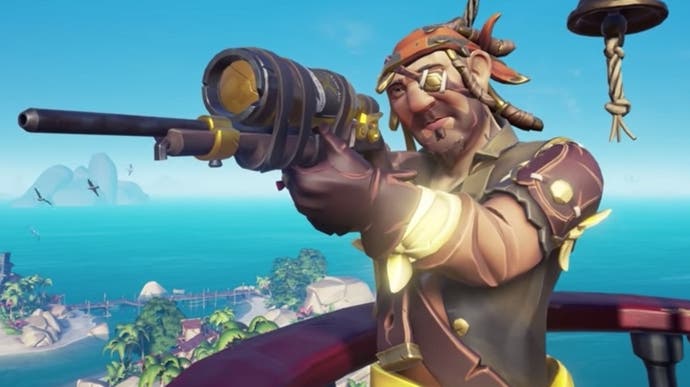 Barely has the curtain closed on Sea of Thieves' latest swashbuckling narrative escapade, Heart of Fire, than Rare is back with news of its multiplayer pirate adventure's next big monthly update, which is set to usher in sweeping changes for the game's PvP-focussed Arena mode. There's also word of its second anniversary celebrations, which start this weekend.
The big news from Rare's latest developer video update undoubtedly comes in the form of April's significant Arena mode overhaul, said to mark the start of its "next chapter".
As of April's update, all treasure maps (and all but one cashing-in ship) will be removed from the Arena, with every player now being directed toward a single buried treasure highlighted by a large glowing beacon. Matches will be shorter, reduced from 24 minutes to 15 minutes, arenas will be smaller, and silver rewards for ship-to-ship battling will rise.
Rare says these changes are designed to encourage "condensed, fluid gameplay", with the aim presumably being to funnel all participants together for massive inter-team pile-ons of ceaseless cannon fire and onboard battling.
Based on these early details, it sounds like Arena mode will lose a lot of its more nuanced strategy - the original version permits a surprisingly wide variety of offensive and defensive playstyles in the quest to be crowned PvP champion - which will be a shame if true. Hopefully, though, the overhauled version will prove enjoyable enough to mitigate that loss.
Prior to April's update, however, there's the small matter of Sea of Thieves' second anniversary celebrations. To get the ball rolling, the game is free to download and play on Xbox One (the offer doesn't appear to apply to the PC version) from now until Monday, 23rd March.
That's followed by a special Anniversary Livestream at 5pm UK time on Friday, 20th March, and players that watch via Mixer while signed into their Sea of Thieves Xbox account will receive the Killer-Instinct-inspired Spinal Figurehead, should they have missed it first time around. Additionally, anyone that plays the game this weekend will be rewarded with a special Anniversary Eye of Reach.
Finally, Sea of Thieves will embark on a three-week-long anniversary event from 20th March, giving players the chance to experience some of the activities that featured in the game's fantastic first year of updates, including the Hungering Deep, Cursed Sails, and Forsaken Shores. Rare says players will also be able to earn some - but not all - of the previously time-limited cosmetics connected to those events.
One last point of business for now; Rare notes that Sea of Thieves' servers will be down from 10am in the UK tomorrow, 19th March. Normal service will resume as soon as it's deployed a patch to remedy the nasty teleportation bug currently sending players to the Heart of Fire while attempting to complete the Fate of the Morning Star and Shores of Gold Tall Tales missions.