Resident Evil 7 Lockpick locations and where to use them
Where to find every Lockpick and locked drawer in the game.
The Resident Evil 7 Lockpick is one of the most useful items when it comes to exploration.
As you play through the game's many locations, you'll come across many locked drawers and a prompt to use an item to open it. If you have a Lockpick, select it and open it up.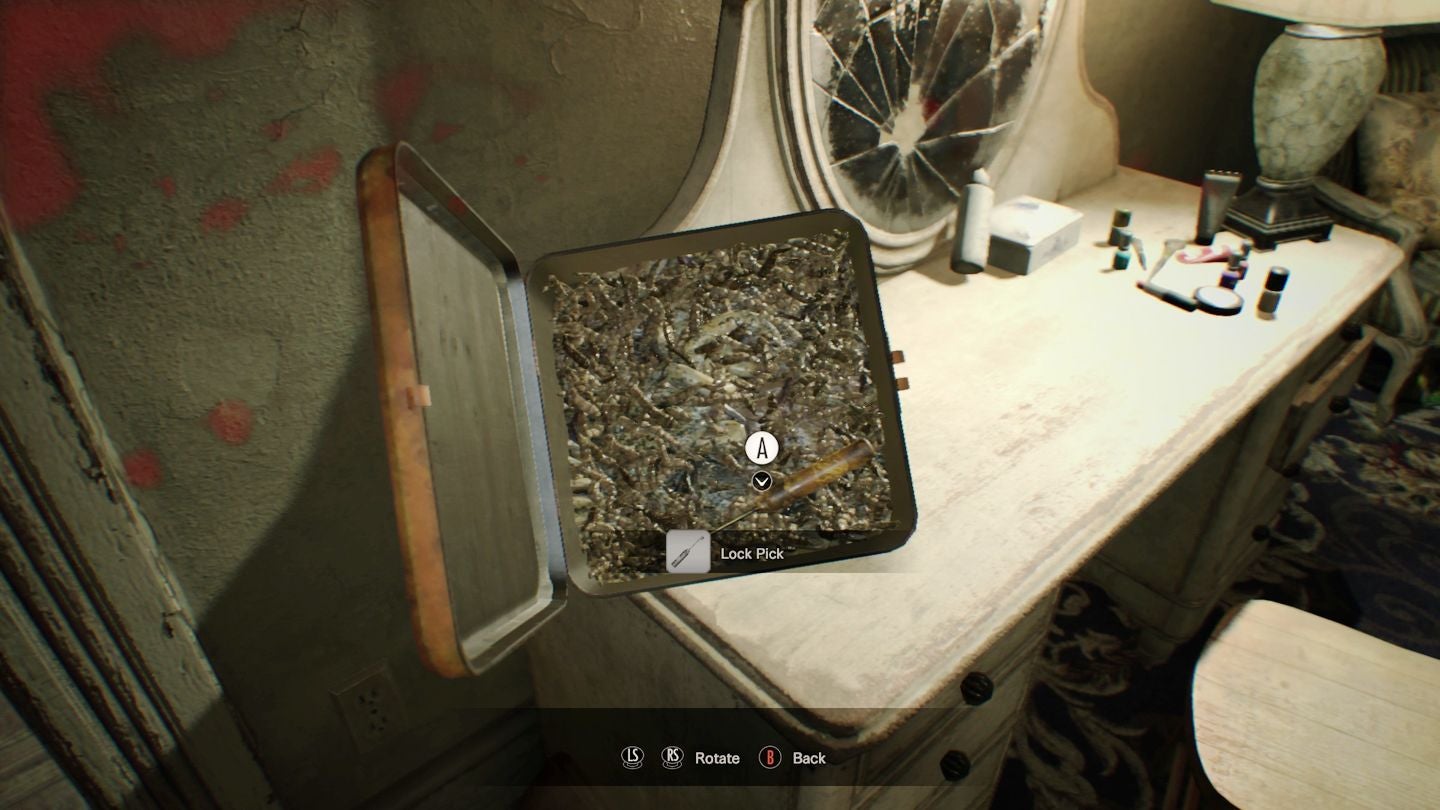 Wile there are an equal number of Lockpicks and locked drawers, you may want to open some sooner than others depending on the item you need.
For completionists, it's also where you find two Antique Coins.
This page features a list of Lockpick locations, and where you can make use of them, to save you backtracking through every room.
On this page:
Resident Evil 7 Lockpick locations
Guest House, outside - Turn around when you start the Derelict House tape. This can only be used in the Tape (specifically, the Kitchen drawer).
B1 Main House, Processing Area - In the container next to the Scorpion Key
Yard - In a pot on the right as you leave the Main House
Old House - Outside, north east porch
2F Main House, Kid's Room - In the vase on the shelf
2F Main House, Master Bedroom - In the box on the desk
Wrecked Ship 3F Shaft - Accessible via the north east room on 2F, in the case
---
Want more help? Our Resident Evil 7 walkthrough provides step-by-step instructions on how to survive the main story, as well as finding the Shotgun, Grenade Launcher and the game's many Lockpicks and Treasure Photos. Meanwhile, our Antique Coins locations, Mr Everywhere statue locations and File locations lists will help you find every available collectible on Normal and Easy difficulties.
---
Where to use Lockpicks in Resident Evil 7
Guest House, Kitchen - Use the Lockpick you find in the Derelect House tape on the drawer before you head back to the present. (Antique Coin)
Main House 1F - Room between Drawing Room and Monitoring Room, in the toolbox (Shotgun Shells)
Main House 1F, Safe House in north east corner - Inside the drawer (Herb)
Main House 2F, North West corridor - Inside the toolbox on the shelf (Shotgun Shells)
Old House 1F, Kitchen (Med Kit)
Greenhouse 2F, east side (Flame Rounds)
Wrecked Ship 3F - Control room, desk drawer (Antique Coin)