PUBG Xbox performance patch arrives, the first of presumably many
Part of a bigger pan.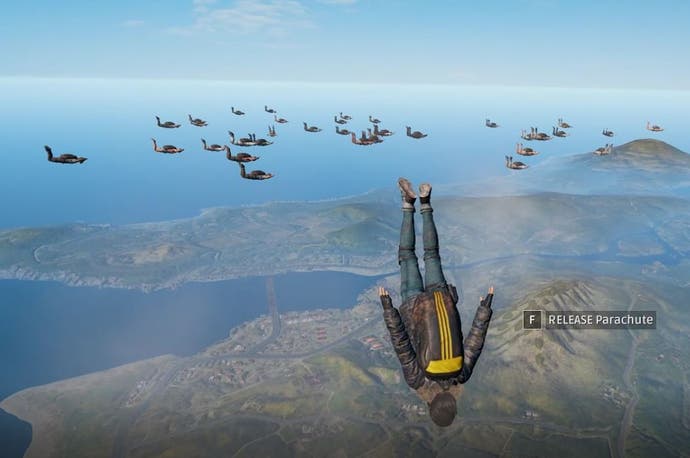 "PUBG Xbox One performance still isn't good enough", Digital Foundry recently declared, but the first of the 'we will fix it I promise' patches is here.
PUBG Xbox Patch 11 ought to have just finished rolling out. It focuses on improving performance and stability, naturally, plus makes a few inventory changes to speed up equipment swapping. There's a counter showing the number of players remaining on the plane now as well. The full patch notes are below.
When PUBG developer Bluehole announced the Xbox Game Preview spring roadmap of changes it readily admitted performance wasn't good enough. "To put it bluntly, we are simply not satisfied with the game's current console performance," it said. "Especially so during tense moments of onscreen action." So Bluehole is taking action.
Among the PUBG Xbox improvements targeted for the next few months are:
Current console performance is unsatisfactory and the team has identified some key areas to increase frame-rate. By making changes to building materials and reducing foliage composition, PUBG should run more consistently.
Optimisation to game characters and their movements to increase frame-rate.
Optimisation of the number of particle effects that are spawned by vehicles and grenades to increase frame-rate.
Optimisation of object collision complexity to increase frame-rate.
Balance the work across all CPU cores to reduce streaming hitches when moving.
Better quality assets and the speed at which they load will improve in the future.
Bluehole also said desert map Miramar will come to the Xbox Game Preview version of PUBG during the spring, and the console version will get its own test server too.
PUBG Xbox Patch 11 notes follow.
Performance / Optimization / Stability
Implemented texture changes to improve graphical performance
Optimized vehicle profiles to improve framerate
Additional fixes to reduce crashes
UI/UX (Inventory)
The layout of the inventory has been improved, adding focal points to identify selected areas, a clearer button guide and tooltips
Improved selection of weapon slots and attachments - players can change the focus and selection by using the D-Pad
Quick scrolling has been added by using LT/RT buttons
Gameplay
A counter has been added to show the number of players remaining on the airplane
Cosmetic Items
Reminder to the community that the Varsity Jacket (also known as the PUBG5 jacket) announced last week will be rewarded to players after March 22nd 12:01AM. Look for it in your in-game inventory from March 22nd, inside the customization tab of the menu.
Bug Fixes
Fixed issue that caused players to hear footsteps when no other players were in the vicinity
Fixed an issue that prevented the blue zone from being displayed correctly