People are trying to make Mario Kart in Fortnite's Playground mode
Trolley dash.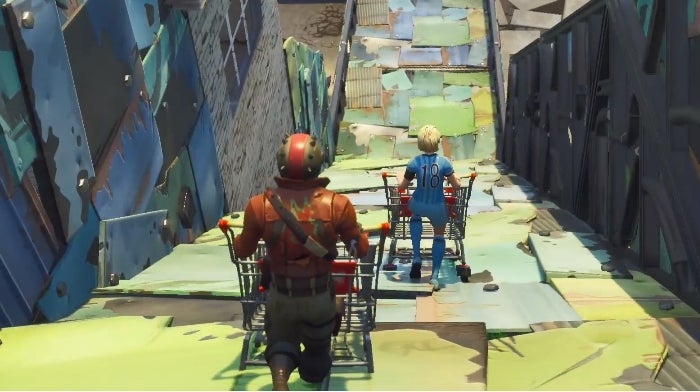 The ingredients were all there. Tracks, bounce pads... carts. Rainbow Road already sounds like a Fortnite location. All that remained was for the Playground Limited Time Mode to go live, and players have now joined the dots to produce Mario Kart-style tracks within Fortnite.
A video of one race, complete with sound effects from Super Mario 64, has recently surfaced on Reddit. Using metal walls, bouncer traps and carts, user JoshB_C constructed a working race track that weaves through Tilted Towers in the style of a classic Mario Kart game.
In another video, one player can be seen skillfully bouncing over Loot Lake with the help of a giant ramp and dozens of jump pads. If you had problems with the jumps in Mushroom Gorge, you may want to look away now.
If those weren't enough for you, check out this video of an enormous track that's suspended in mid-air.
Delighted Reddit users pointed out there is potential for even further innovation. As Fortnite trolleys can carry two people, players could soon engage in Double-Dash style races. With stink bombs as green shells, and boogie bombs replacing the dreaded blue shell, races could reach new levels of chaos (and nostalgia).
Due to the popularity of these creations, some commenters asked whether Fortnite should introduce an option for players to save their creations as custom presets. Could this be the next step in Fortnite's evolution?