Okami's Amaterasu heading to Monster Hunter Rise this week
As unlockable Palamute armour.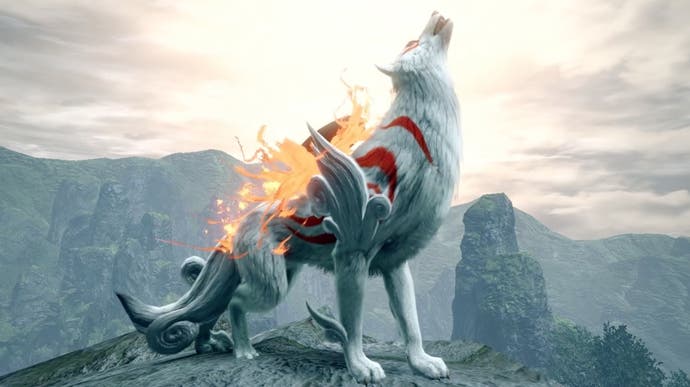 Monster Hunter Rise continues its schedule of crossover updates on Switch this Friday, 30th July, as Amaterasu, star of Capcom's beloved action-adventure classic Okami, joins the game.
More specifically, Monster Hunter Rise players will be able to acquire Amaterasu in the form of a unlockable layered armour set for their Palamute, and there's a little more to the outfit than a mere skin swap. With the Amaterasu armour equipped, Palamutes won't just resemble the beloved Okami character, they'll bound across the landscape leaving a trail of blooming flowers and leaves in their wake, as is befitting of a Sun Goddess.
As yet, Capcom hasn't specified what, exactly, players will need to go up against to obtain the new layered armour set, but expect a similar format to June's collaboration (which added a Palico skin themed around Monster Hunter Stories 2's Felyne Tsukino), meaning players will need to farm materials from a new event quest included as part of the update.
Alongside today's Okami news, Capcom has updated its Monster Hunter Rise post-launch development roadmap, and while those hoping to see new monsters added to Rise any time soon will be disappointed, three more (still mysterious) collaboration updates are now confirmed: one due this August and two more this autumn.