MotoGP revs up with PSP demo
Advertorial: Visit the game's new website today.
PlayStation Portable has helped deliver console-style experiences to previously uncharted locations: up mountains, on the train, over there a bit, next to a tree I expect. But on the back of a motorbike?
In fairness, Sony's brand new MotoGP game for PSP isn't encouraging you to play while you're leaning into a chicane at Donington, Sachsenring and Catalunya - but it is encouraging you to visit many of the sport's top circuits, on the portable, and play wirelessly with your friends. Perhaps next to that tree, eh?
This being a PSP game, you're being given the chance to try it out before you buy - thanks to a brand new downloadable demo for the game, which is available through its exclusive mini-site, where you will also discover downloadable wallpapers and screensavers, as well as reams of information and colourful images of the game in action.
Designed by a Namco development team consisting of members of the MotoGP PlayStation 2 team along with some responsible for the brilliant Ridge Racer PSP game, the full version of MotoGP for PSP offers Season, One on One and Time Trial modes in addition to wireless racing for up to eight players, and is an official licence-holder with the MotoGP series - offering data from the 2005 and 2006 seasons.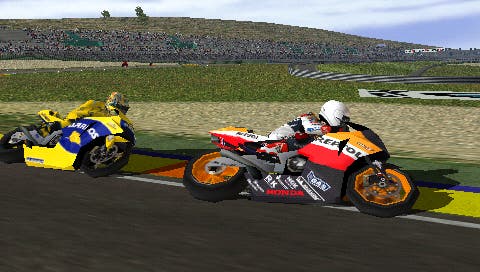 For more on MotoGP for PSP, check out the website, where you can also find expert analysis of the current hot topics in MotoGP penned by journalist and television/radio commentator Nick Harris, whose 26 years of experience with the sport have seen him working for the BBC, as well as in his current post as World Feed Television Commentator for the 17-round championship.
To download the demo, head over there, click on the "DOWNLOADS" link and then "Download the Demo" from the next menu. A window will pop up allowing you to sign in to Sony's European PSP website, where the game is hosted.