X360 to have '15 to 20' at launch, new games announced
X05: New Bioware RPG, more.
Microsoft intends to have "15 to 20" titles available at the launch of Xbox 360, but it can't say what most of them are right now.
Project Gotham Racing 3, Kameo: Elements of Power, Perfect Dark Zero, and the five games EA confirmed yesterday will be available at the launch of Xbox 360, but the platform holder cannot confirm the majority of the launch titles at this time because they are "currently in the final stages of certification," according to director of platform marketing David Reid speaking to GameSpot.
What Microsoft can say - and said with great gusto during its lengthy X05 press conference in Amsterdam last night - is that they will be supported by other high-profile titles further down the line, some of which were unveiled during the address.
Chief among them was Mass Effect, Bioware's exclusive new Xbox 360 RPG, which is set in the 23rd century and looks really rather gorgeous.
Other highlights of the event included id and Raven Software's announcement that a new Castle Wolfenstein game would "lead" on Xbox 360, while Ubisoft said similar things about Splinter Cell 4, which promises to take the series in "a new gameplay direction" on current and next generation console platforms as well as PC.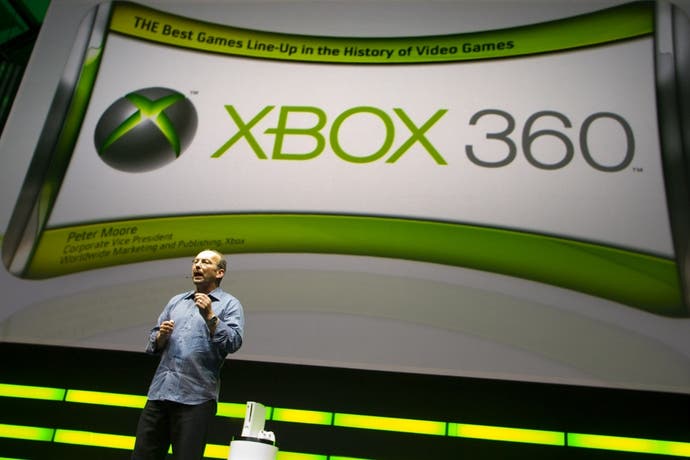 Microsoft also mentioned a new MotoGP title from THQ - MotoGP Ultimate Racing Technology 2006 - and showed video footage of Real Time Worlds' Crackdown, Epic Games' Gears of War, Silicon Knights' Too Human, EA's FIFA 06: Road to FIFA World Cup and Superman Returns, THQ's Saint's Row, SEGA's Full Auto and Condemned: Criminal Origins, Activision's Call of Duty 2 and Quake 4 and Bethesda Softworks' The Elder Scrolls IV: Oblivion.
Intriguingly, the company also used the X05 address to reveal that Lord of the Rings director Peter Jackson will take a hand in its forthcoming Halo film, acting as executive producer along with his wife Fran Walsh.
Today, the second day of X05, consists largely of executive and developer interviews, and we're confident our men on the ground will be doing their utmost to find out more about the new games and Microsoft's strategy going into the critical winter months. Assuming they know what's good for them, ligging bastards.
Xbox 360 launches in the US on November 22nd, Europe on December 2nd, and in Japan on December 10th.