Namco turned FlatOut dev prototype into Ridge Racer Unbounded
Fan "misconception" dev intended to reinvent series.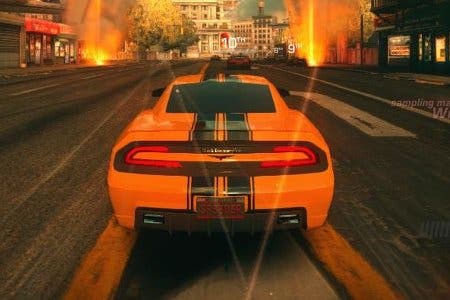 The game that would become Ridge Racer Unbounded first existed as an unrelated prototype before publisher Namco stamped its Ridge Racer brand on it, developer Bugbear has revealed.
Namco convinced FlatOut developer Bugbear to adapt its pre-existing racing game into a Ridge Racer spin-off, lead producer Joonas Laakso told Eurogamer.
"There's definitely a misconception among fans that we're responsible for trying to take the series in a new direction," Laakso explained. Instead, it was Namco who contacted Bugbear about the idea.
"We were working on a driving game prototype that Namco had seen a couple of times. So they certainly knew what we were going to do at that point."
Bugbear's work-in-progress had already had Unbounded's arcade-inspired "gritty back-alley feel", Laakso explained, denying any suggestions that Bugbear had deliberately attempted to alter Ridge Racer's formula.
The protoype was then adapted after the Ridge Racer label was applied.
"After we knew we were going to make a Ridge Racer title obviously we made changes."
"After we knew we were going to make a Ridge Racer title obviously we made changes to make it fit into what we felt a quality Ridge Racer title should be like," Laakso continued. "Even though it was going to be very different."
"We took a long hard look at Ridge Racer's 'artificial' feel to make it mesh with what we were doing." Laakso specifically notes Unbounded's lighting and music as examples of this. "We tried to make it feel more stylish and mature."
So why did Bugbear decide to package up their protoype with a Ridge Racer name? Laakso mentioned the difficulties in launching a new arcade racing IP, and the recent commercial troubles faced by arcade racers Split/Second and Blur, which failed to perform commercially despite critical praise.
Unbounded's disappointing UK launch seemingly continued the pattern. It crashed into the UK all-formats chart in 21st place last week. This week it had vanished from the top 40 altogether.
"I'm worried that it's part of a general apprehension towards new arcade racing titles we've seen with the release of Blur and Split/Second," Laakso said, addressing Unbounded's chart performance. "It doesn't seem to be anything to do with a game's quality."
Bugbear tried to combat this pattern ahead of time by cramming Unbounded with as many features as late as possible, right up until the last stages of development. Bugbear wanted "to try and make sure it was worth the full asking price," Laakso continued, "but maybe there's just not quite enough for people out there."
"I'm worried that it's part of a general apprehension towards new arcade racing titles."
"Then again I feel we have a chance at making a slow-burning title. We're waiting to see global sales of the game."
"It's so hard to get a single new IP out of the gate," Laakso concluded: reason enough to want the Ridge Racer moniker behind its new game. "[Namco] wanted it to benefit from the impact of having the Ridge Racer name."
As for where the series could head next, Bugbear is confident that any future Unbounded and Ridge Racer games would remain separate entities.
"[Namco] sees this as two different franchises, Laakso concluded, speaking on the possibility of a Ridge Racer Unbounded sequel. "So there could be an Unbounded 2 and Ridge Racer 8, but whether this will happen anytime soon or come next-generation, we just don't know yet."