Mother defends 14-year-old son sued by Epic over Fortnite cheat video
Mum's the word.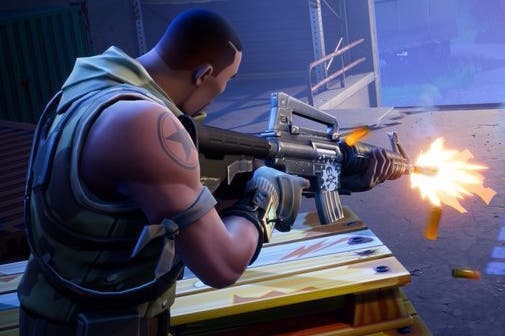 Last month Epic Games filed civil complaints against two alleged Fortnite cheaters. The pair were accused of being associated with the cheat provider Addicted Cheats, allegedly acting as support personnel for the site and using aimbot software "with the deliberate intention of ruining the game for other players and players who watch streamers".
Neither defendant is actually being sued for cheating, rather Epic argued by using the game-breaking cheats provided by Addicted Cheats, they were "infringing Epic's copyrights by injecting unauthorised computer code into the copyright protected code".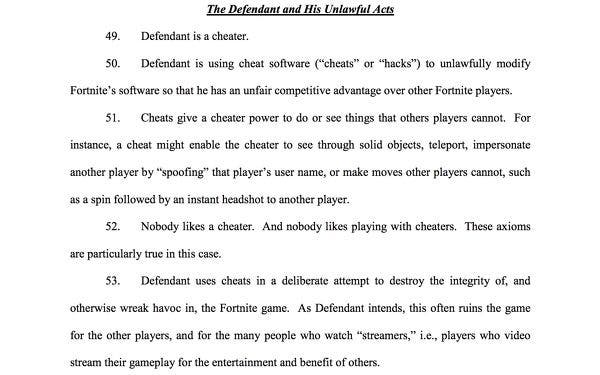 It has now come to light that one of the defendants is a 14-year-old who Epic Games sued because the teenager appealed against the developer's DMCA takedown request of a YouTube video revealing how to use cheats. Legally, Epic Games had to either withdraw the DMCA takedown request or file suit against the teen. The developer chose the latter.
"This particular lawsuit arose as a result of the defendant filing a DMCA counterclaim to a takedown notice on a YouTube video that exposed and promoted Fortnite Battle Royale cheats and exploits," said an Epic Games spokesperson in a statement to Eurogamer. "Under these circumstances, the law requires that we file suit or drop the claim.
"Epic is not okay with ongoing cheating or copyright infringement from anyone at any age. As stated previously, we take cheating seriously, and we'll pursue all available options to make sure our games are fun, fair, and competitive for players."
But this wasn't enough for the teenager's mother, who was less than pleased her son had been sued. The mother wrote a strongly-worded letter to the court claiming her son was being used as a "scapegoat", according to TorrentFreak.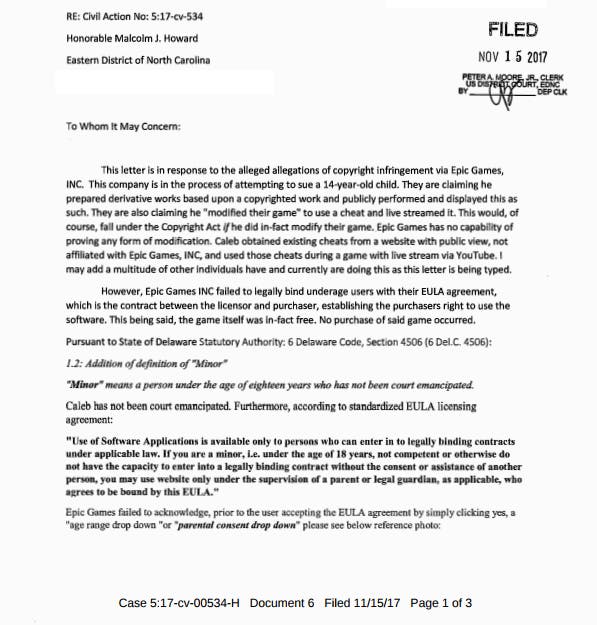 In the letter, the defendant's mother made the following points:
Her son did not modify the game or create cheat software as Epic Games has alleged, and "Epic Games has no capability of proving any form of modification".
She admits her son used preexisting cheats and livestreamed them, but "a multitude of other individuals have and currently are doing this as this letter is being typed".
Fornite requires parental consent to be played by minors, which she never granted.
Epic Games can not claim "mass profit loss" because the game is free-to-play. She claims Epic is using her son "as a scapegoat" because it cannot curb cheaters.
Her son's name and details were released publicly, which due to him being a minor is illegal.
Her son made no money from livestreaming these cheats.
The mother called on the District Judge to dismiss the case "as the infraction does not equate the suing of a minor by a major gaming company". Epic's statement suggests the game maker is determined to see this one through.