Monster Hunter Rise: Sunbreak weapon types list, best beginner weapons and weapon combos explained
A breakdown of all weapon types to help you decide which to choose in Monster Hunter Rise: Sunbreak.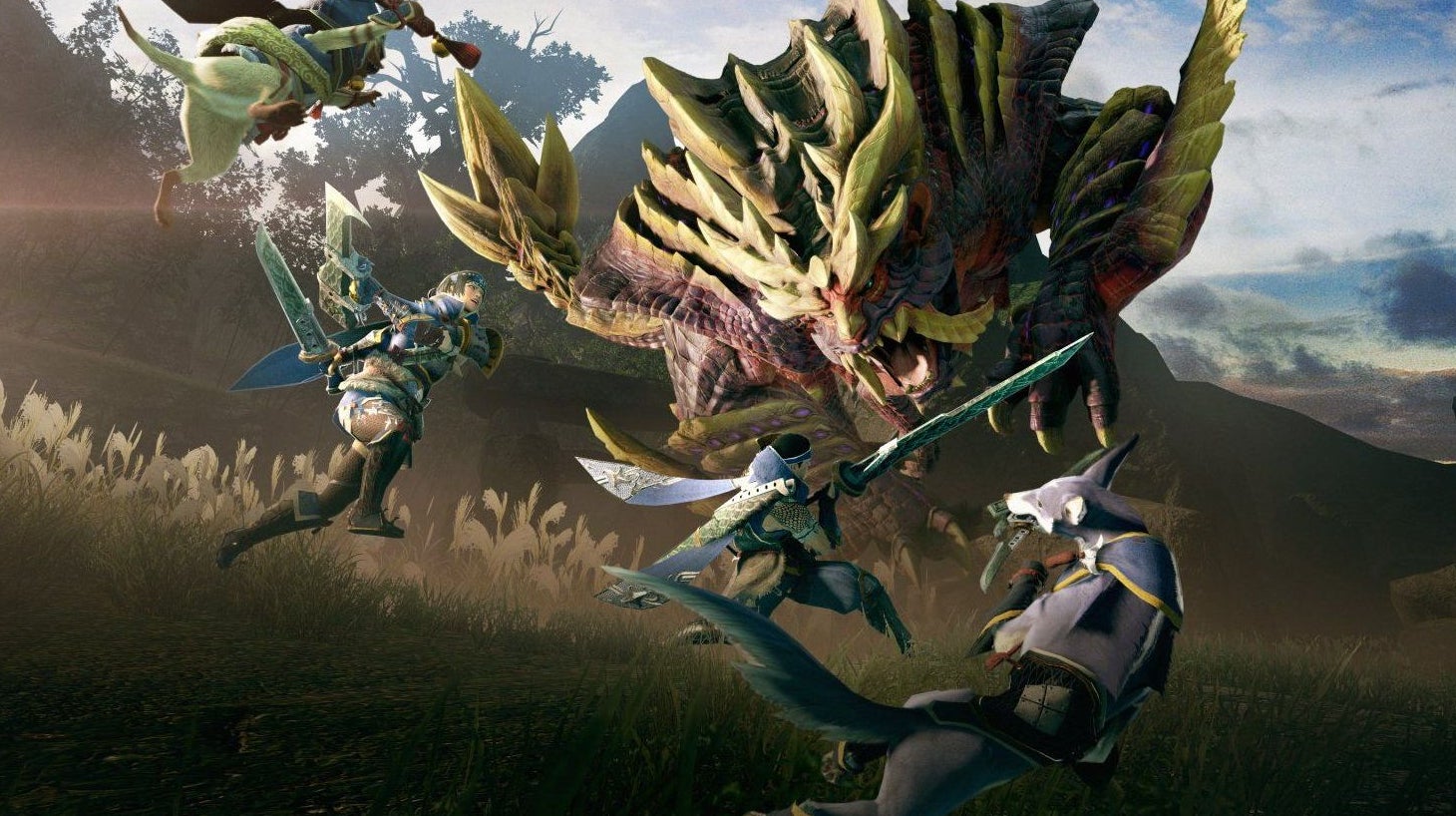 Monster Hunter Rise: Sunbreak has a dizzying array of weapon types that come in all shapes and sizes, so it can be overwhelming to decide which weapon type is best for you if you're just getting started.
This page has a full list of every type, in order of the game's recommendation for beginners to more advanced players, and details of what makes them different from the next.
We also explain how wirebugs incorporate into each weapon including Silkbind attacks and Switch Skills. New skills have been added since launch, and now that Sunbreak is here, there are even more Silkbind attacks for each weapon to learn.
For more help on Monster Hunter Rise Sunbreak, learn how to unlock Master Rank, use Switch Skill swap, and progress onward with our Monster Hunter Sunbreak walkthrough.
Monster Hunter Rise: Sunbreak weapon types list: Which weapon is best for you in Monster Hunter Rise?
There's 14 weapon types in total, but it's important to note that every single weapon is finely balanced and all viable in taking you through the whole game.
Additionally, you're able to pick and choose what weapon you want to use at any time. As weapons also require less materials to upgrade than in previous entries, it's even easier to switch up to another weapon and playstyle if you're looking for variety.
Some weapons dish out huge amounts of damage and require charging and phial management, others are more familiar hack-and-slash types. Ranged weapons also exist, with different ammo types enabling you to dish out different amounts of elemental damage. Gyro aiming is also supported on Switch.
The Monster Hunter Rise: Sunbreak weapons list is as follows:
As for the best Monster Hunter Rise weapons, for beginners, we recommend the Sword and Shield, Dual Blades and Light Bowgun - and try each type in the training area before embarking on an early game hunt each.
From there, everything from there apart from Charge Blade and Lance are 'intermediate', with those latter two as 'advanced' - don't attempt to take these on until you know Monster Hunter better!
Ultimately, whatever you choose, the village quests that constitute the solo campaign are also considerably easier than past games, so you shouldn't have too much trouble even if you don't upgrade your weapons very far and want to try something else.
Sunbreak Sword and Shield Switch Skills
With the release of the Sunbreak expansion, there are two new Sword and Shield Switch/Silkbind Skills to learn:
Twin Blade Combo: A two-part attack that opens with a circular slash and follows up with a blade thrust. An easy attack to get multiple hits in with, so ideal for weapons with high elemental and status properties.
Destroyer Oil: Uses a Wirebug to cover your blade with a special ointment whose effects trigger if ignited by friction with your shield. Increases Flinching damage.
Sunbreak Dual Blades new Switch Skills
The following skills have been added for Dual Blades players as part of Monster Hunter Sunbreak:
Side Slash Combo: This technique allows you to attack while evading, and if you work it into your combos, you can unleash a relentless attack that's difficult to defend against.
Spiral Slash: A Silkbind attack that launches you spiraling forwards. Once your attack connects, your body acts as a drill as your blades bore into your target's flesh.
Sunbreak new Light Bowgun Switch Skills
Here are the new Light Bowgun moves added for Sunbreak:
Critical Firepower: A special shooting style that further raises damage output but narrows critical distance and increases recoil. Because the distance at which the power of ammo is most effective has been reduced, you will need to be aware and adjust your firing position.
Wyvern Counter: An urgent retreat that fires a shot with massive recoil, using a Wirebug to stop. While not a powerful attack, its true value comes when it's used to evade incoming attacks.
Surge Slash Combo: An offensive style that combines speed with the weight of the weapon to unleash a stream of powerful slashes.
Strongarm Stance: A technique that uses Ironsilk to reinforce both your arms and weapon temporarily to fend off attacks. If used while charging, you can quickly parry an attack and then unleash a fierce onslaught afterwards.
Sunbreak Long Sword Switch Skills
Sacred Sheathe Combo: A slow methodical movement that can be executed following an attack.Upon sheathing your weapon, you can harness the increased spirit to unleash a follow-up slash. The power of the slash increases according to the level of the Spirit Gauge. If you are attacked before you have finished with the sheathe, it will consume one level of Spirit Gauge and the move will be cancelled.
Harvest Moon: A move that casts out an Ironsilk ring that narrows your range of attack, but boosts spirit so you can go on the offensive. Within the ring, your Spirit Gauge won't deplete, and if you perform any counter attacks, it will add additional hits.
Monster Hunter Sunbreak Hammer Switch Skills
Spinning Bludgeon (Charge): A technique that stores released power and funnels it into the next Charge Switch attack. Power is built up when performing a Spinning Bludgeon. The charge level is then maintained when executing a Charge Switch.
Impact Burst: A Silkbind attack that wraps your weapon in Ironsilk. For a short period of time, any charged attack performed causes the silk to vibrate, creating a shockwave that makes it easier to flinch monsters.
Sunbreak Gunlance Switch Skills
You'll need to master these two new moves if you plan on using the Gunlance in Monster Hunter Rise: Sunbreak:
Erupting Cannon: This technique involves firing an exploding stake into your target. When using the Eruption Cannon, the tip of the gunlance heats up and slashing attacks are enhanced for a certain period of time.
Bullet Barrage: Uses a Wirebug to Blast Dash toward your target, unleashing everything with abandon.
Sunbreak Switch Axe new Switch Skills
2-Staged Morph Slash Combo: A two-staged Morph Slash attack that follows an Axe: Wild Swing.
Elemental Burst Counter: Compresses Switch Gauge energy, that can be released as an Elemental Burst. If the burst is released right as a monster attacks, you'll perform a Power Finisher and your switch axe will go into an Amped State.
Sunbreak Hunting Horn New Skills
Swing Combo: A two-hit attack that can be delivered from either the left or right. This allows you to quickly shift directions, making it useful for repositioning.
Silkbind Shockwave: A Silkbind attack that wraps your weapon in Ironsilk. For a short period of time, any attack performed causes the silk to vibrate, creating a time-delayed shockwave that triggers additional hits. These additional hits do major stun, exhaust, and part damage.
Sunbreak Insect Glaive Switch Skills
Two new moves have been added alongside Sunbreak. Here's what each one does:
Kinsect Slash: A mid-air technique where you thrust forward with your glaive and Kinsect. If the slash connects, you'll perform a Vaulting Dance, absorbing extract. However, once you've absorbed red extract with Kinsect Slash, you won't be able to absorb any other extract with it, but you'll be able to perform an Enhanced Insect Spiker as a trade-off.
Awakened Kinsect Attack: A technique where you hurl a Kinsect to inflict massive damage. All extracts are consumed and the more extract you have, the more potent this attack will be. After launching the Kinsect, you'll close in using a Wirebug; simultaneously absorbing extract, marking the target, and then chaining into a Vaulting Dance.
Sunbreak Heavy Bowgun New Switch Skills
Crouching Shot: A style of shooting that utilizes a special stance to reduce recoil. In exchange for not being able to move, you're able to fire in rapid succession. The longer you fire, the shorter the firing interval becomes, but at the risk of overheating your bowgun. If your bowgun overheats, it can't be fired until it has cooled down.
Setting Sun: A Silkbind technique in which a Wirebug generates a ring of Ironsilk. Special powder accumulates within the ring, and when ammo passes through it, the velocity of the ammo is decreased. Firing piercing ammo/multi-hit ammo through the ring will boost the total number of hits upon impact.
Sunbreak Charge Blade Switch Skills
Phial Follow-Up (Firing Pin): A mechanism that lowers the pressure of elemental energy generated through Shield Thrust during Elemental Boost, or by sword attacks while in Sword Boost Mode.
Ready Stance: A Silkbind maneuver that binds sword and axe together with Ironsilk. After guarding, a heavy knockback leaves you in Sword Mode, and lowers your guard reaction so you're able to chain sword/axe attacks.