Microsoft creative director Adam Orth no longer with Microsoft
"...he just got very unlucky."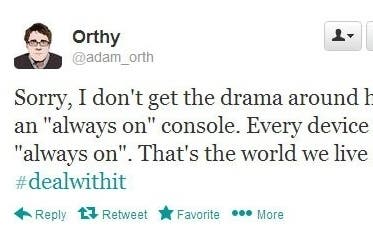 Microsoft creative director Adam Orth is no longer with Microsoft.
According to a report on Game Informer, Orth resigned following the outcry sparked by his comments on rumours about the next Xbox being always online.
Orth hit the headlines after he expressed his frustration at the "drama" surrounding the idea of always-online consoles. On Twitter he explained that "every device is now 'always on'". "That's the world we live in," he added, followed by the hashtag "#dealwithit".
His Twitter feed was made private following an exchange with senior BioWare designer Manveer Heir.
"Did you learn nothing from Diablo 3 or SimCity?" Heir asked him. "You know some people's internet goes out, right? Deal with it is a sh***y reason."
"Electricity goes out too," Orth replied.
"You've lived in LA, San Francisco, Seattle... very connected places. Try living in Janesville, WI or Blackburg, VA," Heir countered.
"Why on earth would I live there?" Orth concluded.
Soon after Microsoft took the unusual step of issuing a statement apologising for what the company described as "inappropriate comments".
Orth, who joined Microsoft in February 2012 to work on the next Xbox design team at the gargantuan company's Redmond headquarters, angered a number of gamers, particularly on Reddit, but he has been defended in some quarters. God of War and Twisted Metal director David Jaffe described Orth as "a good, good guy and a real talent" in a post on NeoGAF.
"And he's a nice guy as well. He teases and f**** around - like so many of us on the net do - and yeah, he tweeted without thinking (like many of us on the net do) and he just got very unlucky."