Marvel's Avengers characters: All playable and DLC characters listed, cast, and how to change characters explained
Every character available in the Marvel's Avengers game - and how to start playing as them.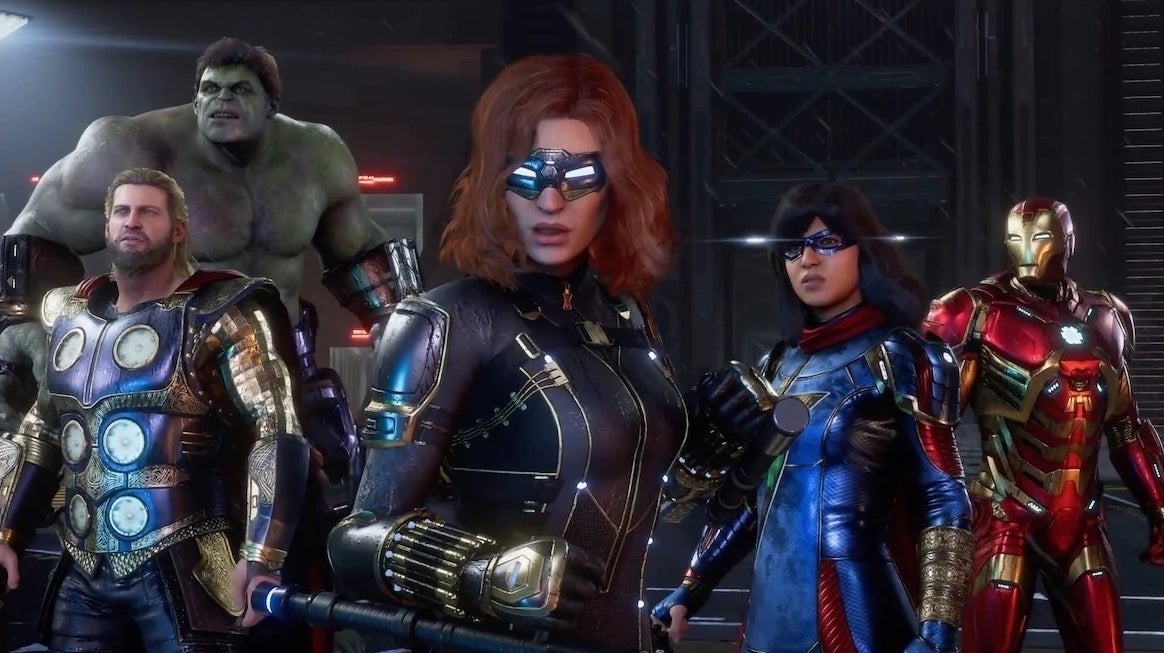 Marvel's Avengers' character roster provides a new take on familiar heroes from the superhero franchise.
At launch, there are six playable characters, many of which have appeared in the MCU over the last decade, from Thor to Iron Man and the Hulk - though expect some new surprises, too.
The Avengers campaign will unlock them individually as you play through the story, though those wanting to jump to the end game can get started with any character they please.
More characters will be coming as part of Marvel's Avengers DLC, all of which are arriving as part of a free updates - and one coming to PlayStation as an exclusive.
On this page:
Marvel's Avengers playable character list
Below is a list of all currently playable Marvel's Avengers characters:
| Playable character | | Availability |
| --- | --- | --- |
| Black Widow | | Launch day |
| Captain America | | Launch day |
| Hulk | | Launch day |
| Iron Man | | Launch day |
| Ms. Marvel | | Launch day |
| Thor | | Launch day |
As well as the above, there are many more characters on the way - but confirmed and seemingly revealed through datamines...
Marvel's Avengers DLC characters list
As well as the above, Square Enix is planning to release new characters to the game for free.
All characters will have the same treatment as the original cast of six - including unique moves, gear sets, outfits, emotes and more. Most (if not all) will also come with their own mission chains.
Below are all confirmed characters coming to the game, and their availability:
| DLC character | | Availablity |
| --- | --- | --- |
| Kate Bishop | | December 8th, 2020 |
| Clint Barton | | TBC (originally November 2020) |
| Spider-Man | | 2021 (PlayStation exclusive) |
As well as the above confirmed DLC characters, a datamine of the beta's playable characters seemingly reveals many more on the way.
Note: None of these are confirmed until formally announced by Square Enix, so take it with a pinch of salt - but use the following list as an idea of where the game's roster should be going:
Ant-Man
Black Panther
Captain Marvel
Doctor Strange
Falcon
Hulkbuster
Mar-Vell
Mockingbird
Quake
Scarlet Witch
She-Hulk
Vision
War Machine
Wasp
Winter Soldier
Marvel's Avengers cast, voice actors list
Those expecting the likenesses of the Marvel movies might be a little disappointed going into this Avengers game - but since it's a new take on the superhero universe, a unique cast makes a lot of sense.
Those familiar with some of the biggest blockbuster games of recent years will be familiar with this Marvel's Avengers cast list:
Black Widow - Laura Bailey
Bruce Banner - Troy Baker
Captain America - Jeff Schine
Iron Man - Nolan North
Hulk - Darin De Paul
Ms. Marvel - Sandra Saad
Thor - Travis Willingham
Meanwhile, here is the confirmed cast of Marvel's Avengers DLC characters:
Clint Barton - Giacomo Gianniotti
Kate Bishop - Ashley Burch
How to change and unlock characters in Marvel's Avengers explained
In Marvel's Avengers, there are six playable characters at launch, and how you access them depends on the mode you are playing.
In the 'free play' Avengers Initiative mode and end game portion of the campaign, you'll have full access to every available character.
To change characters, first visit the War Table. This is where you select which mission you want to play next.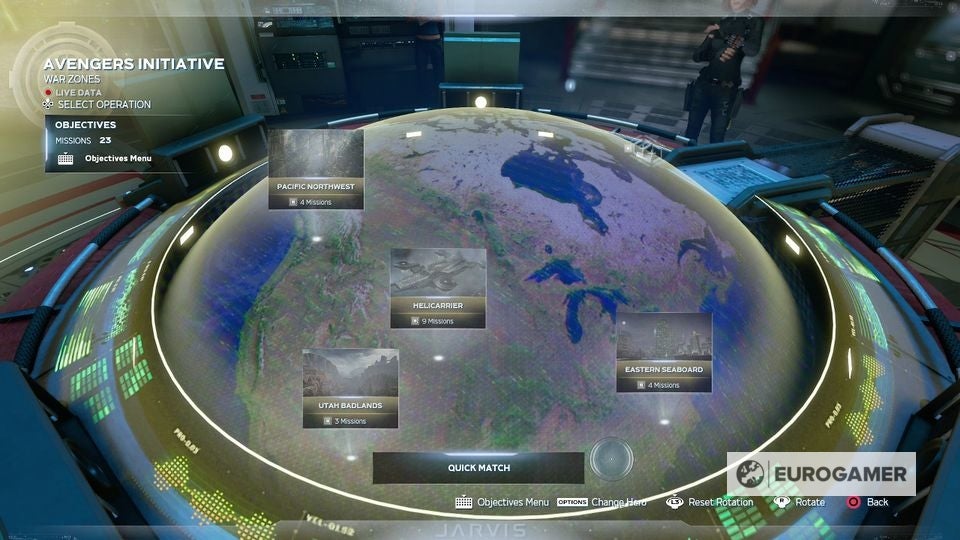 Now press the Options (on PlayStation) or Menu (on Xbox) as displayed on screen to bring up the character roster.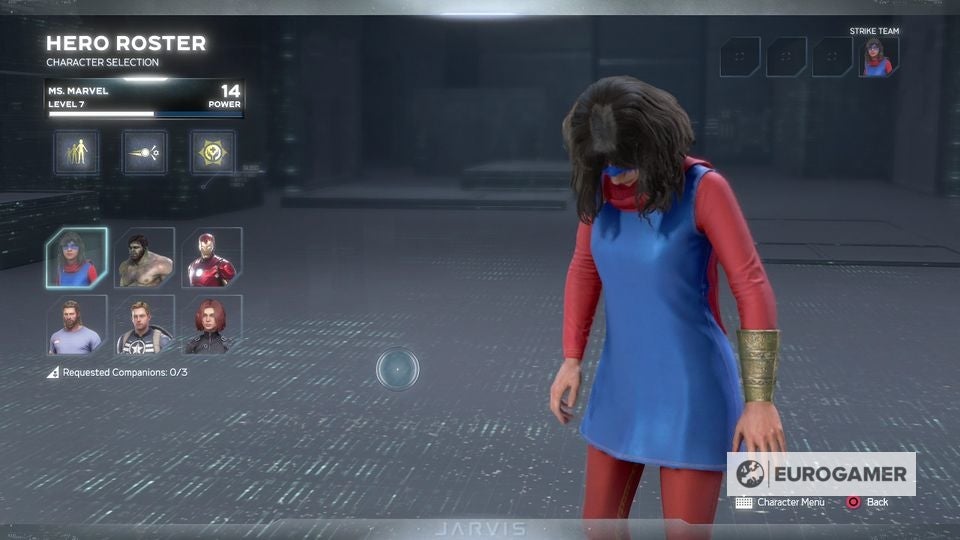 In the campaign, you must unlock each playable character one-by-one as part of the story - the game will make it obvious when a new character is unlocked.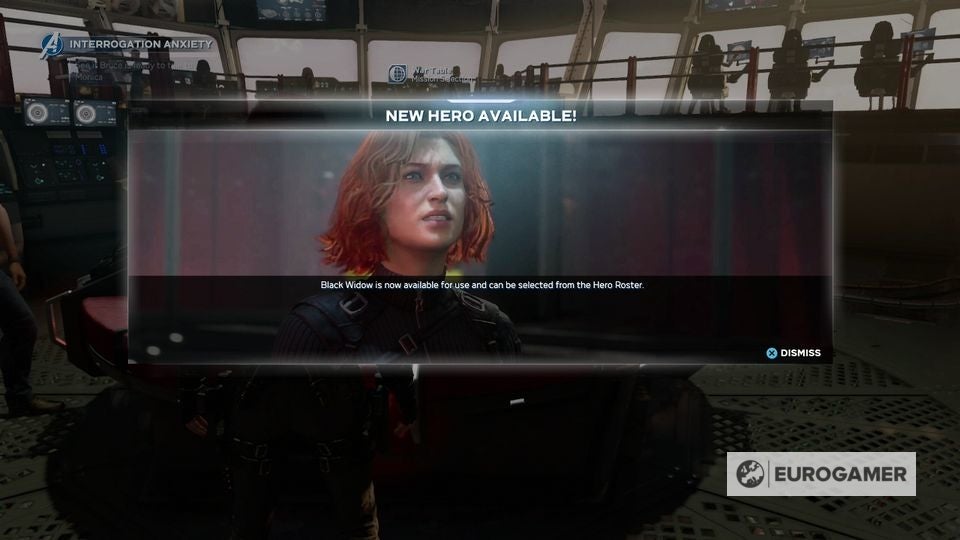 Though not every campaign mission allows you to play as every character for story reasons, for those which all you to form a Strike Team, you can choose any of the roster you have access to.