Marvel's Avengers beta code references long list of planned characters
Mar-Vell!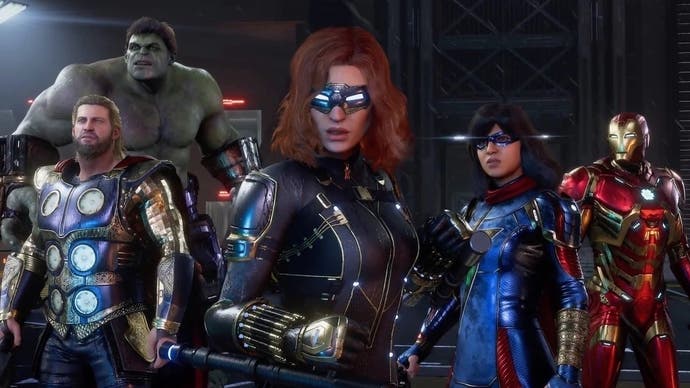 The Marvel's Avengers beta hit PC this weekend, and brought with it the oppurtunity for fans to easily peer within its code.
As with many betas, various references exist within it pointing to future features for the main game - including a sizeable list of playable characters.
Dataminer RoboMatters dug up this list from within the beta's executable file, and chronicled his discovery in the video below. Each is named with the "UnlockPlayableCharacter_" prefix.
The full list includes the game's base roster, the already confirmed post-launch addition of Ant-Man, and many more characters made famous by the Marvel Cinematic Universe.
Hawkeye is there, to complete the roster from the first MCU Avengers film, alongside other cinematic favourites Scarlet Witch, Vision, Falcon, War Machine and Winter Soldier. Later MCU additions such as Doctor Strange, Wasp and Captain Marvel will also apparently make the cut.
Then there are a couple of (currently) non-MCU characters, such as Quake and Mockingbird, as well as She-Hulk and Kate Bishop (the latter two of which are set to get MCU TV series). [Update: And I've just realised Mockingbird and Quake both featured in semi-MCU series Agents of Shield.]
Here's the full list of characters mentioned in this part of the code:
Ant-Man
Black Panther
Captain Marvel
Captain America
Doctor Strange
Falcon
Hawkeye
Hulk
Hulkbuster
Iron-Man
Kamala
Kate Bishop
Mar-Vell
Mockingbird
Quake
Scarlet Witch
She-Hulk
Thor
Vision
War Machine
Wasp
Black Widow
Winter Soldier
There are multiples of some characters - Hulkbuster is already playable as an upgrade, but presumably could be made into its own character, while separate listings for Mar-Vell and Captain Marvel suggest separate iterations of the two characters.
Another chunk of code listing character items was dug up by 6plus4equals52, which includes further in-game references to Captain Marvel, She-Hulk, Kate Bishop, War Machine and, yes, Peter Parker.
It's interesting to note that Peter Parker is referenced in this section of the code rather than the character unlock portion - pointing to the fact the character is expected to never leave his PlayStation exclusivity.