Marvel fans pay their respects at Fortnite's new Black Panther statue
Wakanda forever.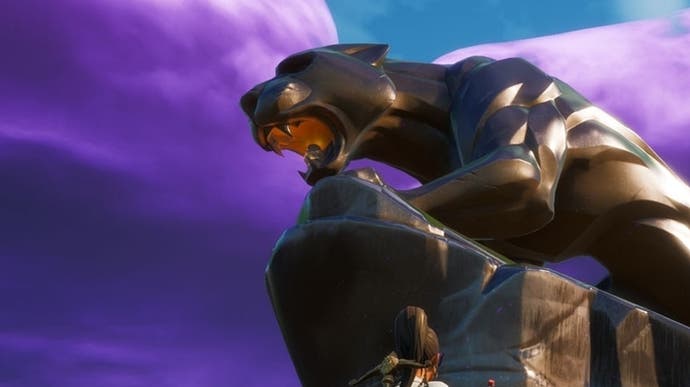 A week into its new Marvel season, Fortnite has added a large Black Panther statue to a corner of its map.
The statue only appeared in-game a few hours ago, but Marvel fans have already been using it to pay tribute to Chadwick Boseman, the brilliant Black Panther actor who passed away last Friday, aged just 43.
Fans are now calling for a Black Panther skin to be made available in-game, with proceeds going to charity.
This is the third chunk of Marvel landscape added to the game over the past week, following Ant Man's house (a dog kennel fashioned into a roomy barn) and a TRASK prisoner transport vehicle (a more obscure X-Men reference).
At least one more of these locations will be added over the next few days, while villain Galactus continues his approach in Fortnite's skybox and Stark Industries shields power up around the island in an attempt to protect it from Galactus' planet-eating appetite.
Fortnite's surprisingly engrossing Marvel storyline and daily map changes were all, of course, planned out many months ago. Today's addition of a Black Panther statue is not a sudden reaction to last weekend's tragic news. Indeed, this season as a whole is specifically tied in with Marvel's ongoing comics series, rather than the Marvel Cinematic Universe in which Boseman starred.
But the statue is - for as long as anything lasts in Fortnite - a timely reminder of Boseman's legacy. Regardless of whether this Black Panther statue is meant to tie into the MCU, Boseman's name will forever be synonymous with that of the hero he portrayed.