Where's the cheapest place to pre-order Hitman 3?
We'll show you where to get the best discounts where buying this highly anticipated assassination simulation.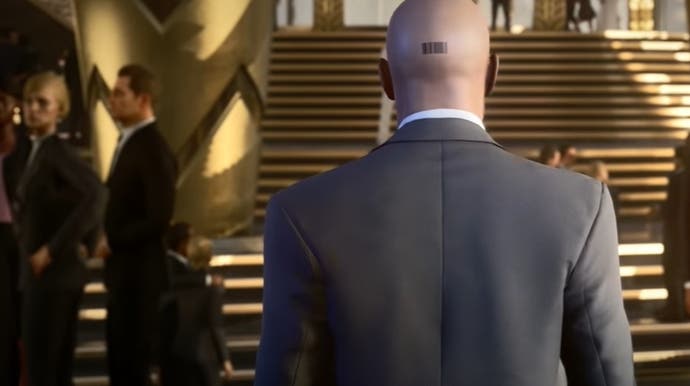 Hitman 3 is out on January 20th, just a couple of weeks away, with many excited to try out the next entry in the well-regarded stealth-sandbox series. Hitman tells the story of Agent 47, the comically-obvious egg-headed murderer doing his best to sneak and disguise himself through colourful locales to his next paid target. And with Hitman 3 looking ready to return to all the things we love for the next generation of consoles, it's worth knowing the best places to preorder and buy Hitman 3, as well as all the possible bonuses that come with the various editions.
At the moment there isn't a lot in terms of discounts - games are rarely cheap before they even come out - but we've checked to see where's got the best offer and laid it all out for you below. So far, The Game Collection is offering the best price, but we'll be sure to update this page as circumstances change and we learn more approaching launch day. Happy hunting.
Where to pre-order Hitman 3
Hitman 3 pre-order bonuses
Pre-ordering Hitman 3 in any form gets you several special bonuses to try out in-game, the form of the 'Trinity Pack'. This includes suits, briefcases and weapons that each evoke a game from the full Hitman Trilogy. We haven't seen the full list yet, though images show red, white and black suits for 47 with matching silenced pistols and suitcases. At least he won't stick out, right?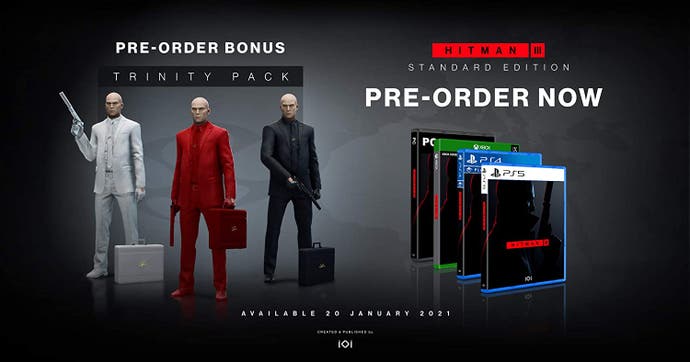 Where to pre-order the Hitman 3 Deluxe Edition:
Hitman 3 Deluxe Edition bonuses
Hitman 3's Deluxe Edition comes with numerous bonuses, including extras designed both to enhance the game and your appreciation for what went into it (some of these will require internet access and a free IOI Account). The full list runs as follows:
Deluxe Escalation Contracts
Deluxe Suits and Items
Digital Soundtrack
Digital "World of HITMAN" Book
Director Commentary (Mission Introduction)
Can you play PS4 Hitman 3 on PS5?
Yes, you can! IOI Interactive have confirmed that physical editions of the game will upgrade accordingly, meaning that you can buy the PS4 version and get a free download of the game for the PS5 when you put it into the console!
Of course, this assumes you have a PS5, which are proving tricky to get hold of right now. Don't worry though - we've laid out where you can find PS5 stock, or head here to find out where to buy Xbox Series X/S. Or you can always follow us on the Jelly Deals Twitter for instant info on discounts everywhere!