Hitman 2's hilarious homing briefcase is making a return, and this time it's official
Arriving as part of August's content roadmap.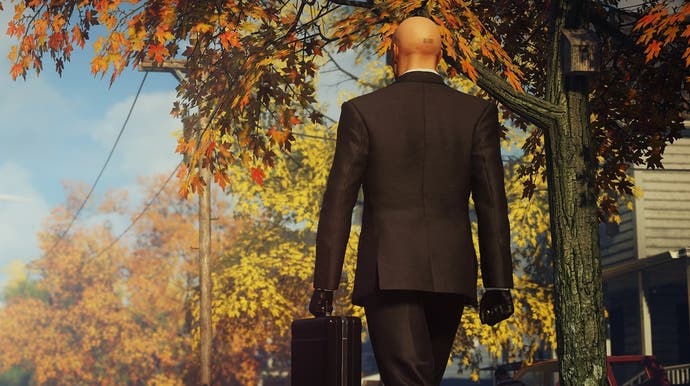 Hitman 2 is a fantastic game. But a small, hilarious development quirk discovered after launch - which caused any briefcase tossed by Agent 47 to glide languidly, yet majestically, around corners as it homed in on poor, unsuspecting victims - briefly turned it into the best game. It was a sad day when IO Interactive fixed the issue (if only by upping the speed to make it look marginally less ridiculous), but now the original case is returning, and officially too.
IO has just announced Hitman 2's content roadmap for August and, there, primed for the tail-end of next week, on 8th August, is the reappearance of the much-missed hover-luggage (as seen in the gif below). Now officially titled The Homing Briefcase, it will be made available as an unlockable gadget in the upcoming, and brilliantly named, Best Case Scenario challenge pack.
"With a throwing speed tweaked for maximum style," explains IO of its revamped, and newly slowed death-case, "there is no end to the possibilities this item offers. Of course, it sports the signature MK II look - the ultimate mark of superb craftmanship! Could be used to hide illegal items but that is clearly beside the point."
Prior to the Best Case Scenario, Hitman 2 players will have a few more activities with which to keep themselves amused. Today, 1st August, for instance, introduces the Simmons Concussion Escalation Contract, while tomorrow ushers in a fresh Legacy Elusive Target, with Agent 47 this time prowling Colorado in search of The Chameleon.
There's another Escalation Contract to sink your teeth into come 15th August, in the form of the Batty Tranquility, and that's followed by The Identity Thief's Legacy Elusive Target the next day. Moving swiftly along, a new Featured Contracts challenge begins on 22nd August (with the theme Cosplay Karma), and the Scarlett Deceit Escalation Contract arrives on the same day.
Rounding out Hitman 2's August is the Smart Casual Pack for expansion pass owners - featuring the Smart Casual Suit, the ICA Flash Phone, and the IO Elite S2VP Earphones - on 27th August, and that coincides with a big ol' Game Update, bringing various fixes and improvements. You'll fine a more detailed breakdown of the month's activities on the Hitman 2 roadmap.