God of War Ragnarök stars discuss importance of Black representation
"Anything is possible."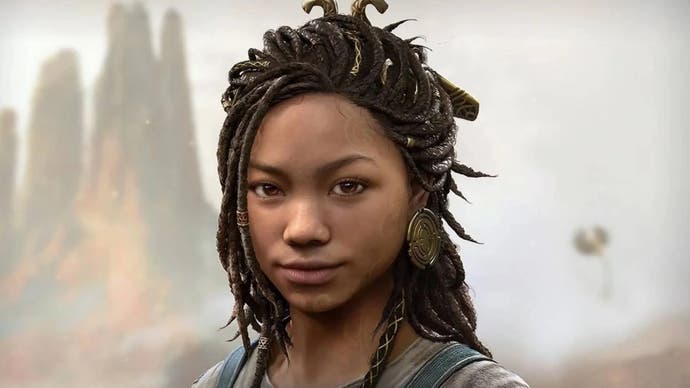 God of War Ragnarök won six awards at last night's BAFTA Game Awards, including awards for Performer in a Supporting Role and Performer in a Leading Role.
The game dominated both awards, taking half of the nominations, but it was Christopher Judge as Kratos and Laya Deleon Hayes as Angrboða who won.
After their wins, both performers spoke to Eurogamer about the importance of Black representation in gaming.
When Deleon Hayes was announced as Angrboða, some corners of the internet were unhappy about a Black character in Norse mythology. "This BAFTA proves [they were incorrect]," she said.
"It means everything to me. To be a part of the game and then seeing the reaction when it was announced, you had so many lovely people who love the franchise so much and were so excited for a Black character to be in the game, and there were a lot of people who were not happy with it. And you think 'it's 2023, you'd think we'd be past that at this point'.
She said being awarded and celebrated is "another way of moving the needle forward".
"Seeing Angrboða, we see how important representation is on our screens. Now I can say I've really seen what it can do: for me as I love watching movies and seeing characters who look like me, but the response from people who have loved the character, who want to see more of the character, that is more proof to me of the progress and the change that is being made. In my career I can only hope to do more roles that are like Angrboða and I hope we see ourselves in every facet and every sector of media. I am grateful that I can be involved in moving the needle in some way."
Judge said it was "remarkable" that two Black performers won both awards and compared it to the equivalent film awards.
"It's not lost on me that I am a Black man on a British stage playing a Spartan god killer who wants to be nothing more than a father," he said, referencing his acceptance speech. "And to be recognised for that, especially watching the movie BAFTAs - let's call it what it is, it was shocking that there wasn't anyone of colour winning any awards," said Judge. "So to be able to be on that stage and for Laya and I both to be able to represent people that look like us who may have the same experience as us and to be able to show them that 'yes, it can be done and you're going to encounter resistance a little but if you stay the course, anything is possible'."
He continued by thanking the Sony Santa Monica team who "didn't blink an eye when they cast us. Even with the firestorm that came with the announcement that [Deleon Hayes] was Angrboða, it never even entered into the conversation - hell no. It was a meritocracy, she was the best person for the role and they stuck with it, never wavered, and they made the right choice."
Judge admitted he was more emotional about Deleon Hayes winning and what that means for younger generations.
"God bless her for being this wonderful, truly divine young woman who always carries herself with such grace and dignity. I was more emotional when she won because people her age are the future of this. So when people that age see that, it's so empowering for them."
Judge also said the industry is beginning to open up to more diverse stories, characters and performers. "It's starting, it's a start," he said. "We've still got a long way to go. But it can't be something that's whispered about, it can't be something that's only talked about in the dark of night, it has to be at the forefront. It should truly just be about who's best for the job and I don't think that's asking too much."