Gamescom Bulletin: Day 1
Crackdown! Scalebound! Dinklage!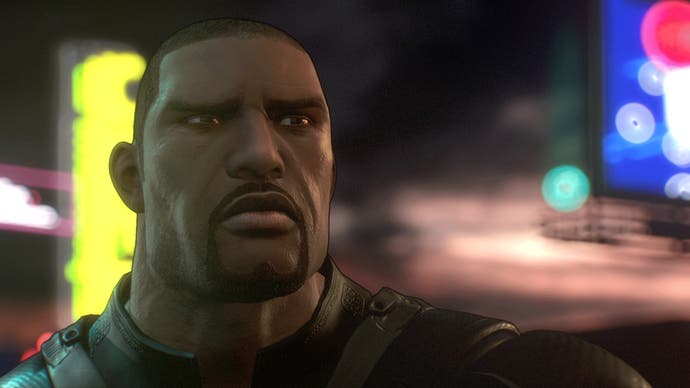 For the next few days we're going to be posting daily roundups of the news coming out of Gamescom, just like we did at E3. Unlike E3, we're going to be a bit lighter on breathless mega-news: Gamescom, though a bigger show, never has the range of megatons that LA manages (although this didn't stop the ESA from pushing out an infographic yesterday about how, actually, it's the best. Insecurity always a good look, chaps.)
That said, Microsoft did a pretty good job with its opening conference: we got the promised look at Crackdown 3, which looks like a more comprehensively destructible Red Faction Guerrilla and thus is fine by us, and Platinum's Scalebound, which looks like a cross between Monster Hunter and, inexplicably, 1990s cyber-film Hackers. Punchable protagonist aside, one to watch, as is the actually-not-obviously-dreadful TV series of Remedy's Quantum Break. It's got real actors in it and everything, as does the game itself, which is a third-person shooter with nice lighting and fancy temporal effects because it's from Remedy.
Littlefinger from Game of Thrones is in Quantum Break. Hope he picks an accent and sticks with it this time.

- OutsideXbox (@OutsideXbox)August 4, 2015
Subsequent trailers confirmed that the new Tomb Raider will be just as unpleasant for Lara as the last one (although contains actual tombs), Homefront is another shooter but with emotions and an Xbox-exclusive beta (Martin went to the studio for a closer look) and Halo 5 wants some of that esports dollah. Oh, and Dark Souls 3 gameplay looks amazing, as if you needed confirmation.
The indie segment of the show, which appears to be a fixture now, had some decent signings: Ark: Survival Evolved, Cities Skylines, Bioshock-ish horror We Happy Few and blatantly-Castlevania Bloodstained all coming to Xbox first and, in the case of the latter, supporting cross-play with Windows 10. PC gamers also get Killer Instinct (now featuring a Battletoad).
The similarly-regular hardware update was good too: Xbox One is getting free DVR functionality, more free Xbox One games care of back-compatibility on Xbox 360 Games With Gold, and its own plug-in chatpad, just like the Xbox 360 version only this one won't go quite such a distressing shade of brown after prolonged use.
The coup de grace was the more or less entirely unexpected arrival of Halo Wars 2, a franchise presumed to have died with Ensemble but now resurrected by the Alien Isolation team at Creative Assembly and, yes, also coming to PC. All in all, another good showing for Phil Spencer's Penitence Roadshow, doggedly patching the damage left by the Xbox One launch, and doubtless cheered by the fact that Sony aren't showing up to Gamescom this year and so can't pull another Shenmue-style spoiler out of the bag.
Unfortunately for us, that means there wasn't quite as much left to talk about at the end of the first day: the biggest news was that Bungie is deleting Peter Dinklage's legendarily dreadful Destiny voiceover and replacing him with Nolan North. To borrow from Valve, since Destiny was the only major release of without Nolan North in it, you should consider this a patch to fix that problem. It's also junking all the guns from the first year so you can earn some new ones, something that Tom will be doubtless be able to discuss at great length.
Other than that we got a new Team Fortress 2-esque F2P shooter from Smite creators Hi-Rez, a Battlefield Hardline expansion announced early because even EA knew it was going to be eclipsed by Star Wars Battlefront, some unexpectedly good financial results from Activision despite the ongoing decline of World of Warcraft, and some nice photos from the show floor.
Come back tomorrow for everything that happened, um, today, because the Gamescom time difference isn't nearly as crushing as the E3 one. But trust us, you don't want to waste time watching any of that EA conference yourself, so you should let us do it - and we'll have updates from EG team on the show floor.