Valve makes Portal 2 Space Core mod for Skyrim
Voiced, it seems, by Nolan North.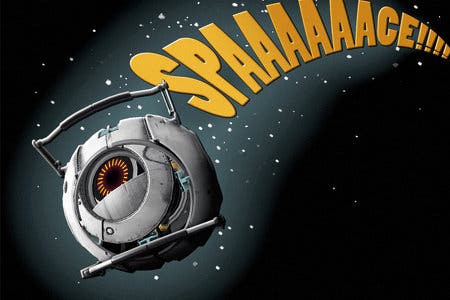 Brilliant developer Valve has made a Portal 2 Space Core mod for brilliant game Skyrim.
Dubbed Fall of the Space Core, Vol. 1 (more to come?), this literally drops the little round Space Core robot into your Skyrim world. Better still, the robot appears to be voiced by none other than mister promiscuous voice, Nathan North. Sorry, Nolan Drake.
"To celebrate the opening of the Steam Workshop for Skyrim, Valve and Bethesda have teamed up to bring you the Portal 2 Space Core mod, which will let the aggressively space-centric little robot tag along on your adventures in Tamriel," Valve's blurb on Steam reads.
"Also, since Skyrim was the only major release of 2011 without Nolan North in it, you should consider this mod a patch to fix that problem.
"You can now feel free to include Skyrim in the Nolan North section of your video game library, which is to say, your video game library."
The Steam Workshop works in tandem with Bethesda's fresh-out-of-the-oven Creation Kit mod making tools for Skyrim. Steam Workshop lets you "easily discover, rate and download Skyrim mods directly through Steam".
Coinciding with the release of the Creation Kit is a high-res texture pack for Skyrim on PC. Let's see how well those dragon textures scale.