Fortnite teases UFOs and a character reveal as its season draws to a close
Loki here.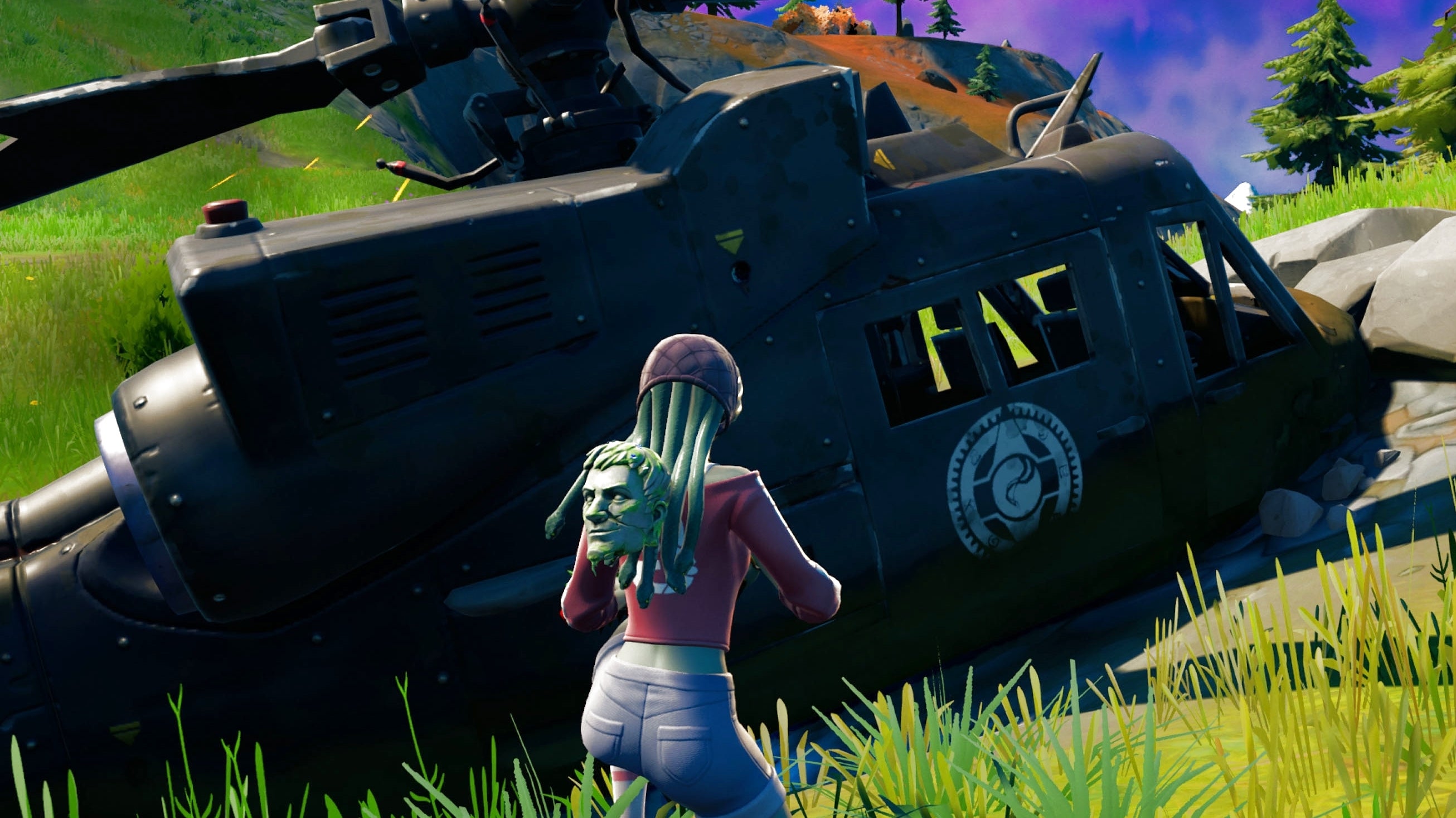 Fortnite's storyline has kicked back into gear as its primal-themed season draws to a close. Today brings map changes, new challenges, extra-terrestrial warnings, and several hints at what next season may bring.
This morning, Fortnite received update 16.50, the last patch expected before its next season on 8th June. Eagle-eyed fans immediately noticed several changes around the island: a crashed helicopter near the dam, posters showing UFOs and friendly aliens at the beach, and flattened corn at the farm.
3pm UK time today brought a new set of "Foreshadowing" challenges live, where you're asked to investigate that helicopter, as well as a series of smashed telescopes on the island. Does someone not want its inhabitants looking at the skies?
A closer look at the helicopter shows the logo for IO - Agent Jonesy's organisation of suits who look after the battle royale island simulation. Who else might have arrived on the island, after Jonesy split from IO at the start of the season?
Drop into a match now and you can interact with the helicopter's radio. In a neat touch, you have to tune the radio's frequency correctly to unlock more of the repeated radio message. It mentions India Oscar (IO) by name.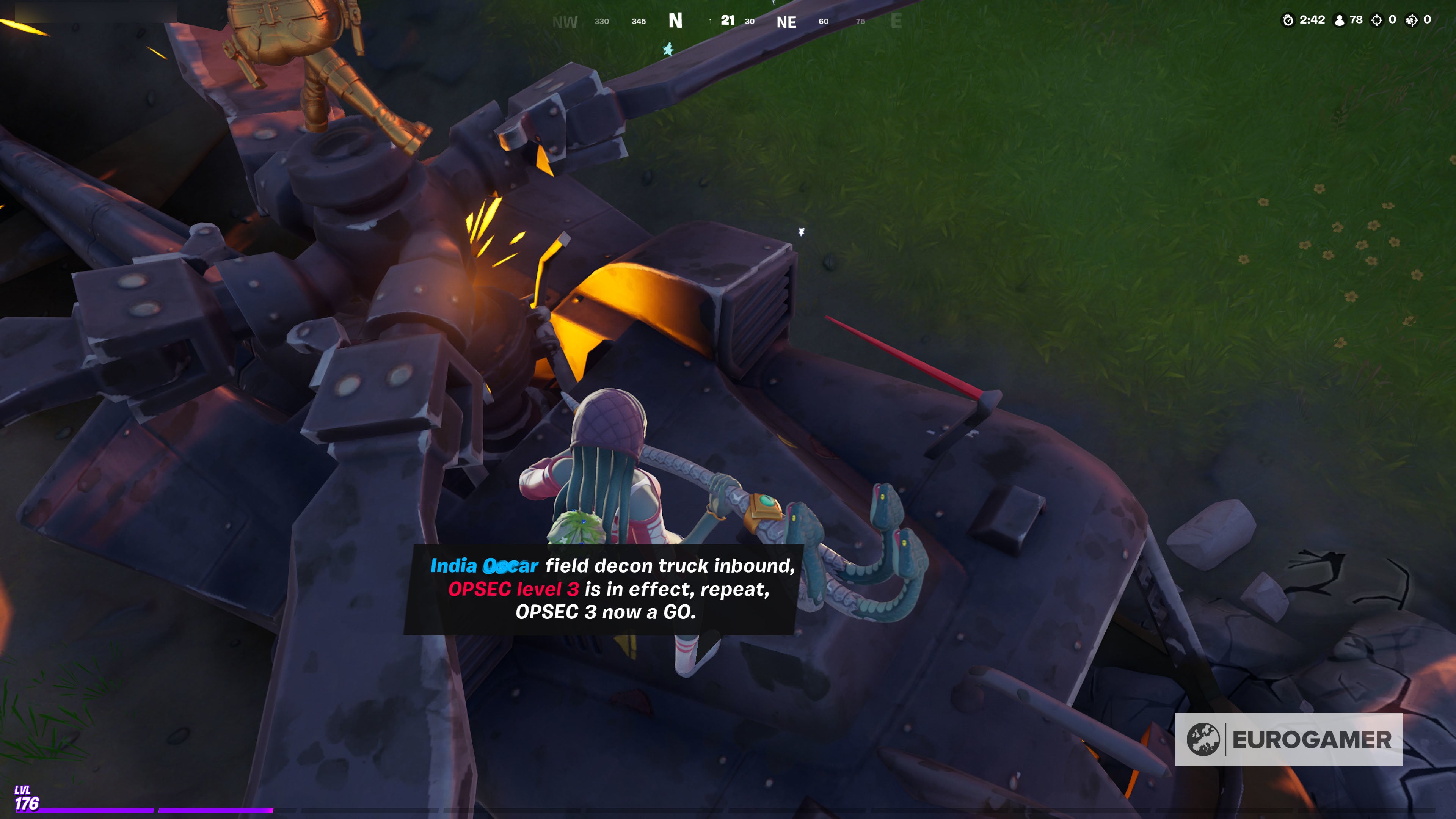 One final tease, before we delve into spoiler territory. A new loading screen given out today to Fortnite Crew subscribers shows an unreleased mech bear skin (presumably next month's Crew exclusive) and in the background is a silhouette of Marvel's Loki. It'll be interesting to see whether Loki, likely timed to release alongside the arrival of the new Disney+ series in June, is sold separately or a guest character in next season's battle pass.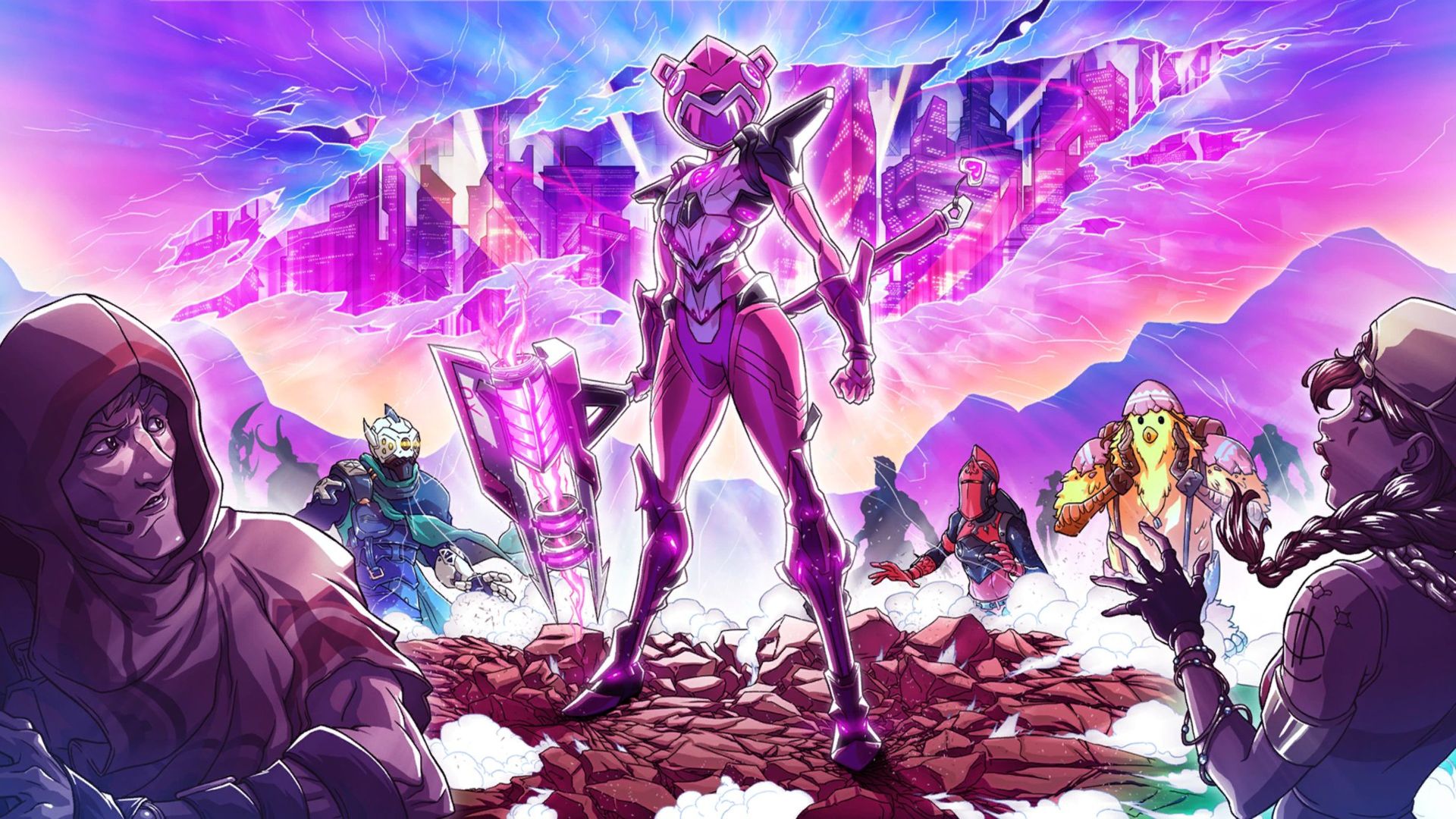 Into unreleased territory we go. As ever, fans have delved deeper into Fortnite files and gotten glimpses of what's to come over this season's remaining two weeks. Consider the following light spoilers for what may follow.
Animations for players being abducted by UFOs have been discovered, and Fortnite leaker Hypex has said this mechanic will be used to pick up, heal, and then move players around the map.
Further Foreshadowing quests will see you investigate crop circles and listening in to an "alien girl" discussing UFO sightings on a CB radio. A final quest from a mysterious silhouetted figure asks you to stop unauthorised broadcasts on TV sets around the island.
The Foreshadow quests rarity has been changed to Epic and they added that silhouette (bottom left).. Release date is unknown, they will appear once Epic grants them to players' profiles! pic.twitter.com/aZlFz8DJsY

— HYPEX (@HYPEX) May 25, 2021
Fan speculation is that this silhouetted figure is the new arrival on the island via the crashed IO helicopter. At the start of this season, Jonesy was seen quitting IO while in conversation with his boss, which subtitles identified as a "Dr. Slone". Fans think this figure is Slone, and that she will be properly revealed at the beginning of next season as the game's storyline continues. To get up to speed on all that, here's everything that happened during Fortnite's Zero Crisis Finale single-player mission - and why fans reckon a major character is being played by Dwayne "The Rock" Johnson.