Fortnite: Save The World now lets you see what's in a loot box before you buy
Llamas no longer pull the wool over your eyes.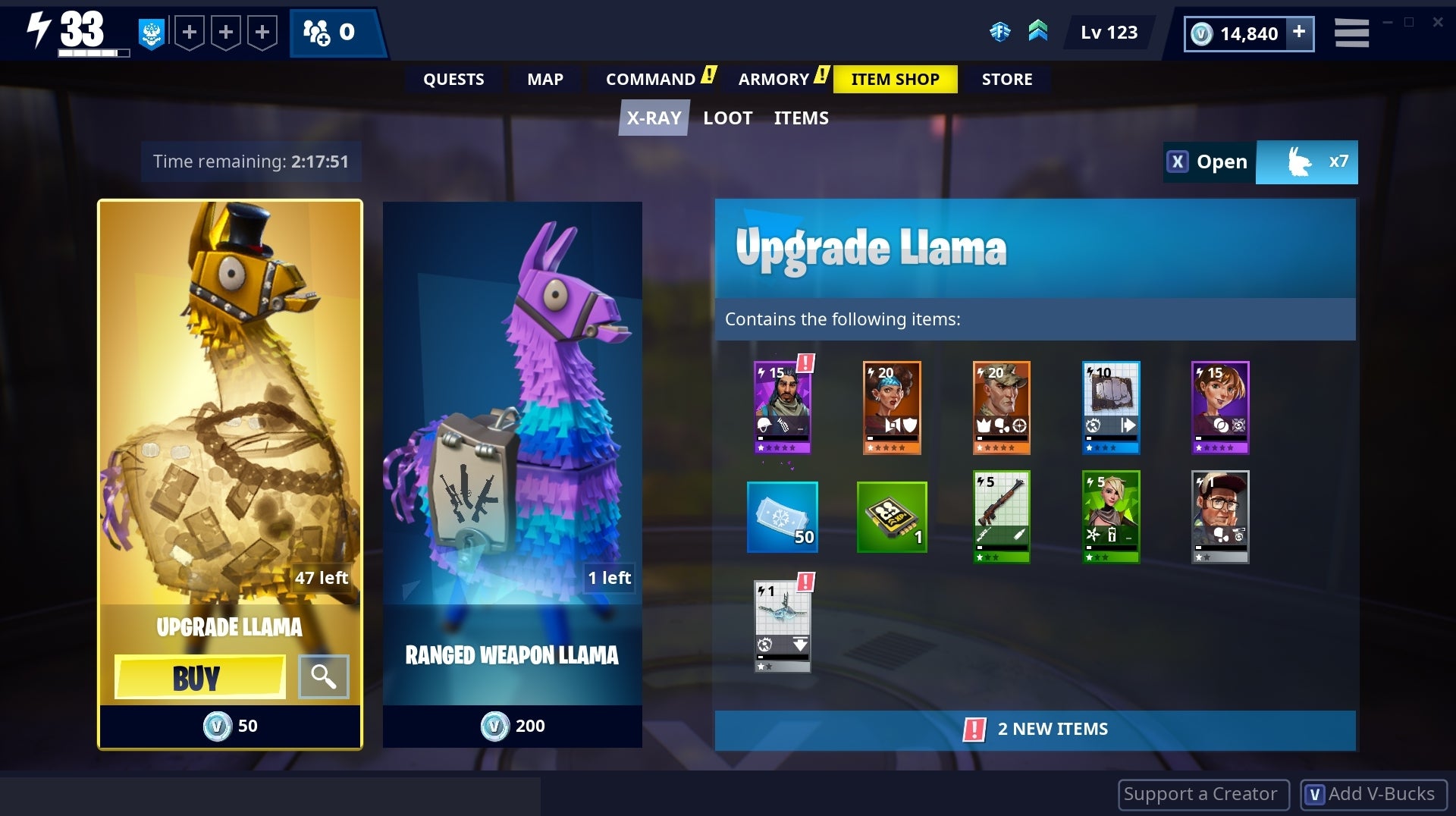 Epic is making a significant change to the way loot boxes work in Fortnite: Save the World - the player versus environment portion of the game.
V-Buck Llamas are being renamed X-Ray Llamas, and will now show you their contents before you buy one.
"We believe it's important that the Llamas you buy have what you want, and that you can earn awesome items just for logging in and playing," Epic said in a blog post.
The system rekindles memories of the change Valve made to the loot boxes in Dota 2 in 2018. Under pressure from the Dutch Gaming Authority to tweak the hugely popular MOBA, Valve made it so Dutch players could see rewards before buying a loot box. But the key difference with Dota 2 is Dutch players have to buy a loot box in order to see what's in the next one. The solution was seen as a workaround from Valve.
Based on Epic's blog post, you can buy just one X-Ray Llama per day (you have to wait for a store refresh to see the contents of a new loot box). So, the new system seems more designed to encourage players to log in to the game at least once per day to see what that day's loot box has to offer.
The new system also means you will no longer be able to buy multiple V-Buck Llamas at once. "We are making this change so we can show you the rewards of each Llama one at a time, which gives you more choice in the Llamas you decide to open," Epic said.
Usefully, the items offered are based on your account in order to apply dupe prevention. After the Llama has decided the item rarity and type of drop, it selects an item from that category that's not already in your inventory or collection book.
This means, Epic said, you get "all the fun of opening Llamas, and only the items you want!" There's no mention of item probabilities for X-Ray Llamas, however. Video game companies have come under intense scrutiny from governments, politicians and players in recent years, with the Star Wars: Battlefront 2 debacle kicking off a push for change. While some companies have so far resisted this pressure, some have made changes to their games. EA Sports, for example, added pack probabilities to FIFA Ultimate Team with FIFA 19.
And just this week, the UK government opened its inquiry into "addictive technologies" to the public. It seeks to "look at how the addictive nature of some technologies can affect users' engagement with gaming and social media, particularly amongst younger people". This could eventually inform government policy on the regulation of gaming, and help government "keep pace with the increasing digitisation and 'gamification' of people's lives". One of the subjects tackled by the inquiry is the links between gaming and gambling.