Fortnite is adding a Ninja skin
Blue yourself.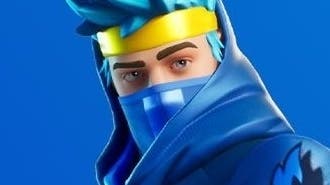 Ninja, Fortnite's most famous streamer, will get his own player skin in the game.
It'll go on sale tomorrow in Fortnite's shop after the game's daily refresh at 12am UK time, though Ninja has already been showing how it looks in action.
There's no price yet for the skin, which also comes with a back bling and a number of different styles. A new Ninja dance will also be available.
Nor is there any indication how much Ninja will likely earn from having his likeness in-game. Announcing the news to fans on Twitter, Ninja recommended his followers buy it using his own creator code - Fortnite's method of affording creators a portion of the proceeds.
Ninja isn't the first person to be reincarnated as Fortnite skin. Previous collaborations with artists Marshmello and Major Lazer have seen them represented in the game also.
But this is clearly part of a big new push for Fortnite, as stated in Epic's update today on the game's Icon Series - the umbrella term for celebrity collaborations outside of wider franchises like Star Wars, DC and Marvel.
Creators from the worlds of "gaming, music, film and fashion" will be part of the ongoing series, Epic says, with fellow Fortnite streamers Loserfruit and TheGrefg up next.
Here's a look at all of Ninja's cosmetic items: