Final Fantasy 7 Remake is getting a fancy art book and poster collection
A nice read while sat in a chair drinking your goddamn tea.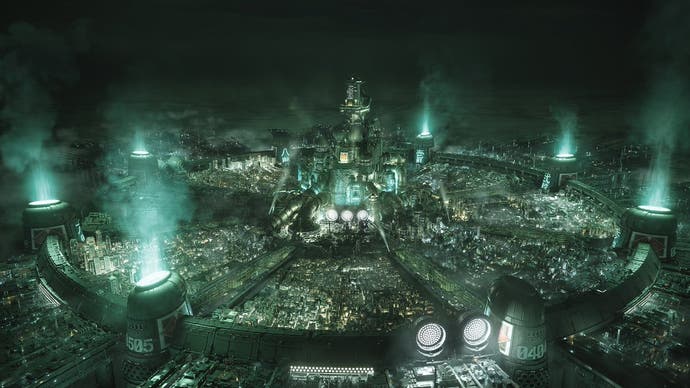 The characters, locations and much more from the Final Fantasy 7 Remake will be presented in style thanks to a swish hardcover art book that Square Enix plans to release later this year.
Entitled the Final Fantasy 7 Remake: World Preview, the 128-page compendium includes loads of information on the universe of the long-awaited RPG remaster. The blurb on the official Square Enix store breaks it down even better than I ever could:
"This World Preview volume offers both new players and longtime fans essential information on characters, settings, gameplay, and more, as well as introductory comments from producer Yoshinori Kitase and director Tetsuya Nomura."
Sounds like something incredibly cool that I want resting on my coffee table or sitting in a bookshelf immediately. Even if Square Enix has only put some unfinished cover art online (see below) for now. According to them, though, we can expect "a full-colour, lavishly illustrated introduction to the world of Final Fantasy 7 Remake".
Expected to be a bit of a collector's item, you can already order your copy of the Final Fantasy 7 Remake: World Preview from Amazon or the Square Enix Store for £20/$25. A digital version will also be available. Both are currently scheduled for release on 8th September.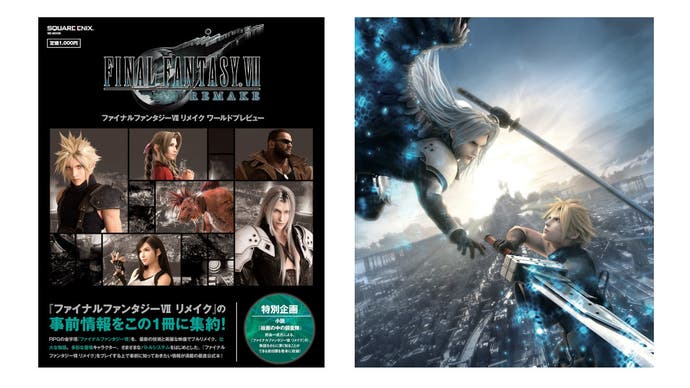 Alongside that, Square Enix will also release a Final Fantasy 7 Poster Collection on 17th November.
This won't just focus on the upcoming remake, though. The book will feature a series of 22 "large-format, full-colour art prints" that have taken inspiration from the entire Final Fantasy 7 compilation.
What that means is it'll include images from the classic Final Fantasy 7, contentious movie spin-off Advent Children, maligned PS2-era shooter Dirge of Cerberus (yikes), decent PSP-era RPG Crisis Core, and the Final Fantasy 7 Remake. The Square Enix website confirms that all posters will be 11" x 14" in size.
Similarly, the Final Fantasy 7 Poster Collection is available to order right now at Amazon US and the Square Enix Store for $24.99 with a release date on 17th November. It's also been listed on Amazon UK but is unavailable to order at this time.
That's quite a while until both of them launch, then, but you'd expect Final Fantasy collector's items like this to sell out quite quickly, so secure yours as soon as possible if you're after one.
---
Looking for more PS4 offers? Why not head over to Jelly Deals where we've got the best PS4 external hard drive, the cheapest PS Plus deal and all the info you need if you're looking for PS5 stock.
---
At least that's more than enough time to get at least one playthrough of what Aoife has called a "faithful retread" in the Eurogamer Final Fantasy 7 Remake review. That is, if you haven't been playing it for a week or so already!
And speaking of books, Amazon is currently offering a 3-month Audible membership for just 99p, or 2 months of Kindle Unlimited completely free. Great for the bookworms out there looking to get into a good story or ten. for cheap