Final Fantasy 7 Remake street date broken as Square Enix issues release warning
UPDATE: Fans asked not to spoil game as European copies arrive.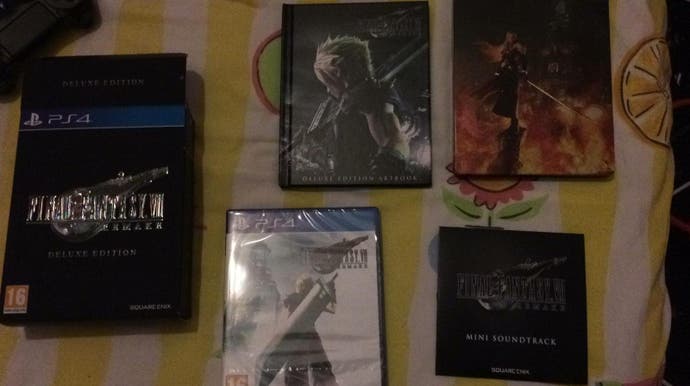 ORIGINAL STORY 28/3/20: Final Fantasy 7 Remake publisher Square Enix has asked fans not to spoil the game, as it acknowledged copies would likely turn up early in Europe and Australia.
The first began appearing over the weekend, as we reported below. Now, a new statement from the publisher has explained this is because it deliberately shipped them early amid the ongoing disruption caused by the coronavirus, to ensure they reached fans by release date.
"Our highest priority is that all of you, including those who live in countries currently facing the biggest disruption, can play the game at launch, so we made the decision to ship the game far earlier than usual to Europe and Australia.
"As a result, there is a greater chance that some of you in these regions will now get a copy of the game prior to the worldwide release date of 10th April."
The message, from producer Yoshinori Kitase and director Testuya Nomura, asked fans to not spoil the game for others:
"To everyone we would like to ask one big favour.
"If you get the game early, please think of others and don't spoil it for them. We know there are potential spoilers that have been out there for over two decades as the original Final Fantasy 7 was released in 1997. But Final Fantasy 7 Remake is a new game that still has many surprises for everyone. All our fans and players deserve to experience the game for themselves, and we ask for the support of our dedicated community around the world to ensure that."
---
ORIGINAL STORY 28/3/20: Square Enix has issued a warning about the release of Final Fantasy 7 Remake, saying it cannot control the date the game comes out because of the coronavirus outbreak.
Meanwhile, the Final Fantasy 7 Remake street date has been broken, with copies finding their way into the hands of fans two weeks ahead of the official 10th April 2020 release.
In a blog post, Square Enix said the global lockdown will likely affect the distribution and retail landscape in the west at the launch of Final Fantasy 7 Remake.
"As you will be aware, many countries are limiting entry or closing their national and state borders and restricting the distribution and delivery of non-essential items," Square Enix said. "Understandably these restrictions are being implemented so that essential items can reach their destination as fast as possible."
What does this mean? According to Square Enix, while box copies of Final Fantasy 7 Remake may be dispatched, "we cannot control the date the game may arrive."
The news comes as Square Enix faces another headache: copies of Final Fantasy 7 Remake have somehow already made their way into the hands of fans.
Redditor NateLo22 posted pictures of the deluxe edition of the game, while promising not to spoil the story. Brace yourself if you care about the plot of the game, though - others may not be so considerate.
Square Enix advised those who placed a pre-order with a retailer check on them. GAME is currently warning of a two-day delay on delivery of all orders from its warehouse. Square Enix said it was making arrangements to ensure pre-orders from the Square Enix Store reach customers by 10th April.
"We are working hard to ensure as many of you as possible can play the game on April 10 and will update further when we have more information," Square Enix said. "Thank you for your continued support and most importantly, stay safe."
Square Enix is the latest video game company to warn about deliveries of its games. This week Capcom warned physical copies of Resident Evil 3 remake may be delayed because of the coronavirus.