FIFA 20 Early Access: start time and date plus all our FIFA 20 guides and everything we know
FIFA 20 Early Access release details, and everything we know about FIFA 20.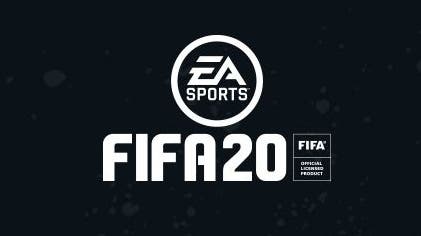 The FIFA 20 EarlyAccess period is here, giving those who paid a little extra a chance to play FIFA 20 for a few days before its full launch.
We'll dive into all we know on that - including the FIFA 20 Early Access start time and start date - just below. On top of that though, developer EA has opted to announce a pretty large list of changes early this year, so on this page we'll round up all the confirmed tweaks so far, as well as the full FIFA 20 release date, all our FIFA 20 guides so far, and everything else worth knowing about the game right now.
On this page:
FIFA 20 Early Access start time and date and full FIFA 20 release date
There are two release dates left that you should bear in mind for FIFA 20.
FIFA 20 Early Access start time and date:
The FIFA 20 Early Access period starts on Monday, September 23rd 2019, and is live right now, since roughly the following times
UK: 1pm (BST)
Europe: 2pm (CEST)
East Coast US: 8am (EDT)
West Coast US: 5am (PDT)
Full FIFA 20 release date:
The full FIFA 20 release date is Friday, September 27th 2019 for regular players with the Standard Edition.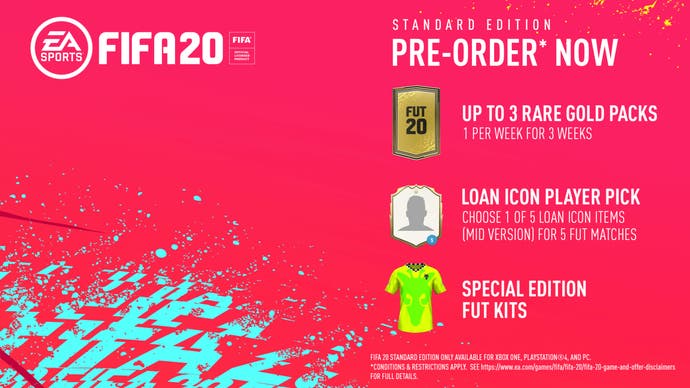 FIFA 20 gameplay changes
As we mentioned above, EA has taken the slightly surprising move of revealing a range of new gameplay changes that are coming to FIFA 20. We've taken these verbatim from the EA pitch notes blog, as they're essentially patch notes. Check out all the coming gameplay changes below.
Volta Football
The big new mode for FIFA 20 is a FIFA Street-style mode named Volta Football that let's you play 3v3 Rush (no goalkeepers), 4v4, 4v4 Rush, 5v5 and Professional Futsal.
You can customise your female or male avatar with clothing, hairstyles, tattoos and emotes, plus there's different sizes of arenas and environments with and without walls for you to play in, including an underpass in Amsterdam, a neighbourhood cage in London, and a Tokyo rooftop.
Penalties and free-kicks have changed
Penalties and free-kicks have a new aiming mechanic designed to be more accessible, but with elements of skill to retain depth for those interested in mastery.
Sam Rivera, lead gameplay producer, said that when it comes to free-kicks, "Basically, you swing the right stick and you see the trajectory being created."
AI Defending
Renewed Defending System the defending systems are being renewed, with revised positioning and adjustment to the cadence and flow on the pitch. Manual defending will be emphasized and result in more rewarding results for those who do so.
Planned Tackling is a new system that favors manual tackling by making sure that the defender that tries the tackle does so in a favorable context to your team (like recovering the ball or kicking the ball to a nearby teammate when tackling, for example).
Contain and Secondary Contain Effectiveness will be reduced, keeping the positioning of players/AI Teammates at a further distance and having a slower reaction to directional changes from the dribbler, rarely resulting in an auto-tackle or an auto-block. This will make manual defending not only more effective, but also more rewarding.
Improved Jockey System will be implemented with more agility and precision, rewarding players that decide to take control of their defenders.
1v1 Shooting Consistency
1v1 Shooting Accuracy will be improved, resulting in more shots on target and better consistency in easy situations inside the box. Open Goal Situations will also be addressed, and will see players being rewarded for 1v1 situations and creating greater chances of scoring "easy goals" - as pointed out in many community examples.
Goalkeeper Reactions will also be tuned - specifically against 1v1 situations - resulting in less 'superhuman' reactions, which will humanize the goalkeepers movements and result in better scoring opportunities for the attacker.
Outside of the Foot Shot situations will be improved and should only happen for players with the Outside of the Foot trait.
Shot Elevation/Power Tuning will allow for low powered shots to result in shots similar to Driven Shots, creating more consistency, and resulting in better scoring opportunities.
Timed Finishing
Green Timing Window for timed shots will be reduced (from 2-4 frames to 2 frames for all shots), which will make it harder and require more skill to perform.
Timed Shot Accuracy will be tuned to result in slightly less precise shots, although Green Timed Shots will still be more accurate than 'non-timed shots'.
Difficult 180° shots will be tuned to result in less powerful shots, even when timed perfectly.
Volley Crossing and Shooting
Increased Difficulty and Error - Crosses coming from lob balls/volleys will have less accuracy and more variable results. 2-Player Headers will have more variety as players jumping/colliding for the ball mid-air will make it more difficult for the attacker to score in such situations.
Decreased Volley Shot Accuracy - Shots originating from a volley shot will have less accuracy and more variable results.
Chaing Skill Moves
One of the top issues raised by the community during FIFA 19 is the "chaining" of skill moves that would result in an overpowered tactic that can be very hard to defend against. The team has tackled this feedback by adding error to consecutive skill moves, increasing the likelihood of the player losing control of the ball. Error is increased exponentially when chaining more than 2 skill-moves, making each subsequent skill move more error prone than the last.
Complex skill moves, like El Tornado or flick-ups for example, will be more error prone in general, increasing the chances for the player to lose control of the ball during the skill move.
Set-Piece Positioning
Players have come forward pointing out that many times a shorter defender would be marking a taller attacker or that a dangerous attacker is not present in the box. The team has been working on improving the intelligence behind these situations, which should result in more realistic marking/positioning when defending or attacking set-pieces in the future.
Manual Goalkeeper Movement
The effectiveness of manual GK movement is being heavily reduced in the future, with a slower and more realistic move speed. Players controlling the goalkeeper using right-stick manual movement will now have to commit to a direction, enhancing the risk/reward element. We have already received feedback from both core and pro players during our last feedback sessions and feel confident the changes will address the concerns with the mechanic.
---
Looking for more on FIFA 20? So far we have the key details on the FUT Chemistry explained and a Chemistry styles list and affected attributes, a detailed FIFA 20 Volta mode guide and details on how to earn Volta Coins in FIFA 20 fast, a list of the top FIFA 20 potential wonderkids: the best young players and hidden gems, the full FIFA 20 player ratings and top 100 players, an in-progress FIFA 20 Ones to Watch OTW players list, and a full FIFA 20 Icons list, too. Finally, check out our SBC pages on the Teemu Pukki SBC solution, Josef Martínez SBC solution and Robert Lewandowski SBC solution, as well as pages on FIFA 20 five star skillers, plus the best FIFA 20 goalkeepers, best FIFA 20 defenders, best FIFA 20 midfielders, best FIFA 20 wingers, and best FIFA 20 strikers for an in-depth look at each position. Finally, check out the latest in-forms in this week's FIFA 20 TOTW, number 40 and our full FIFA 20 Ultimate Scream cards and players list, too.
---
Passing
Increased Error on Difficult Position Passing - 180 degrees, first-time, and pressured passes situations will now result in slower/weaker balls, making them less effective and easier to get intercepted by the opposing team.
Increased Accuracy for passes in very easy situations; non-pressured, body-positioned, and no obstacle passes will result in an increased accuracy pass for these types of situations.
User Controlled 'Dinked' Passes will be a new option for ground and through passes. 'Dinked' passes are slightly elevated passes used to avoid a defender's leg. These types of passes will no longer be contextual and will only happen if executed manually through this new mechanic.
Driven Pass-and-Go mechanic will be enabled as another passing option, resulting in a stronger pass-and-go and more mobility/positioning while attacking. As a result of this change, the "manual passing" mechanic that was available through this button-combo (L1/LB+R1/RB+Pass) will no longer be available in the future.
Player Switching
Players have provided feedback throughout FIFA 19 that, in some instances, a player would be locked to a loose ball and they weren't able to switch players whenever this would take place. The team is working on improving these situations, as well as adding clarity to the assisted switching mechanism, that will now show an option for automatic switching on Air Balls + Loose Balls situations.
Players also provided feedback that switching didn't always select the correct player. The team is working on improving the accuracy of switching in numerous situations, including air balls, deflections and crosses. The team is also working on making the right stick switching as consistent and reactive as possible, as well as improving the intelligence between automatic switching of players closest to the ball.