FIFA 20 Volta Coins: the fastest way to earn VC and how to get into The Clip
All you need to know about Volta's grind currency, VC.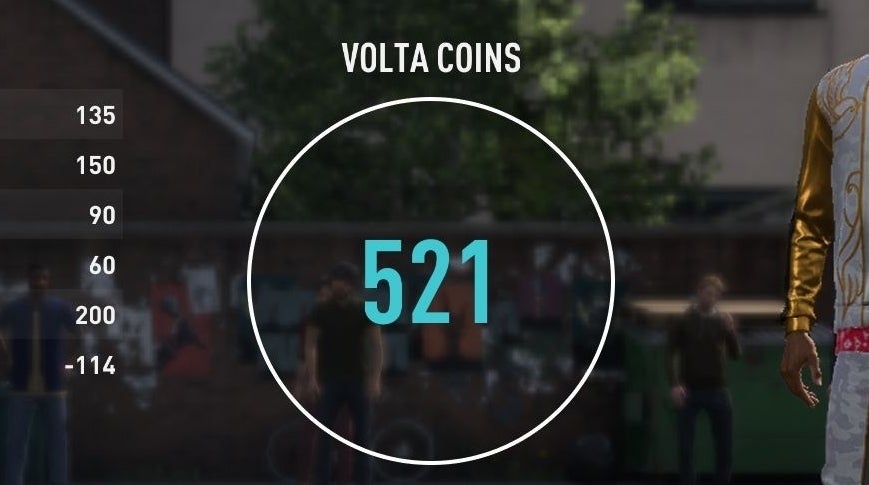 Volta Coins are the 'grind currency' of choice in FIFA 20's Volta mode, being the main thing you'll be looking to earn fast as you play.
On this page we'll explain exactly what the fastest way to earn VC is, as well as detailing how to get into The Clip - which is part of that VC-grinding method - too.
On this page:
Volta Coins in FIFA 20 explained
When you first launch Volta you'll create a player, and as you progress you'll kit them out in different t-shirts, tracksuits, trainers and accessories. You'll have to unlock all these cosmetics first, either by completing challenges or, if you want to unlock them faster, by spending Volta Coins to bypass these challenges. You can also buy duplicates of items you've already unlocked with Volta Coins.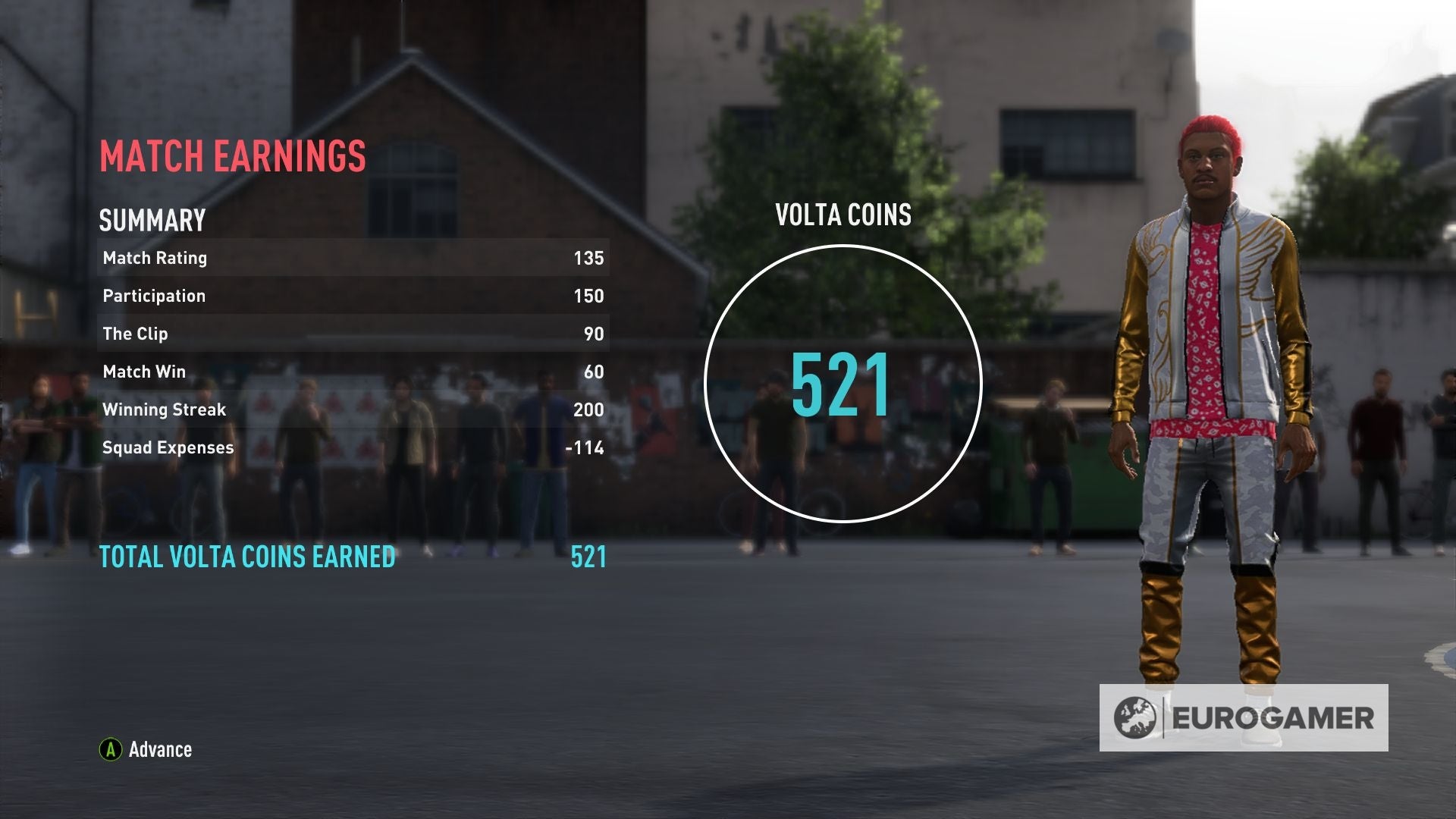 How to earn Volta Coins, or VC, in FIFA 20:
In Volta Football, you'll earn Volta Coins after every match you play. Competing in matches, either online or against the CPU, is currently the only way to earn VC, and you'll get more VC if you win a match.
One way to speed that up is by winning tournaments, which will earn you a large bonus. In the Story mode, these bonuses can be more than ten times what you'd earn after a regular match. The same goes for the Volta League: if you max out your points in a given division, you'll be showered with coins, and the higher the division, the more coins you earn.
You also earn coins by winning Volta Tour tournaments, or just tournaments you select from the world map, but they're not as lucrative.
How to earn more Volta Coins from winning matches
A few factors determine how many coins you earn after a given match. You'll get a certain amount simply for playing, and a separate pot for winning the match. You'll also earn more coins if your character earns a higher match rating, and still more if you feature in The Clip, a singular, skillful highlight that's played at the end of the match.
Both match rating and The Clip earn you more coins than simply winning the match. With match rating, it's a sliding scale: the higher your rating, the more coins you'll earn. For The Clip, you'll earn a set number of coins.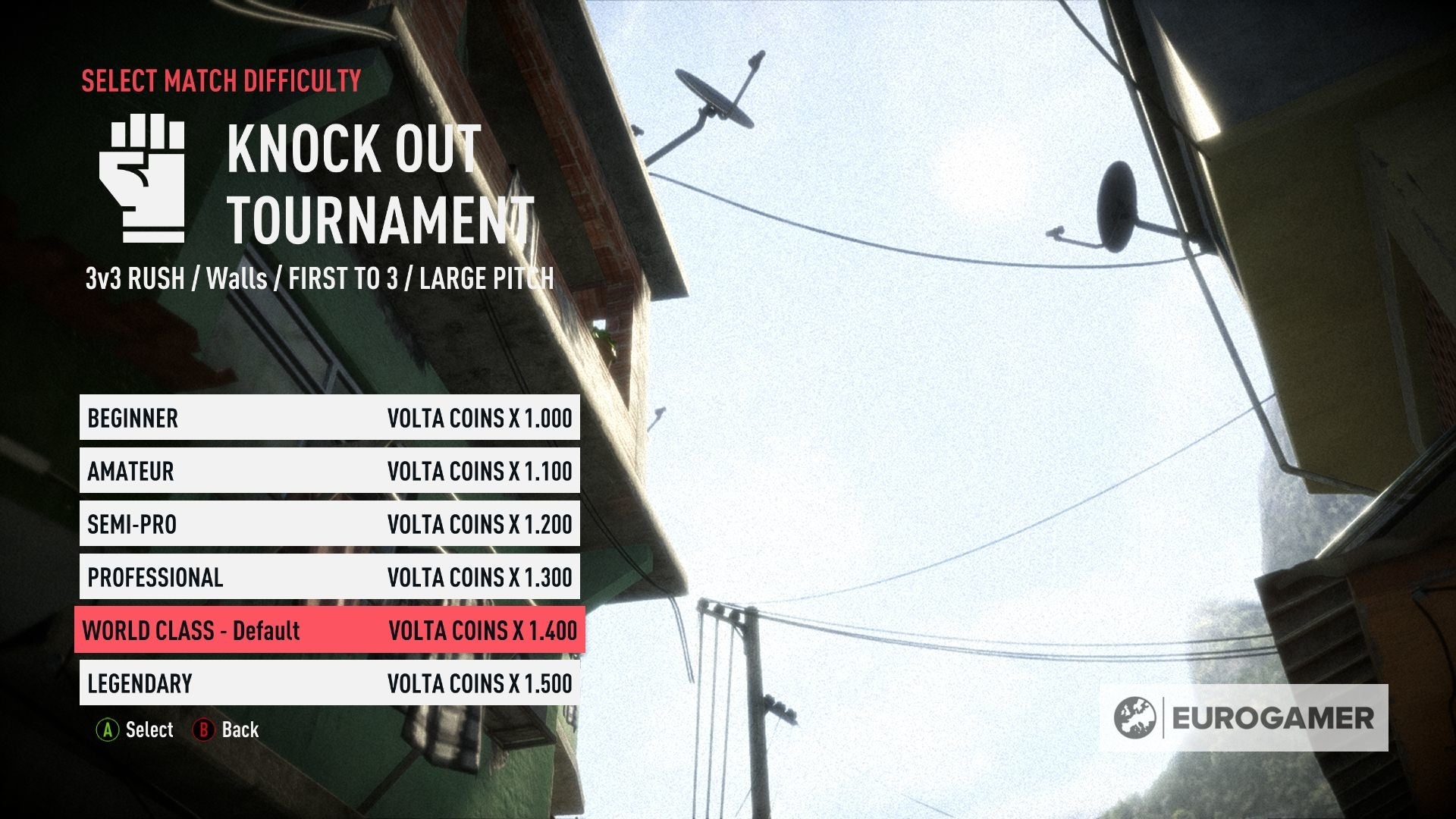 The difficulty level also changes how many Volta Coins you earn. You can set the difficulty in Volta's settings menu, and you'll also be prompted to pick a level before most tournaments or one-off matches. Higher difficulties multiply all the coins you earn: playing on Beginner difficulty is the baseline, Amateur difficulty provides a 1.1 multiplier, Semi-Pro a 1.2 multiplier, and so on, up to Legendary, which multiplies the coins you earn by 1.5.
You'll also earn extra coins in Volta League if you can string together wins, and the win streak bonus increases as you remain undefeated.
The fastest way to grind Volta Coins
There are plenty of ways to earn VC then, but the fastest way to earn Votla Coins is by winning tournaments, either in the story, in Volta Tour, or Volta Leagues. In general, set the difficulty as high as you can comfortably manage against the CPU: winning on Legendary gives you a higher coin multiplier, for instance, but those extra coins are likely cancelled out by the fact you'll lose more games, meaning it takes longer to get your big tournament bonuses.
The best way to earn Volta Coins explained
First, play through the story: not only is it a good way to familiarise yourself with the controls, improve your player and grow your squad, but you'll get lots of coins every time you win a tournament. Playing Volta League is probably a faster way to get coins, but it's still worth completing the story to unlock all the locations on the map and, more importantly, to unlock the street football icons that pop up throughout. When you're finished the story, you can recruit them to your team.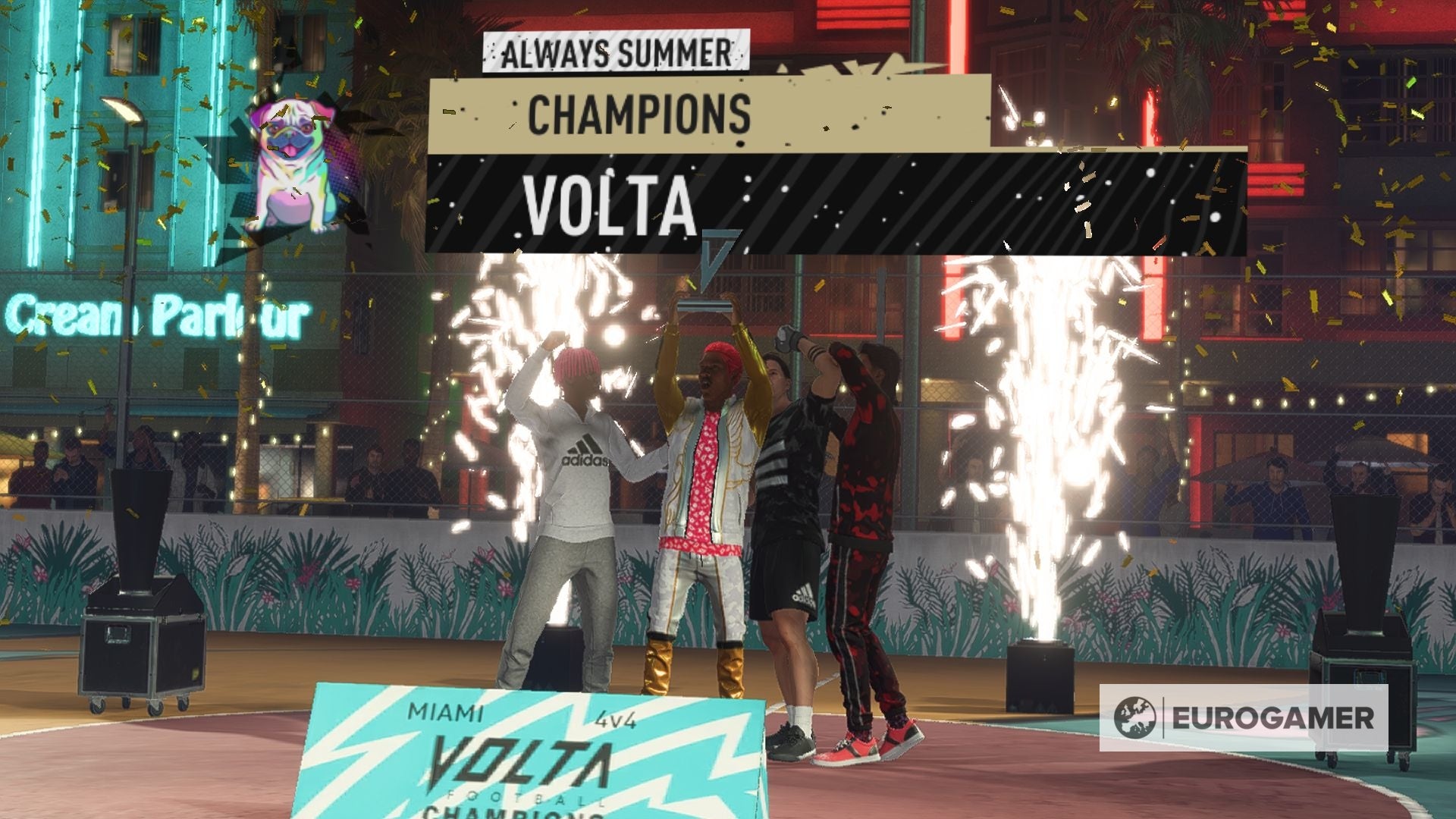 Sedcond, move on to the Volta League: In the Volta Story, you'll get thousands of coins for winning tournaments: anywhere from 2,000 up to 10,000, depending on the stage of the story you're at. However, each tournament will take a while to get through because of cutscenes, training and intermittent one-off matches. For that reason, if you're going purely for coins, Volta League is better bang for your buck. If you can consistently win you'll get plenty of extra coins via your win streak bonus, and you'll also earn big bonuses for winning each division. Plus - and we hate to say it - opponents will often quit if they're behind, which leads to short matches.
Volta Tour is a solid, consistent way of getting coins too. Tournaments don't pay out as high as Story or Volta League, but you can set the difficulty to something you're comfortable with, and you can also pick tournaments in the 'First to X' goals format, which creates short matches.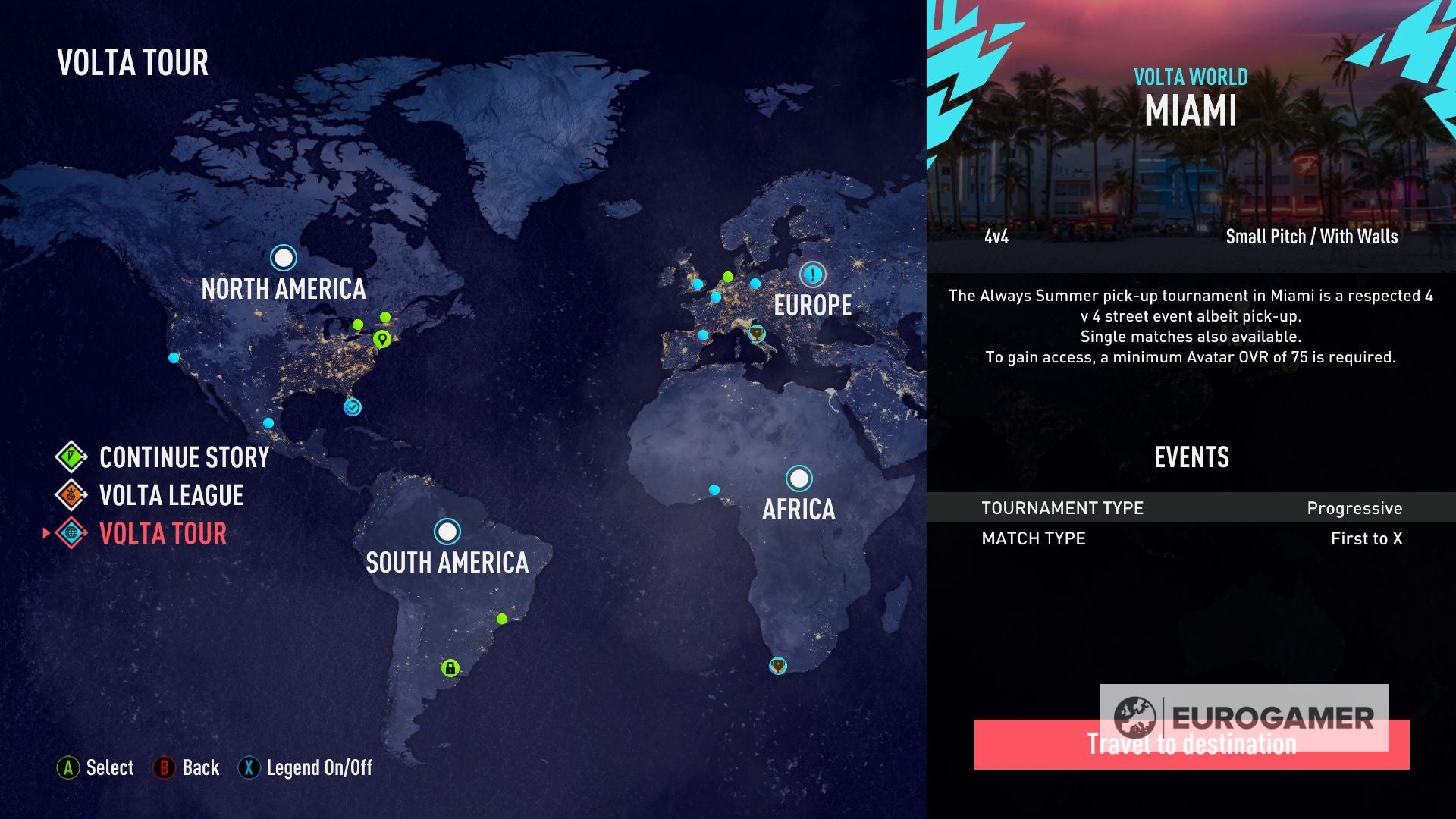 In summary: if you're at all interested in the story, finish it. Then, try your hand at Volta League. Play until you find your ceiling, and enjoy the proceeds you get from winning a division. If you want an easier, more reliable source of coins, play Volta World tournaments on a comfortable difficulty, picking 'First to X' tournaments, rather than those with two timed halves.
---
Looking for more on FIFA 20? So far we have the key details on the FUT Chemistry explained and a Chemistry styles list and affected attributes, a detailed FIFA 20 Volta mode guide and details on how to earn Volta Coins in FIFA 20 fast, a list of the top FIFA 20 potential wonderkids: the best young players and hidden gems, the full FIFA 20 player ratings and top 100 players, an in-progress FIFA 20 Ones to Watch OTW players list, and a full FIFA 20 Icons list, too. Finally, check out our SBC pages on the Teemu Pukki SBC solution, Josef Martínez SBC solution and Robert Lewandowski SBC solution, as well as pages on FIFA 20 five star skillers, plus the best FIFA 20 goalkeepers, best FIFA 20 defenders, best FIFA 20 midfielders, best FIFA 20 wingers, and best FIFA 20 strikers for an in-depth look at each position. Finally, check out the latest in-forms in this week's FIFA 20 TOTW, number 40 and our full FIFA 20 Ultimate Scream cards and players list, too.
---
How to get The Clip to earn more Volta Coins
There's no sure-fire way to get in The Clip, but it will only show goals where a skill move, or a particularly flashy shot or pass, is involved. That means backheel finishes, rabona crosses, stepovers-the lot. Your players will naturally try to pass and shoot with style in Volta Football, but it helps to hold the left trigger when you pass, cross, or shoot, especially if it's an easy chance on goal. Stringing together some skill moves and then scoring is also a good bet.
Note that you earn The Clip bonus if it's your side featured in the highlight-it doesn't have to be your created character.
How to spend Volta Coins in FIFA 20: what to spend VC on
Volta Coins are good for one thing: cosmetics. You can spend them to unlock gear that is barred behind in-game challenges, such as scoring a certain number of hat tricks with your created character. We'd recommend saving your coins until you meet a challenge that's proving tricky, or one you just can't be bothered with, because most of them are easy to complete. For example, we paid to skip the challenge to recruit a player from Paris because we couldn't find anyone we liked.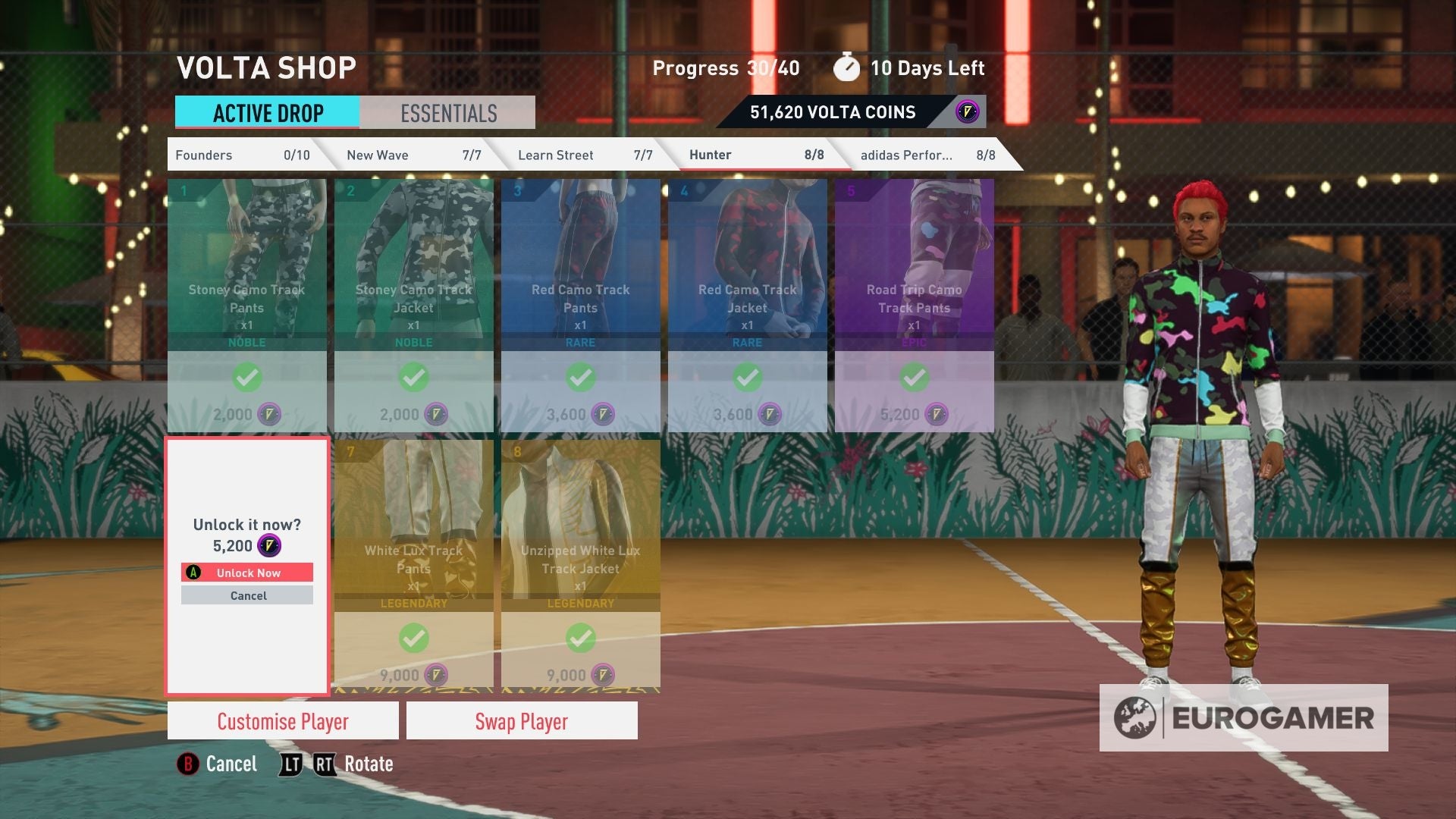 After that, you can use coins to buy duplicates of items you've already unlocked. That means you can double up on shorts or shoes you really like the look of, and give them to more than one of your squad.