FIFA 20 best strikers - the best ST, CF, LF and RFs in FIFA
The top strikers and forwards in FIFA 20 and where to find them.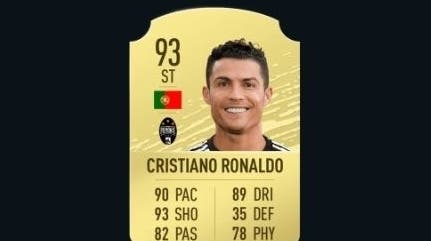 The best FIFA Strikers are the kings of the game's business end, and with this year opening up to a few more goals than previous editions, they'll play as important a role as they ever have.
Here on this page, we'll be listing FIFA 20's best strikers - which includes the best FIFA ST, the best FIFA CF, and the best LFs and RFs, too, ranked in order of their overall rating.
Be sure to take also look at the specifics depending on what you want out of them, beyond the obvious points of Finishing, and Long Shots, and think about aspects like Ball Control and Short Passing if you prefer to play with two up top, or Heading and Strength if you like a big target man who's a threat in the air.
For other stats-based guides, it's worth taking a look at our list of the highest potential FIFA 20 wonderkids, plus we have pages on FIFA 20's best Goalkeepers, FIFA 20's best Defenders, the FIFA 20's best Midfielders and FIFA 20's best Wingers in the game, too.
FIFA 20 best ST - the best Strikers in FIFA
Without further ado then, let's dive in! Messi moving over to Right Wing leaves Cristiano Ronaldo a clear run at top spot, while Arsenal's front two looks rather formidable, especially with FIFA 20 bringing back the speed meta.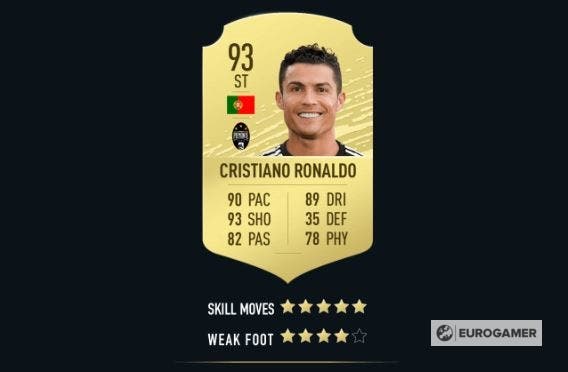 FIFA 20 best Strikers (ST)
| Rank | Player | Club | Rating |
| --- | --- | --- | --- |
| 1 | Cristiano Ronaldo | Juventus | 93 |
| 2 | Kylian Mbappe | PSG | 89 |
| 3 | Sergio Aguero | Man City | 89 |
| 4 | Robert Lewandowski | Bayern Munich | 89 |
| 5 | Harry Kane | Tottenham Hotspur | 89 |
| 6 | Luis Suarez | Barcelona | 89 |
| 7 | Pierre-Emerick Aubameyang | Arsenal | 88 |
| 8 | Edison Cavani | PSG | 88 |
| 9 | Alexandre Lacazette | Arsenal | 86 |
| 10 | Ciro Immobile | Lazio | 86 |
FIFA 20 best CF, RF and LF - the best Centre Forwards and Forwards in FIFA
No LFs or RFs make the combined top 10 of the "Forward" positions this year, as those positions do less and less to justify their inclusion at all. Griezmann takes top spot, and Roberto Firmino can rightfully feel a little hard done by in 6th, as one of the very best False 9s in the real world.
FIFA 20 best Centre Forwards and Forwards (CF, RF, LF)
| Rank | Player | Club | Rating |
| --- | --- | --- | --- |
| 1 | Antoine Griezmann | Barcelona | 89 |
| 2 | Karim Benzema | Real Madid | 87 |
| 3 | Son Heung-Min | Tottenham Hotspur | 87 |
| 4 | Dries Mertens | Napoli | 87 |
| 5 | Lorenzo Insigne | Napoli | 87 |
| 6 | Roberto Firmino | Liverpool | 86 |
| 7 | Josip Ilicic | Atalanta | 84 |
| 8 | Memphis Depay | Lyon | 84 |
| 9 | Max Kruse | Fenerbahce | 83 |
| 10 | Wilfried Zaha | Crystal Palace | 83 |
---
Looking for more on FIFA 20? So far we have the key details on the FUT Chemistry explained and a Chemistry styles list and affected attributes, a detailed FIFA 20 Volta mode guide and details on how to earn Volta Coins in FIFA 20 fast, a list of the top FIFA 20 potential wonderkids: the best young players and hidden gems, the full FIFA 20 player ratings and top 100 players, an in-progress FIFA 20 Ones to Watch OTW players list, and a full FIFA 20 Icons list, too. Finally, check out our SBC pages on the Teemu Pukki SBC solution, Josef Martínez SBC solution and Robert Lewandowski SBC solution, as well as pages on FIFA 20 five star skillers, plus the best FIFA 20 goalkeepers, best FIFA 20 defenders, best FIFA 20 midfielders, best FIFA 20 wingers, and best FIFA 20 strikers for an in-depth look at each position. Finally, check out the latest in-forms in this week's FIFA 20 TOTW, number 40 and our full FIFA 20 Ultimate Scream cards and players list, too.
---
Other things to know about picking the best FIFA Strikers
As we alluded to above, there are a few additional things to bear in mind when choosing your strikers and forwards in FIFA 20, with slightly different factors becoming more or less important depending on the mode and formation you're playing.
For Career Mode, potential is important too - Some players have higher built-in potential for growth than others, and if you're planning on playing at least two seasons of Career Mode then it's going to have a major impact on your squad. It's also a great way to pick up a bargain, too, so if you're keen on finding some youngsters take the time to go over our detailed list of the best FIFA 20 potential wonderkids and young players, whcih includes some of the finest young strikers in the game.
For Ultimate Team, remember you can use Chemistry Styles - Chemistry Styles, if you didn't know, add up to a whopping 90 points to your player's attributes, spread according to the Style you choose. You can read more on Chemistry in general in our guide to how FIFA Chemistry works, and likewise the best FIFA Chemistry Styles in our detailed guide to those, too.
Think about your style of play when looking at stats - We mentioned this briefly above, but certain strikers will of course work better in certain formations and styles. Strength, Heading, Ball Control and Short Passing suit target men, whilst Finishing is always useful, Long Shots suit CFs who work outside the box, and Acceleration and Sprint Speed do, of course, help you spread the pitch with pacey poachers sitting on the last man's shoulder.