Fans hit back at plans to introduce premium QoL and XP boosts in New World
"All store items at launch will be exclusively cosmetic in nature."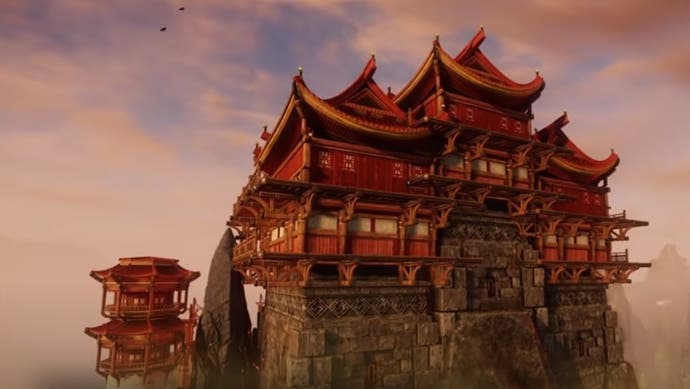 Players have hit back at plans to introduce a premium currency shop in Amazon's upcoming MMORPG, New World.
The leak - which comes via the game's current alpha-test and was shared on Reddit - alleges that New World is introducing in-game purchases for "special cosmetic items for players and their in-game homes" and "may sell quality-of-life items or boosts that will help players improve their time spent levelling up their character and trade skill experience".
In response, the official Twitter account for the studio developing the game posted a statement, insisting that "all store items at launch will be exclusively cosmetic in nature" and that the storefront was introduced in the Alpha test "to test these items and their value".
The statement - signed by studio director Rich Lawrence - adds that the plan "is not, and never will be, to create a feeling that store items are necessary to enjoy the game" and "all players will be able to play the full game experience we ship without having to make store purchases".
It goes on to say that "no selections in the store of their indicated cost is final" and says in "the future" the team may "also test ideas on how to offer players quality of life items for mechanics like rested XP and fast travel, both obtainable in-game and purchasable in the store".
The statement closes by confirming that it is also "contemplating, but has not finalised" a battle pass system.
Amazon Game Studios' massively multiplayer online title New World received its third delay back in February, with the game now anticipated to release on 31st August. New World was initially due to arrive last May, but saw its release pushed back to August 2020 as a result of the coronavirus pandemic. Amazon then opted to delay the game again in July, shifting the launch of both the full game and its final beta into this year.
That additional development time has so far, according to Amazon, resulted in improvements to crafting and combat, as well as increased quest, weapon, and armour variety. Fishing has also been added, the map has been expanded to include the new Reekwater region, and work has been done to increase the amount of mid-game and end-game content.