Amazon's MMO New World has been delayed again
Will now release early next year.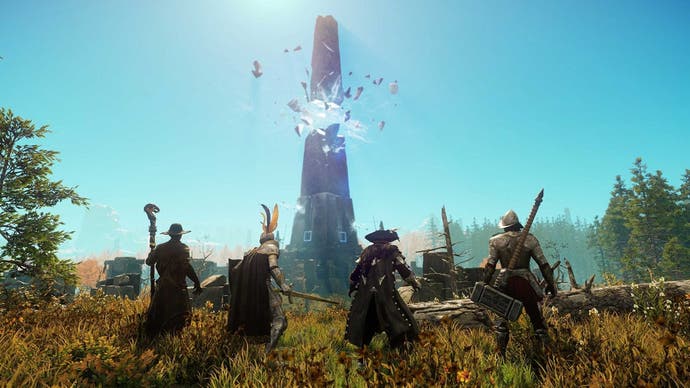 Amazon Game Studios has opted to delay its massively multiplayer online title New World for a second time, with the game now expected to launch in spring next year.
New World was initially due to arrive in May this year but saw its release pushed back to 25th August as a result of the coronavirus pandemic. With that revised launch date now a little over a six weeks away, however, Amazon has opted for a second delay to spring 2021 - for both the game and its final beta - in order to "get things where we want them before we fully release".
In a statement posted to the New World blog, Amazon Game Studios director Rich Lawrence said he was "proud of the hard work the team has done, making the game ready for launch with the features we intended for release." However, he continued, "When we examined the feedback we received over the last several months from our Alpha audience, we saw that players like the game, and they would like to see even more of it".
"In particular, we want to ensure that the most dedicated players have plenty of middle and endgame experiences as they venture through Aeternum," explained Lawrence, "We want our players to feel completely immersed in the game, and know that our studio stands for quality and lasting gameplay you can trust - and that means added time to get things where we want them before we fully release".
"We're confident that you'll feel that the game has as much promise as we do", Lawrence concluded in his statement, "and will understand why we want to take the extra time to make this experience the best it can be at release".
New World will be the second title to be arrive from Amazon as part of its push into the world of video game development. It's first, struggling free-to-play shooter Crucible, recently raised eyebrows when Amazon made the unprecedented move to yank it from general release and return it to closed beta, as player numbers continued to plummet mere weeks after launch.