EA explains FIFA 2020's "Legacy" version for Nintendo Switch
Deflated.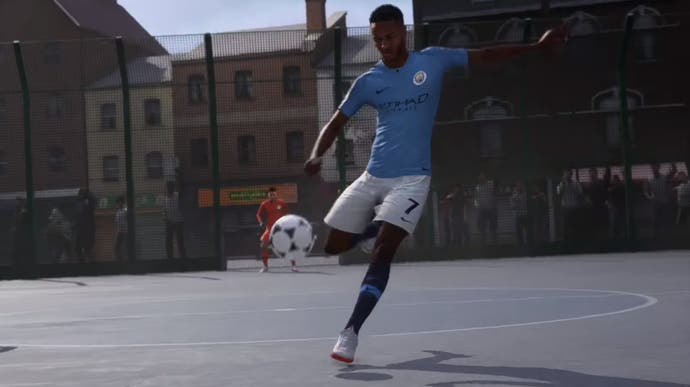 This morning brought the official announcement of FIFA 20's big new feature - a FIFA Street-style mode named Volta Football.
But the Nintendo Switch version of FIFA 20 won't contain this mode, and in fact has been referred to as a "Legacy" version of the game. It's the same moniker given to last-gen console versions in previous years.
Speaking to Eurogamer's Chris Tapsell today at EA Play in Los Angeles, FIFA 20 executive producer Aaron McHardy explained exactly what this meant for Nintendo fans.
"You're gonna get a fresh new look in Switch, with kits and player lists and all of that," McHardy said, when asked what the Switch's Legacy version of the game would entail. "But you're not going to be getting Volta or any of the big new features."
What other new features? Earlier today, EA explained how penalties and free-kicks have changed for FIFA 20. It sounds like this revamp won't be coming to the Switch version either.
It's similar to Legacy Editions for PlayStation 3 and Xbox 360 in previous years. According to an EA FAQ, these existed to "continue to provide the same great gameplay, game modes, and game features you've come to expect with unmatched authenticity, leagues, licenses and with updated team kits and rosters, all at a great value".
"Minor improvements or enhancements may be integrated in select game modes, but there will not be any new innovation or game features."
On Amazon UK, FIFA 20 for Nintendo Switch has a £49.99 price tag - although this is £10 cheaper than its PlayStation 4 and Xbox One editions, which have a £59.99 price tag.
When asked if this was the end of EA aiming for parity with Nintendo Switch versions of FIFA in the future, McHardy seemed unsure.
"I wouldn't say it's the end [of parity], necessarily for Switch, we don't know what the future holds," McHardy concluded. "We're always trying to build Switch to the device, and make it the best we can with the power that's on that device that was given to us, and I think that philosophy will stay true. Where it goes in the future, we don't know."