Amid coronavirus lockdown, 60,000 Spanish football fans turn up to watch virtual Seville derby on Twitch
¡Vamos!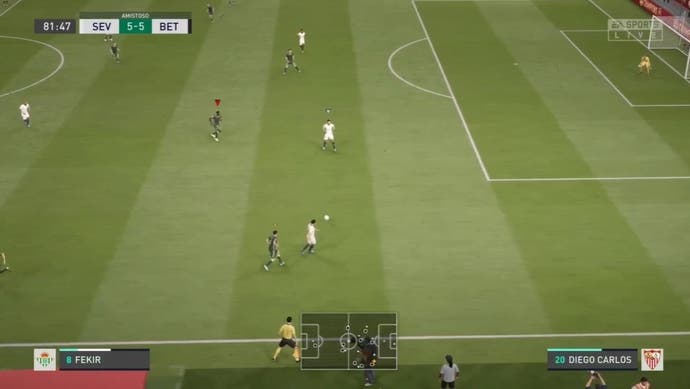 Two Spanish football teams used FIFA 20 to replace their cancelled real-life derby - with a footballer from each side playing a match streamed on Twitch to tens of thousands of fans.
Real-world football is cancelled amid the coronavirus outbreak, and, as we've reported, football teams have taken to video games to simulate postponed fixtures - and give their fans something to cheer about.
But La Liga sides Real Betis and Sevilla took this to the next level Sunday night when a footballer from each side played a match in FIFA 20 at exactly the same time their real-life derby was due to take place.
Real Betis striker Borja Iglesias played against Sevilla left back Sergio Reguilón in FIFA 20 during what was supposed to be the Serville derby. As you'd expect, both players picked their own teams on FIFA 20, and over 60,000 fans turned up to watch. The players didn't disappoint, either - Real Betis won 6-5 and, wonderfully, Iglesias scored the winner with himself. (The commentary is amazing!)
Reguilón took to Twitter to thank the fans who turned up to watch: "Many thanks to the 60,000 plus fans who were live with us today," he said. "I hope that we've entertained you a bit and that you've smiled. You're great."
Muchisimas gracias a las mas de 60.000 personas que han estado hoy en el directo con nosotros. Espero que os hayamos entretenido un poco y os hayáis echado unas risas. Sois grandes!! 👏🏻👏🏻👏🏻

— Sergio Reguilón (@sergio_regui) March 15, 2020
"A hug to all," wrote a clearly delighted Iglesias. "We have taken the virtual derby. Very happy for the winning goal!"
Nos hemos llevado el derbi virtual. Muy contento por el gol de la victoria 😂😉💚 @RealBetis
Espero que hayáis disfrutado. Así el #quedateencasa se hace más ameno.
Un abrazo a todos 😘

— Borja Iglesias (@BorjaIglesias9) March 15, 2020
Spain has been hit particularly hard by coronavirus, and the country is currently on a lockdown that could go on for weeks. As of Monday, 7988 cases of Covid-19 and 294 deaths were registered in Spain, the second-most affected country in Europe after Italy - overtaking the larger nations of France and Germany.