Grand Theft Auto 5 sold over 400,000 copies during lockdown in the UK alone
Hey now, you're a rock star.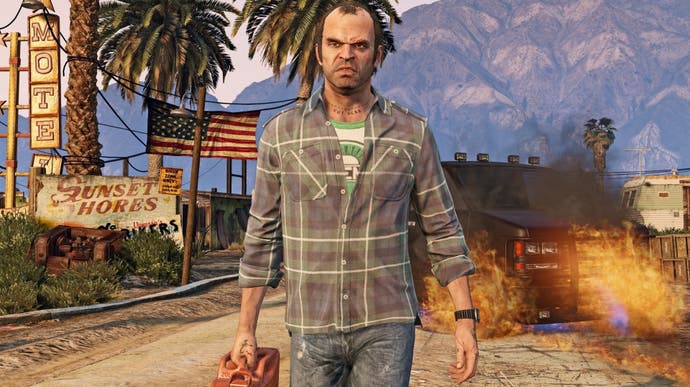 Lockdown saw remarkable sales of video games in the UK.
The Entertainment Retailers Association published sales data for 23rd March to 13th June, and it shows video games sold bucketloads on these shores.
The two top-selling entertainment products were videos: Star Wars Episode 9 - The Rise of Skywalker in at number one with 637,484 copies sold during lockdown, and Frozen 2 in at two with 541,783 copies sold.
But video games dominate the lockdown sales chart overall (of the top 40 titles, 21 were games, 16 video and three albums). EA's FIFA 20 was the UK's best-selling video game during the period, selling 506,572 copies. Activision's Call of Duty: Modern Warfare sold 474,902.
I'm continually surprised by Grand Theft Auto 5's sales performance. Rockstar's behemoth shows no sign of slowing down, and lockdown saw an incredible 438,902 copies sold in the UK alone. As of August 2020, the game has shipped over 135m copies worldwide across all platforms. Not bad for a game nearly seven years old. Who doesn't own GTA5 in the UK at this point?
Now, it's worth noting the ERA has compiled physical and download sales, which makes it useful. However, not all publishers play ball on the digital side, with Nintendo and Bethesda not supplying the ISFE's Games Sales Data with download numbers.
This is probably why Animal Crossing: New Horizons is only number 11 on this chart with 206,069 copies sold. If download sales were included, I imagine the Nintendo Switch exclusive might have troubled the top three.
And video game sales don't tell the whole story, either. There are microtransactions to take into account (lets not forget the free-to-download Fortnite, which is not on this chart, and its lucrative battle pass), and then there are subscription services, such as Xbox Game Pass and old faithfuls Xbox Live Gold and PlayStation Plus, which all make a meaningful contribution to the bottom line of these companies.
All in all, it's boom time for video games. Here's the lockdown top 40 in full:
Video: Star Wars 9 - The Rise Of Skywalker, Walt Disney Studios - 637,484
Video: Frozen 2, Walt Disney Studios - 541,783
Games: FIFA 20, Electronic Arts - 506,572
Games: Call Of Duty: Modern Warfare, Activision Blizzard - 474,902
Games: Grand Theft Auto 5, Rockstar Games - 438,902
Video: 1917, Universal Pictures - 411,925
Video: Jumanji - The Next Level, Sony Pictures HE - 411,151
Games: NBA 2K20, 2K Sports - 400,879
Games: Monopoly Plus, Ubisoft - 253,045
Video: Bad Boys For Life, Sony Pictures HE - 241,471
Games: Animal Crossing: New Horizons, Nintendo - 206,069
Games: Call Of Duty: Modern Warfare 2 Campaign Remastered, Activision Blizzard - 203,749
Video: Onward, Walt Disney Studios - 191,847
Games: Final Fantasy 7 Remake, Square Enix - 185,260
Video: Sonic The Hedgehog, Universal Pictures - 177,940
Video: Knives Out, Elevation Sales - 155,129
Games: The Sims 4, Electronic Arts - 146,006
Games: Resident Evil 3, Capcom - 143,042
Games: Assassin's Creed Odyssey, Ubisoft - 132,395
Albums: Future Nostalgia Dua Lipa, Warner Music - 122,740
Games: Star Wars Jedi: Fallen Order, Electronic Arts - 116,669
Video: Le Mans '66, Walt Disney Studios - 113,962
Games: Uno, Ubisoft - 112,800
Games: Red Dead Redemption 2, Rockstar Games - 108,784
Video: Little Women (2019), Sony Pictures HE - 108,245
Video: Jojo Rabbit, Walt Disney Studios - 107,478
Games: Tom Clancy's Rainbow Six Siege, Ubisoft - 104,935
Albums: Divinely Uninspired To A Hellish Extent Lewis Capaldi, Universal Music - 95,733
Games: Just Dance 2020, Ubisoft - 95,656
Games: Forza Horizon 4, Microsoft - 95,139
Video: Birds Of Prey And The Fantabulous, Warner Home Video - 94,810
Games: Crash Bandicoot N. Sane Trilogy, Activision Blizzard - 93,713
Games: EA Sports UFC 3, Electronic Arts - 91,706
Video: Spies In Disguise, Walt Disney Studios - 88,966
Video: Bloodshot, Sony Pictures HE - 85,341
Games: Football Manager 2020, Sega - 84,104
Video: The Gentlemen, EIV - 80,780
Games: Spider-Man, Sony Interactive Entertainment - 78,247
Albums: After Hours Weeknd, Universal Music - 75,871
Video: Dolittle, Universal Pictures - 74,124