Duke Nukem D-Day teased on Facebook
Duke "doesn't stay down for long".
A solitary screenshot, a Facebook page and the title D-Day have been associated with dormant videogame character Duke Nukem, leading some to speculate that he's due for a return.
Duke Nukem's Facebook page, spotted by Shacknews, was updated last week with the words "Duke Nukem doesn't stay down for long" and then a "D-Day preview pic". The screen shows a black-clad and helmeted gunman, looking nothing like Duke Nukem, shooting at an out-of-focus monster.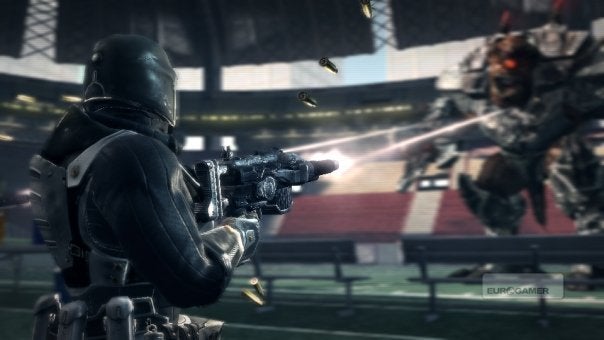 That's all we have to go on. There's speculation that this might be a new game, Gearbox's Duke Begins, or even Duke Nukem Forever, which was announced in 1997, but was finally pronounced missing presumed canned when developer 3D Realms floundered earlier this year - amid rumours it was a marketing scam and never intended for release.
Forever is the subject of a legal dispute between the studio and publisher Take-Two, although 3D Realms, true to form, claims it's still operational and working on the game.
Is this latest appearance a genuine rebirth or yet another attempt to spin things out? Who knows. Read our Forever feature from earlier in the year for the lowdown on this tangled saga.