Gearbox reaches agreement with Bobby Prince for use of Duke Nukem music
Software coda.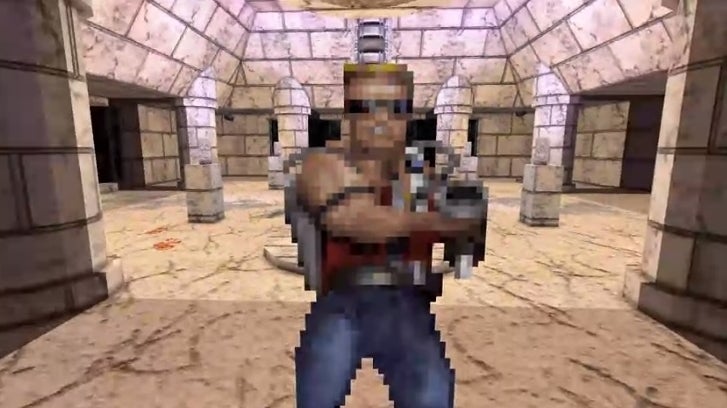 Gearbox and Bobby Prince have come to an agreement over the use of Duke Nukem music.
In 2019, Robert "Bobby" Prince filed a lawsuit against Gearbox, alleging he owned the copyright on some of the music in 2016's Duke Nukem 3D: 20th Anniversary World Tour, itself a remaster of the 1996 original.
Prince believed the use of his music in the earlier Duke games was subject to a licence agreement between Prince and 3D Realms. Thus, Gearbox did not own the rights to certain music it thought it owned the rights to.
Back in 2015, Borderlands maker Gearbox retained the rights to the troubled Duke Nukem franchise after a messy lawsuit with 3D Realms and Interceptor Entertainment over the Duke Nukem intellectual property.
Previously, 3D Realms sold Duke Nukem to Gearbox, who finished development on Duke Nukem Forever and released the game in June 2011 - 15 years after the release of Duke Nukem 3D.
3D Realms was then bought by Danish developer Interceptor, who teased a game called Duke Nukem Mass Destruction. Gearbox sued 3D Realms, who later revealed isometric action game Bombshell, an altered version of Duke Nukem Mass Destruction without its titular character.
After Gearbox and 3D Realms settled their differences in 2015, Gearbox insisted it was "the full and rightful owner" of the Duke Nukem franchise. But five years later, Gearbox sued 3D Realms again, this time over breach of contract relating to the rights to the game's music.
Gearbox sued 3D Realms parent company Apogee Software for failing to deliver the Duke Nukem IP "free and clear" - that is, Gearbox alleged Apogee withheld details of an agreement that impacted its ability to publish and republish Duke Nukem games.
Now, it seems all parties have sorted the row out. Gearbox issued a press release announcing Prince's litigation had been resolved, "and gamers can now celebrate Bobby's masterpiece with his support."
There's a quote from Prince, too:
"There's been a lot of interest about my lawsuit and Gearbox. I'm glad to announce today that the matter with Gearbox is resolved. After productive discussions, we have reached an agreement that allows my music and sound effects to remain in Duke Nukem 3D: 20th Anniversary World Tour. I appreciate Randy Pitchford and Gearbox for their collaboration, partnership, and understanding. I'm thankful that we can put this behind us and move forward."
Gearbox founder Randy Pitchford issued a statement of his own:
"Bobby Prince has been and remains a valuable contributor to the Gearbox family. We appreciate Bobby and his team working with us to clear up the misunderstandings and confusion. He's an incredible artist and we value his contributions to our works."
Gearbox said it sorted out the lawsuit after "a thorough review" revealed Prince's concerns "rested with 3D Realms".
As part of the settlement, all parties have agreed to dismiss all their claims with the courts. And it sounds like 3D Realms is taking the blame, admitting the licence with Prince was "inadvertently overlooked".
Here's the statement from 3D Realms:
"We at 3D Realms appreciate Bobby Prince, Randy Pitchford, and the Gearbox team for working with us to address the concerns raised in Mr. Prince's lawsuit. After review by counsel, a licence with Bobby was inadvertently overlooked by 3D Realms when we sold Gearbox the Duke Nukem catalog. We are relieved to have the issues resolved and extend our best to everyone."