Gran Turismo 7: does the PS5 graphics showcase still hold up on PS4 and Pro?
Replays work across consoles, delivering remarkable comparisons.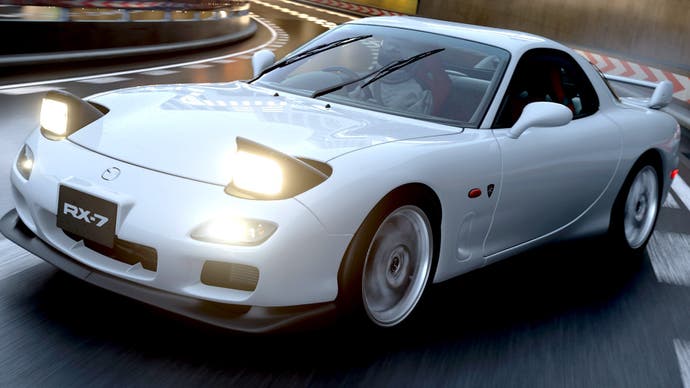 How Polyphony Digital has scaled Gran Turismo 7 across three different PlayStation consoles, each with a very different performance profile is absolutely fascinating - not least because the developer has also given us the mechanism to easily produce a vast array of comparison assets to pore over, laying the differences bare in a remarkable way.
Race replays can be saved and share over the cloud across all consoles, while access to in-game cameras effectively gives us the ability to switch between versions at will. It's clear that the game is indeed based on the existing Gran Turismo Sport engine, but the balancing act in exploiting PS5 while still looking and running great on PS4-class hardware is remarkable.
Let's start with the absolute basics then. We've already established that PlayStation 5 operates at native 4K with no sign of dynamic resolution scaling, and it's clear that the last-gen consoles stick to the established GT Sport formula: it's native 1080p on the base PS4, rising to a checkerboarded 1800p on PS4 Pro (though if your Pro is set to 1080p output resolution on the front-end of the console, that's what you'll get instead). PS5 has increased clarity then, but we also noted fewer edge aliasing artefacts too. The comparisons between base PS4 and Pro beyond the pixel count is minimal - they're very, very close indeed - though we did spot some lower resolution texture elements on the vanilla machine. Essentially though, you can consider the standard PS4 as a 1080p rendition of the Pro experience.
It's the comparison between Pro and PS5 that's perhaps most interesting though: both target ultra HD displays, but the Pro is doing it with around one third of the pixel count of the PS5. Meanwhile, in raw compute power, PS5 has around 2.5x the GPU power of the Pro - but it's doing so much more than simply pushing more pixels. In this respect, it's similar to the recently released Horizon Forbidden West - PS5 is delivering a much bigger boost to the experience than the raw teraflop count suggests.
That said, the GT Sport engine basis does mean that the older machines are still getting a competitive experience and on first glance, one might think that PS5's improvements are subtle, but the more you look at how the games compare, the more you appreciate the increase in fidelity. Foliage is always tricky to render: there's much more of it and of a much higher quality on PlayStation 5. Certain circuits ramp up density of trees too - to the point where in some cases, Polyphony actually uses completely different, higher detail models on the new console.
Lighting also benefits from a substantial increase in fidelity - not just the quality of it, but the implementation too: PS5's indirect lighting solution looks a lot better, simulating light bounce to a higher quality than the older consoles, especially noticeable on more reflective surfaces. Volumetric lighting effects also appear to be missing on the legacy PlayStation machines, while sun rays are replaced with a less effective bloom effect.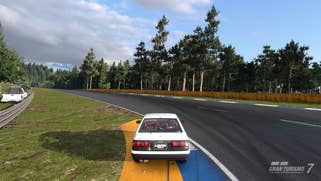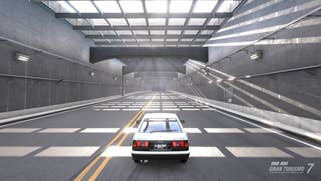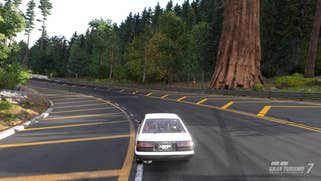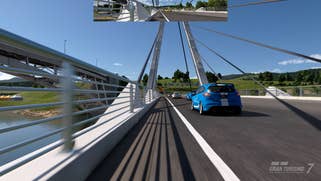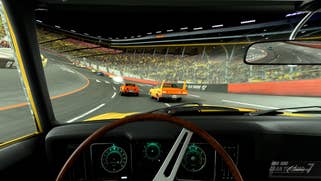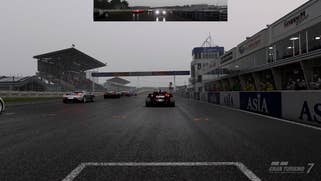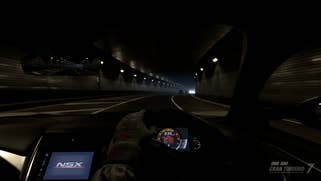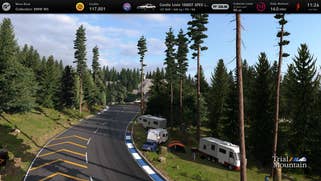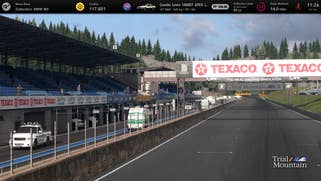 By extension, shadows cast also appear reduced in quality or missing compared to PS5, with a far less effective shadow map cascade too, looking visibly blurrier not too far away from the player. This push for improved fidelity on PS5 extends to vehicle models too, where cavity ambient occlusion is missing on the older machines, serving to give us a more realistic, better shaded look on PlayStation 5.
Beyond this, the new machine gets a vast range of enhancements, possibly too numerous to mention but there's clearly a bump to texture quality across the board, while level of detail (LOD) transitions are far more obvious on the older machines. Even with cars relatively close to the player, it's possible to see less complex models in play on PS4 and Pro when put side-by-side with PS5. Reflection quality is also improved: in common with many driving games, GT7 uses a dynamic probe based system where environments are dynamically sampled then mapped onto reflective surfaces - such as the car bonnet in 'roof cam' view. They're fairly low resolution on PS5 already, but PS4-class machines are pared back still further.
In-game motion blur is also implemented on PlayStation 5, adding to the sense of speed and immersion. This is missing on PS4, but can be accessed on PS4 Pro if the front-end of the console is set to 1080p - as mentioned earlier, this swaps out the checkerboarded 1800p for native full HD, freeing up horsepower for the motion blur, as well as opening the door to 60fps replays and likely improved in-game performance too. 60fps replays are optional on PS5 too - ray tracing is the default, which caps performance to 30fps, but going for the high frame-rate mode turns off the RT effects on replays and menus, effectively trading fidelity for fluidity.
Performance? There's not much to discuss here. All versions target 60 frames per second and while slowdown is possible on all renditions of the game, it's the PS4-class of hardware that's typically less stable. In fact, it's fair to say that the additional features added to GT7 means that this new game seems to have more slowdown than its predecessor, GT Sport. That said, extreme wet weather racing combined with a packed grid can bring about performance drops on all PlayStations and sometimes this extreme load results in lower frame-rates on PS5 earlier on races - though the tables turn later on. Performance is generally fine in GT7, however, and in most scenarios it is the new machine that is smoother overall, outliers apart.
It's also no surprise to find that loading times are vastly improved on PlayStation 5. It's true that GT7 on PS4 and Pro are still vastly improved over the laggy menu system and extended load times of the PS3 era, but with the comparison between PlayStation 5 and its predecessor, we're talking about an order of magnitude improvement or better - 30 to 40 second loads are typically done by four seconds at the most, sometimes faster (as low as less than one second). In fact, GT7's launch day patch has actually reduced loading times compared to the review code. Transitions from menus to gameplay are now virtually seamless in GT7 and that makes a huge difference.
Ultimately, Polyphony Digital has delivered three excellent versions of Gran Turismo 7. In common with other first-party Sony games, the PS4 and Pro versions are mostly identical - resolutions apart. And as the core engine was built for that generation of hardware, it's still a very good-looking game - and key engine improvements (such as dynamic time of day, weather, cloud rendering etc) make their way into all versions of the game. Comparing PS4 Pro to PS5 is almost like comparing a well-scaled PC game from its low/medium settings to high/ultra - with a sizeable resolution boost added too. I'm still not particularly happy about the game requiring access to the internet in order to function, but this does open up a good feature: not only can replay data be shared between all consoles, but in-game progression is freely interchangeable too.
Whether it's with Gran Turismo 7 or Horizon Forbidden West, we're often asked whether the cross-gen requirement is holding back PS5 from being everything it can be and whether the existence of PS4 and Pro versions limits the scale and scope of the game. On the one hand, the requirement to service three consoles instead of one may have an impact on studio resources. However, on the other hand, it's got to be stressed that brand new game engines based on exciting new rendering paradigms don't just appear out of thin air - they take a long, long time to develop: a rendition of GT7 built from the ground up for PS5 would be impossible to deliver just over a year from the console's launch. Expect new and exciting things from the next Polyphony Digital game, but what's clear from our testing is that GT7 on PS5 offers a vast array of improvements and enhancements over the last-gen rendition of the title - and you're getting a substantially improved experience on Sony's latest machine.