GTX 1660 Ti vs GTX 1070: Which is best for 1080p and 1440p gaming?
Nvidia's new RTX-shy GPU tested against its closest competitor.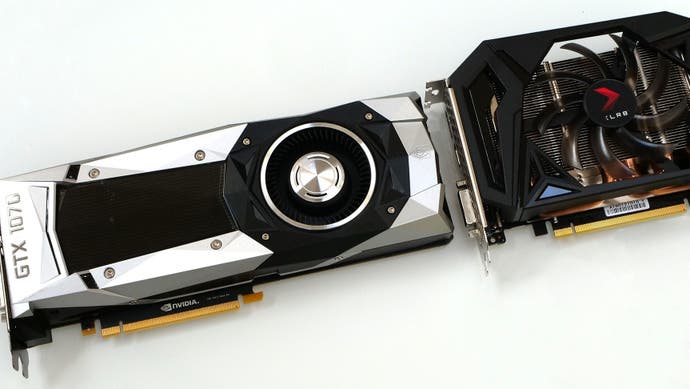 After releasing a series of RTX graphics cards, it looked like the classic GTX line might have run its course. Then Nvidia announced the GTX 1660 Ti, a GPU that combines the architectural advancements of the RTX Turing line without the dedicated cores for machine learning and ray tracing; the 16-series moniker indicates a card somewhere between the 10-series GTX cards and 20-series RTX cards. At £259/$279, the GTX 1660 Ti offers a healthy performance bump over the GTX 1060 that should make it a stand-out performer for 1080p gaming, but the last-generation GTX 1070 already fulfils a similar niche. This established card is available in wider numbers for a similar price, so which is the better mid-range option: the GTX 1660 Ti or the GTX 1070?
On the face of it, the GTX 1660 Ti seems to have the edge. The new GPU has a higher boost clock, faster GDDR6 memory, greater memory bandwidth and revised shader models. It's also more efficient, with many models packing significant horsepower into a compact one-fan or two-fan design. It also comes with some new Turing features, such as support for variable rate shading, which could boost performance in some games. However, the GTX 1660 Ti also ships with 6GB of memory, compared to 8GB of VRAM on the GTX 1070, which could potentially make it less future-proof than its last-gen competitor.
The best way to see which card is the best overall is to put them to the test, so that's what we're going to do. We have tested both GPUs in nine recent and not-so-recent games, so you will be able to see precisely which games favour the GTX 1660 Ti and which go the other way in our benchmarks below. We'll also take a quick look at how these cards compare in terms of features, and how much you can expect to pay for each one.
Click the links below to jump to one of these parts directly, or scroll on to see it all!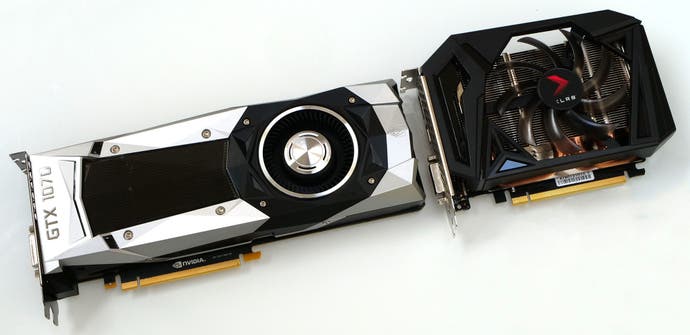 GTX 1660 Ti vs GTX 1070: Feature comparison
Before we get into the results, it's worth briefly covering the difference in features between the GTX 1660 Ti and the GTX 1070. As we mentioned earlier, the GTX 1660 Ti doesn't include any RT or Tensor cores, meaning the two headline features of the RTX series - real-time ray tracing (RTX) and deep learning super sampling (DLSS) - are nowhere to be found. However, Nvidia's Turing cards does include new features that don't rely on its specialist cores, and these have made the jump to the GTX 1660 Ti.
One of the most interesting is variable rate shading, a new technique which reduces detail in areas of the screen that are of less interest to the player - for example, areas in shadow. This can boost performance in games that support it, with Wolfenstein 2: The New Colossus showing about a 15 per cent boost in frame-rates at its most aggressive setting. Another nice niche feature is the upgraded NVENC encoder, which widens the options available for recording or streaming games; it's also more efficient and requires less CPU utilisation.
Of course, features that debuted on GTX 10-series cards appear on both models in our comparison. That includes support for FreeSync and G-Sync variable refresh rate displays, the GeForce Experience software and options for multi-screen gaming, streaming to Shield set-top boxes or Android smartphones and so on. That means that the GTX 1660 Ti has the lead when it comes to features, but it's a far closer race than it is when comparing 10-series cards with their newfangled RTX counterparts.
GTX 1660 Ti vs GTX 1070: Game benchmarks
In these results, you'll see how the GTX 1660 Ti compares to the GTX 1070 at three resolutions and in nine different games. The GTX 1660 Ti is represented by a compact PNY XLR8 card and the GTX 1070 with Nvidia's Founders Edition. It's worth noting that the XLR8 comes with a small +45MHz overclock, while the Nvidia card remains on reference specifications. With no Nvidia reference card for the GTX 1660 Ti, this is a reasonable out-of-the-box comparison of the two cards. We tested using a high-end system, including a Core i7 8700K processor overclocked to 4.7GHz on all cores to take CPU power out of the equation as much as possible. This is backed with 16GB of dual-channel memory at 3400MHz, a Corsair H100i liquid cooler and solid state storage for all tested games.
Note that we've only included the two cards we're most interested in here: the GTX 1660 Ti and the GTX 1070. If you want more context, check out our full TX 1660 Ti benchmarks page which includes comparisons with the GTX 1060, GTX 1070, RTX 2060, RX 580, RX 590 and Vega 56!
Our new benchmark system was implemented early last year, but if you haven't seen it before, here's a quick primer. Just press play on the YouTube videos below, then add or remove the video cards and resolutions you're interested in using the controls to the right of the video. You'll see how the data sources you picked handle our test scene, with real-time frame-rate and frame-time information that give a better idea of the gameplay experience than a simple average frame-rate. However, you can also scroll down a little to see a bar chart with averages if you prefer. Mouse over the chart to see more data and click to switch between fps counts and percentages. With that explanation out of the way, let's get started!
Assassin's Creed Odyssey
2018 release Assassin's Creed Odyssey is a heavy workload for any graphics card, even at 1080p. The GTX 1660 Ti gets out to an early lead here, with an eight per cent advantage at 1080p that stretches to nine per cent at 1440p. The GTX 1660 Ti faces problems at 4K though, falling behind its older competitor as texture sizes increase. Regardless, both cards hardly produce a playable experience at Ultra HD with sub-25fps averages.
AC Odyssey: Ultra High, TAA
Assassin's Creed Unity
Assassin's Creed Unity is four years older than Odyssey, but still provides a bit of a challenge for modern GPUs. The newer architecture of the GTX 1660 Ti isn't able to use as many tricks to get ahead here, leaving the brawnier GTX 1070 to take a small lead at each resolution we tested. However, the gap is just a few frames at every resolution, with the difference dropping to less than one fps at 4K. You'd be happy with either card here, with the option for a console-quality 4K/30 or higher frame-rates at 1080p and 1440p.
Assassin's Creed Unity: Ultra High, FXAA
Battlefield 1
The GTX 1070 chugs hard in Battlefield 1, with its worst performance at 1080p. That gives the GTX 1660 Ti an 11 per cent lead at 1080p, but as the resolution increases, the two cards are drawn closer together. That results in the newer card's advantage shrinking to five per cent at 1440p and just three per cent at 4K. Either way, you get a playable experience at 1080p and 1440p, with some settings tweaks required to reach 4K/60 on either GPU.
Battlefield 1: Ultra, TAA
Crysis 3
Coming up to six years on, Crysis 3 still has what it takes to stress GPUs at its very high preset with SMAA T2X. Perhaps unsurprisingly given the age of this game, the GTX 1070 takes the biggest lead over the GTX 1660 Ti we've seen yet, seven per cent at 1080p, nine per cent at 1440p and 12 per cent at 4K. As we take a ride on some highly explosive material, the GTX 1660 Ti exhibits some noticeable frame-time spikes; it's these that are largely responsible for the gap in performance.
Crysis 3: Very High, SMAA T2X
Far Cry 5
What is there to say about Far Cry 5 that hasn't already been said? It's a medium-strength benchmark, offering a decent challenge but allowing even these mid-range GPUs to hit nearly 100fps at 1080p and comfortably over 60fps at 1440p. However, 4K gaming remains at a cinematic 35fps, so we'd recommend sticking to a lower resolution or dropping some settings to ensure a fluid experience. Enlisting the aid of a FreeSync or G-Sync monitor could also make sense here. The GTX 1660 Ti is the narrow winner at 1080p, with the GTX 1070 firing back at 1440p and 4K. Shall we call it a draw?
Ghost Recon Wildlands
Although it was released in 2017, Ghost Recon Wildlands is the current reigning champion when it comes to challenging in-game benchmarks. The insanely difficult ultra preset restricts the GTX 1660 Ti to just 52fps at 1080p, 41fps at 1440p and a meagre 23fps at 4K. We can see that the two cards remain close throughout, although the GTX 1660 Ti has a tendency to drop further, as evidenced by the lower worst one per cent scores.
Ghost Recon Wildlands: Ultra, TAA
Rise of the Tomb Raider
The first of two Tomb Raider games to be included in our benchmark suite, Rise of the Tomb Raider's benchmark is comprehensive if not an excellent reproduction of actual in-game performance. The GTX 1070 takes a narrow lead here, but both cards deliver a comfortable 100+fps at 1080p and 70+fps at 1440p.
Rise of the Tomb Raider: Very High, SMAA
Shadow of the Tomb Raider
Shadow of the Tomb Raider comes with an even longer benchmark, and this time it's a better fit for the challenge of running the game itself. The GTX 1660 Ti is able to pull ahead once again, showing its strength in modern titles compared to the GTX 1070. However, frame-rates are down across the board, with only 1080p allowing for average frame-rates above 60fps. At 1440p, we're looking at the mid-fifties, while 4K is unfortunately relegated to somewhere below 30fps. Thankfully, we're using the highest settings here, making it child's play to attain a playable frame-rate by making a few visual sacrifices.
Shadow of the Tomb Raider: Highest, TAA
The Witcher 3
We'll conclude with The Witcher 3, a favourite of RPG fans everywhere. With the settings on Ultra (but no performance-sapping Hairworks), we're looking at over 100fps for the GTX 1070 and only 90fps for the GTX 1660 Ti. We see a similar story play out on other resolutions, with just over a 10 per cent lead at 1080p and 1440p, dropping to eight per cent at 4K.
Witcher 3: Ultra, Post-AA, No Hairworks
GTX 1660 Ti vs GTX 1070: Price and availability
So, how much should you expect to pay for a GTX 1660 Ti - and how easy is it to find one? Thus far, the launch has gone smoothly, with a good number of cards available in a range of configurations from Nvidia's partners. There's no reference card this time around, so you'll have to choose your favourite custom design. Most come with small overclocks built in, but these should have only a minimal (less than three per cent) impact on performance - so choosing based on the cooling system, form factor and even absence or presence of RGB lighting might make more sense.
Generally, we've found GTX 1660 Ti cards to be available at or very near to their RRP of £259/$279, with more expensive models costing around £299/$319. We reckon that an entry-level card is your best bet, as more expensive GTX 1660 Ti models come very close to the price of an entry-level RTX 2060, which provides significantly better performance and more features.
How does the GTX 1070 stack up? The cheapest we've found one online is for £230 in the UK and $330 in the US. That UK price is a tempting one, but we reckon the (usually) faster and more future-proof GTX 1660 Ti remains the better value for money option. In any case, the used market may change this calculus; we reckon if you can find a used GTX 1070 for under £200/$220, the older card starts to make more sense. It's worth checking Ebay or your favourite user marketplace to see what's available!
With that, we've come to the end of our GTX 1660 Ti vs GTX 1070 comparison. Be sure to check out our full GTX 1660 Ti review for more information of how the new Nvidia card stacks up against its rivals. You can also find our always-updated best graphics card recommendations, which lay out our GPU picks at a range of price points.