Destiny 2 Witch Queen release time: What time will Destiny 2 servers be back online?
Savath-soon.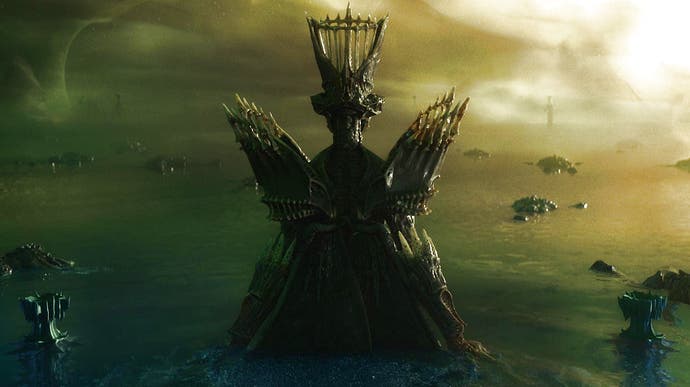 Destiny 2: The Witch Queen is almost upon us - introducing what developer Bungie describes as the beginning of the end of the Light and Darkness saga.
There is a lot to looking forward - the new Throne World destination, a Void 3.0 subclass revamp, a new raid, a Legendary campaign difficulty and much more.
But there's plenty disappearing, too - including Forsaken's campaign, the Tangled Shore destination and the bulk of Year 4's seasonal content - including the fan-favourite Presage and Harbinger missions.
Even if you have played all the activities you need, there are some housekeeping worth doing ahead of the expansion - including turning in soon-to-expire materials.
On this page:
Destiny 2 The Witch Queen release time in UK / GMT, CEST, EST and PST: What time will Destiny 2 servers be back online?
UPDATE (5pm UK): The Destiny 2 patch notes are now live! If you're looking for other things to read, get a heads up on the known Exotics and our up-to-date levelling guide.
Best of luck getting in today...
ORIGINAL GUIDE: The Destiny 2 The Witch Queen release date is Tuesday, February 22nd, and will go live at the usual reset time:
UK: 5pm (GMT)
Europe: 6pm (CEST)
East Coast US: 12pm (EST)
West Coast US: 9am (PST)
As with previous expansions, it's very likely you'll enter a queue as soon as you load up, with possible server codes and connection issues in the hours that follow.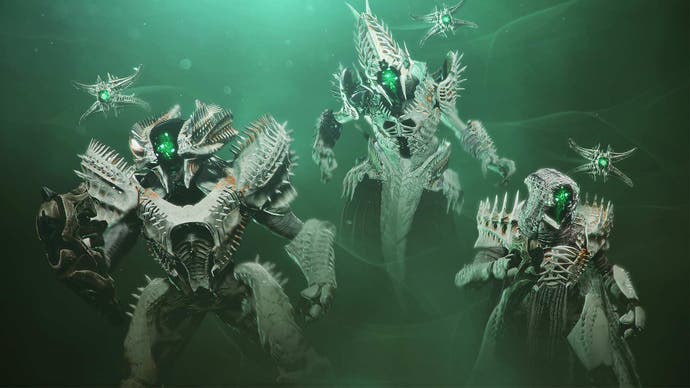 If that's the case, then it's best to hold off and start playing properly on Wednesday for when things settle down.
Remember that while you wait for servers to come back up, The Witch Queen update will be available to download. Note that PS4 users will have to download the entirety of Destiny 2 again, and can only do so at the above times - in other words, no PS4 pre-load available. On the flipside, those playing on Google Stadia won't have to download anything - it's a streaming platform after all.
How to prepare for Destiny 2: The Witch Queen
With numerous destinations, activities and modes being 'vaulted', and the above deadline in mind, there are some housekeeping things worth doing while servers are still active.
The good news is you don't need to put any time to raise your Power Level; Bungie has confirmed all players will start at the new floor when the expansion launches.
Here is our recommendations for things you should do ahead of The Witch Queen:
Turn in all your Gunsmith Materials. These will disappear for a new reputation system with Banshee-44 next season, so hand in the many hundreds or thousands you have now before they disappear entirely.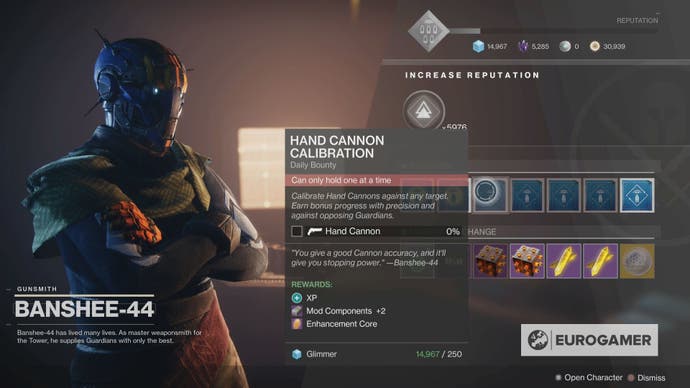 Other materials being removed from inventories that are worth spending include:

Bell of Conquests
Cabal Gold
Cabal Runes
Challenger Medallions
Corrupted Data
Corrupted Key Code
Cryptolith Lure
Decrypted Data
Dreaming Token of Eriviks
Dreaming Token of Querim
Dreaming Token of Xavoth
Ether
Etheric Spiral
Ghost Fragments
Ghost Mods: Arc Analyzer, Solar Analyzer, Void Analyzer, Omni-Telemetry, Banshee Special
Hammer of Proving
Imperial Access Code
Intercepted Distress Signal
Key Code
Lure Mutation Finder
Lure Mods: Prey Mods and Trophy Mods
Mod Components
Parallax Trajectory
Pure Matterglass Lens
Recon Data
Splicer Gauntlet
Strand of Nobility
The Unclaimed Lightbearer
Wanted Bounties / enemies
Weapon Telemetries

Claiming any outstanding engram vendor rewards, including from the likes of Zavala (Vanguard), Shaxx (Crucible), Drifter (Gambit) and Saint 14 (Trials).
Buy Glimmer from Spider, who is being removed alongside The Tangled Shore activity. Though currency exchange will move to Rahool in Year 5, it's good practice to make sure you have enough Glimmer available for bounties and other activities now for when The Witch Queen begins.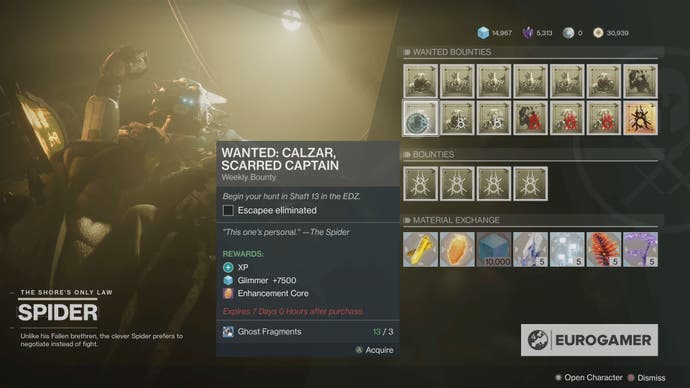 ---
The Season of the Deep is here alongside the Into the Depths quest. You can know go fishing too! Don't forget to keep an eye on the Lost Sector and King's Fall challenge rotation schedule!
---
Stock up on Bounties to redeem next season for when you have your hands on the seasonal artefact. Note you should avoid bounties likely to disappear as part of the vaulting process - including the Tangled Shore or Season of the Hunt, Chosen, Splicer, Lost. Be aware if you're doing this, make sure you have enough room left for some quests to be added to your log (Bounties and Quests share the same inventory) for when The Witch Queen arrives.
As well as unlocking all season pass rewards for the current season across all classes, making sure you unlock season pass rewards from the previous season before they disappear forever. You can do this on Bungie's site here.
Beyond the above housekeeping items, you should tick off any remaining items on your Moments of Triumph checklist (which ends with the arrival of The Witch Queen), complete any outstanding Year 4 Seasonal storylines (Season of the Hunt, Chosen, Splicer, Lost) and play any seasonal activities before they are gone for good. Know that most Exotics associated with vaulted activities should be available from the Monument to the Lost Lights vault in the Tower, though Dead Man's Tale and Hawnmoon in particular will be available at Xur with random rolls on a weekly basis.
Best of luck getting everything you need before The Witch Queen arrives!