The Cyberpunk 2077 Xbox controller is now available
Limited edition Xbox One console is coming in June.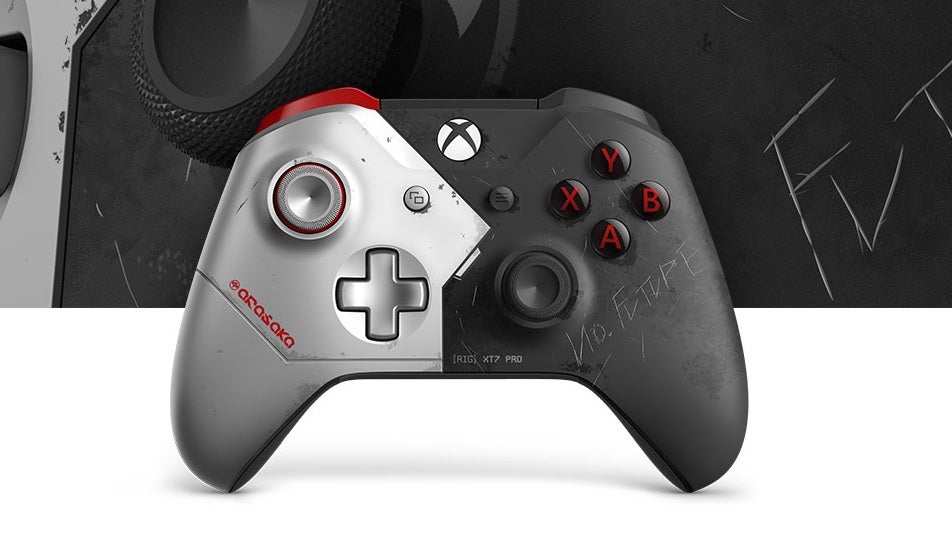 After a leak and a glitchy teaser over the weekend, the Cyberpunk 2077 Xbox controller is now available.
The Cyberpunk 2077 Xbox controller arrives shortly before a Cyberpunk 2077 Xbox One X Limited Edition console that was also revealed last week. Microsoft has confirmed that will be available to order from June 2020 - and come bundled with the controller and a copy of the game. Depending on the price, it could make its way into our roundup of the best Xbox bundle deals.
However, if you'd rather not wait until then, the Cyberpunk 2077 Xbox controller is out right now. It features a special rubberised diamond grip, plus everything you'd expect from any other Xbox controller - so that's button mapping, Bluetooth support, a 3.5mm stereo headset jack and PC compatibility.
You can secure yours from the following retailers below. We'll be sure to update the list as and when we find it available.
In the UK:
In the US:
As for the design, you can see they've fully leant into a scuffed and grubby metallic aesthetic of the near-future. On the front, the controller is adorned with the logo of Arasaka - one of the largest and richest corporations in the game's universe - and pointed environmental storytelling in the form of some scratched graffiti. The back has the iconic Samurai skull logo seen on V's bomber jacket and a QR code that unsubtly leads to the game's pre-order page. Whaddya think of it?
---
After more Xbox offers? You can find many more over at Jelly Deals. We've got our picks for the best Xbox One external hard drive, a look at where you can find the best Xbox Game Pass Ultimate deal and everything you need to know if you're looking for Xbox Series X/S stock.
---
The limited edition Xbox controller arrives mere days after the originally scheduled release date for Cyberpunk 2077. The delay to the game was announced back in January, with CD Projekt Red stating that, "we are currently at a stage where the game is complete and playable, but there's still work to be done". Unimpressed by the delay, Emma then went ahead and made Cyberpunk 2077 in Fallout 4 instead - which is pretty cool!