Crystal Dynamics shows off fresh Marvel's Avengers gameplay in latest livestream
And M.O.D.O.K. enters the fray.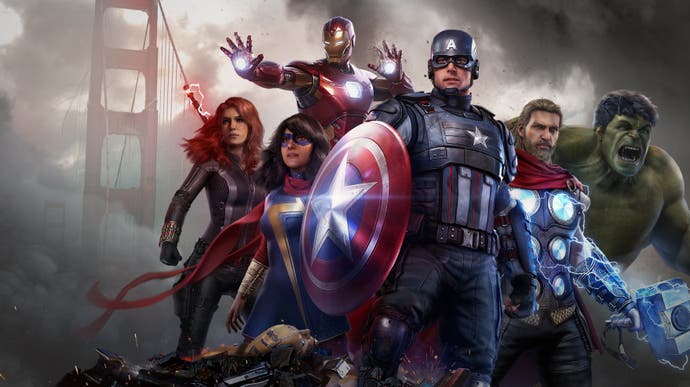 Square Enix has offered up new details and a fresh helping of previously unseen gameplay for the Crystal-Dynamics-developed Marvel's Avengers, which is scheduled to launch on Xbox One, PlayStation 4, PC, and next-gen consoles later this year.
To begin its latest half-hour livestream, Crystal Dynamics shared a brand-new story trailer, mostly covering the key points we've already heard before. To recap, the Avengers have disbanded following the catastrophic events of the so-called A-Day, which unleashed a deadly disease on humanity. In their absence, a new organisation - Advanced Idea Mechanics (or AIM for short) - establishes itself, and events pick up five years later as Avengers fangirl and playable character Kamala Khan enters the scene.
Thanks to today's stream, however, we now know exactly who's behind AIM - and it's a villain many Marvel fans will recognise: Dr. George Tarleton, otherwise known as M.O.D.O.K. (Mental Organism Designed Only for Killing), who first entered the Marvel comic universe back in October 1967. M.O.D.O.K. is able to control machines with his mind - not ideal given that, post-A Day, AIM has flooded the streets with robotic AI.
With the basic set-up more firmly established, Crystal Dynamics then opted to reveal a few additional gameplay sequences, split between Avengers' single-player story campaign and its co-operative multiplayer War Zones mode.
More story missions specific to particular heroes will unlock as the story progresses, and one of these, the Thor-focussed Once An Avenger, was shown in more detail. Here, players control Thor as he attempts to fend off an army of enemy robots as they attack the Avengers' Helicarrier high above New York. What follows is a fairly relentless neon-hued action sequence, full of exuberant, eye-searing third-person combat, and back-up from the likes of Hulk and Iron Man.
Crystal Dynamics says each Hero Mission, as single-player campaign missions are known, is intended to showcase the studio's varied hero designs, with each Avenger sporting their own unique move set. In Thor's case, we see him flying around, ground-pounding, and enemy bonking mech foes with his hammer, all using a core combat system that blends heavy and light attacks, signature attacks, and combos.
Each hero has three special abilities (broken down into Assault, Support, and Ultimate) known as Heroic Moves, and all are inspired by signature moves from comics and movies. Cores skill can be augmented by unlocking new moves, and a wide range of melee, ranged, aerial, and ground combat skills means its supposedly possible to create personalised heroes that will feel very different between players.
On top of that there's gear with special modifiers known as Perks for further customisation, plus dozens of classic outfits from each hero's "most recognisable eras and story arcs". Some of the latter cosmetics can be unlocked by completing missions and deciphering patterns in story mode, and some, of course, will be available for purchase through the game's online market place. Oh and there'll be a selection of emotes too.
As for multiplayer, War Zones are missions that can be played with up to four players - or, if you prefer, solo with an AI companion team consisting of unlocked heroes. These missions are disseminated by characters from all across Marvel history and, once matchmaking is complete, send players across cities and rural areas, into dense interiors and to expansive outdoor locations, in order to complete objective-based challenges, boss fights, and rewards.
Crystal Dynamics also took a moment to highlight that players gain access to special team finisher moves during co-op play, enabling enemies to be defeated faster once their stun meters are maxed out. There's considerably more detail in the full half-hour livestream.
Avengers is due to release on Xbox One, PS4, and PC on 4th September, and Crystal Dynamics says to expect new heroes, new regions, and new stories post-launch, "all at no additional cost". Furthermore, as announced earlier this week, a free upgrade from PS4 to PlayStation 5, or Xbox One to Xbox Series X, will be available when the consoles launch later this year.