Core Destiny 2 to go free-to-play, leak reveals
UPDATE: Confirmed, cross-save coming to PS4.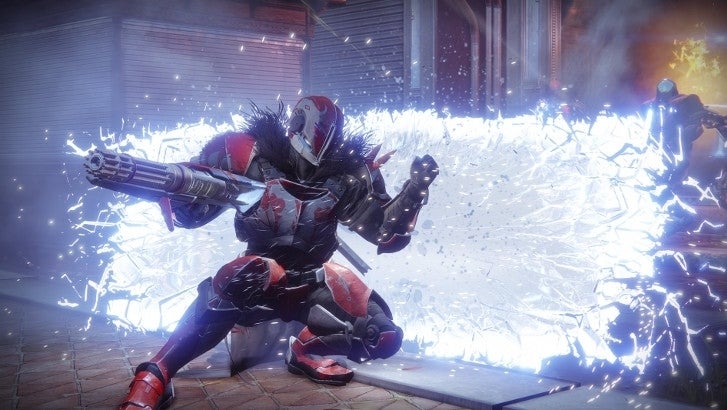 UPDATE, 7:30pm: Bungie has now formally unveiled its future plans for Destiny 2, with virtually everything leaked earlier now confirmed to be true. The one notable addition, however, is that PlayStation 4 will also support cross-save.
Destiny 2's Shadowkeep expansion will arrive on 17th September and will be completely standalone, meaning no other previous purchases are required to play. On the same day, Bungie will be launching Destiny 2: New Light, an entirely free-to-play version of the base game incorporating all Year 1 content - which is to say, the Curse of Osiris and Warmind expansions.
Equally exciting is confirmation that Bungie will be introducing a cross-save system when its retooled Destiny 2 arrives. This enables players to shift between platforms as they see fit, picking up from where they left off earlier. This will work on Xbox One, Stadia, and Steam - and Bungie has confirmed that PS4 is supported too.
Fascinatingly, Kotaku's Jason Schreier reports that Sony only gave the go-ahead "at the last possible moment", one day before Bungie's stream aired. That's supported by the video itself, with PS4 notably absent from screens shown as part of the pre-recorded cross-save reveal.
"We wanted cross-save before we shipped Destiny 2," explained general manager Mark Noseworthy in the video. But although much of the feature was ready to go at launch, it never emerged "because of 'capital R' reasons...and many of those reasons have disappeared".
As Bungie's head of community Eric Osborne notes later in the video, the studio (which recently parted ways with long-time publisher Activision) is now free to build Destiny "in the vision we want it to be in...that isn't dictated by a commercial model or a business plan...but our creative vision, and what we want to do for our players and what they want us to do."
Destiny 2's moon-based Shadowkeep expansion is outlined more thoroughly in Bungie's positively jubilant "Out of the Shadows" announcement video below.
---
ORIGINAL STORY, 2.32pm: The core Destiny 2 offering is set to go free-to-play as part of a shift towards a Fortnite-style business model.
The news came via an article on website Engadget, which appears to have been accidentally published ahead of developer Bungie's planned official announcement set for later today. The article was pulled, but of course the internet caught a glimpse.
According to the report, the core Destiny 2 game that's going free-to-play will be called Destiny 2: New Light, and includes all of the year one content, as well as what are called "foundational modes, activities and rewards".
The article also confirms the recent leak of the Shadowkeep expansion, which it says comes out on 17th September 2019.
Now free from the deal it signed with publisher Activision, Bungie appears to be trying new things in a bid to rekindle interest in Destiny, with this free-to-play move the first step. It's worth noting Shadowkeep won't require players own previous Destiny 2 expansions to either buy or play, so those interested can jump straight in when it comes out later this year.
It also looks like Bungie is going for a Fortnite-style business model. Pre-orders for Shadowkeep popped up on the Microsoft Store (thanks, True Achievements), and the listing included details of a Deluxe edition. This Deluxe edition includes four season passes, "each offering a unique set of exclusive Seasonal activities, artifacts, and rewards". Sounds a bit like Fortnite's method of releasing a new battle pass every season.
Destiny 2 is also about to get cross-platform save between Xbox One and PC, including Google Stadia, but not PlayStation 4, according to the Engadget article. This will let players access the same characters from their primary account on different platforms. According to Engadget, Destiny 2 is moving from Blizzard's Battle.net over to Steam, too.
And another detail: apparently Bungie says there will be no more platform-exclusive weapons, armour, maps or activities, which is certainly a welcome change.
And finally, for all you Eris Morn fans out there, Destiny's moody Hive-lover is back, sparked by horrible monsters spewing out from the moon. Lovely.