Cities Skylines' next expansion lets you build your own theme parks, zoos, and more
Out in May.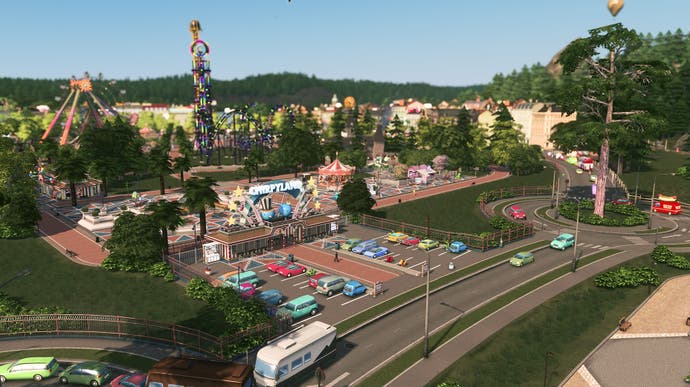 Cities Skylines' next expansion, Parklife, will launch for PC and Mac on May 24th, publisher Paradox Interactive has announced, and will introduce customisable theme parks, zoos, nature reserves, and more.
Parklife's main focus is on providing the facilities to transform your city's boring, empty patches of land into bustling tourist attractions. To that end, it introduces the new park area tool, used to create park districts which can be fully customised with new buildings and props.
You'll be able to use paths to create specific routes for your visitors to travel, and then set ticket prices for walking and sightseeing tours, helping to enhance tourism.
Buildings and props can then be placed alongside paths as notable points of interest, with Paradox hightlighting the likes of new service buildings, amusement parks, nature reserves, city parks, zoos, and even the Castle of Lord Chirpwick.
For those that would rather not force their visitors to walk everywhere, the expansion also introduces a new sightseeing bus line, and there are city services, like Park Maintenance, which can help boost happiness and effectiveness, and level up park districts.
Parklife rounds things off with three new city policies and eight new park policies, focussed on dealing with recreational hazards like Animal Ethics and Fireworks, plus five new maps.
The expansion will cost £11.39 when it launches, and there's a 10% discount if you pre-order. Additionally, Paradox is releasing a £13.99 Parklife Plus bundle, which includes a new Country-themed radio station, featuring 16 original new songs in four sub-genres: Appalachian Folk, Bluegrass / Honky Tonk, Nashville Modern Country, and Unplugged Country.