Cities: Skylines' fishing-themed Sunset Harbour expansion is out next week
And it's coming to Xbox One, PS4, and PC.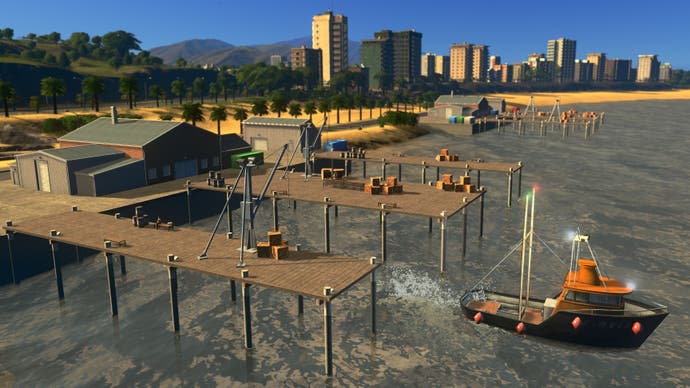 Acclaimed city builder Cities: Skylines is poised to float purposefully into damp new era next Thursday, 26th March, with the arrival of its maritime and transportation focussed Sunset Harbour expansion, releasing simultaneously on consoles and PC.
Sunset Harbour is casting its thematic net wide compared to some of Cities: Skylines earlier expansions, introducing commercial fishing - bringing the likes of fishing boats, fish farms, and four new industrial policies - plus a whole range of new public transport options.
On the latter front, there's the new Intercity Bus Service, enabling the population to travel between cities via the highway, and there's the eco-friendly Trolleybus Service, drawing electrical power from overhead wires. And for those tired of roads, Sunset Harbour introduces the new Passenger Helicopter service, and recreational flying courtesy of The Aviation Club, which adds to the attractiveness and entertainment of a city.
Sunset Harbour also brings a new aboveground metro line option, transport hubs connecting different public transport networks, expanded healthcare facilities, Water Treatment Plants that can process waste water for reuse, a new Transfer Facilities option for waste management, plus five new maps, including boreal, tropical, and temperate locales.
Cities: Skylines' Sunset Harbour expansion will be available on PC, Xbox One, and PlayStation 4 when it launches next Thursday, 26th March.